The Department of Surgery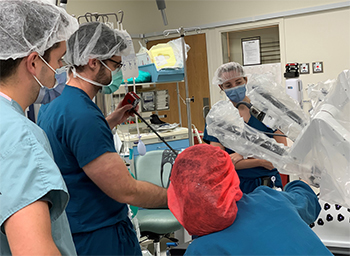 General Surgery Residency Program Curriculum
PGY-1
During the first year, residents will encounter a broad range of learning challenges focusing on outpatient, emergent and elective care, preoperative evaluation, and post-operative care. Early operative experience is normal. Rotational experiences include general surgery, vascular surgery, trauma, pediatric surgery, plastic surgery, and anesthesiology.
PGY-2
The goals are to learn diagnosis and treatment of common surgical disorders. Rotations include general surgery, trauma, surgical critical care, vascular, transplant, urology, cardiothoracic surgery, and surgical oncology.
One resident after the PGY-2 year will be offered the opportunity to spend a year doing investigative work. At the end of the year, that resident will reenter the clinical cycle at the PGY-3 level. Residents pursuing an academic career through fellowships have found this year extremely useful and productive.
PGY-3
The third year resident gains further experience in a supervisory role in general surgery, trauma, vascular, transplant, surgical critical care, as well as elective time.
PGY-4
Senior residents rotate in two month blocks of time in the fields of pediatric surgery, trauma, cardiothoracic, and general surgery. They are expected to "run" their services during this year. A rotation at a non-urban hospital is expected to familiarize the resident with practice in smaller communities and to provide a wide diversity of experience. The goal is to develop administrative skills and begin to learn the care of complex surgical problems.
PGY-5
The chief resident year is devoted to the major components of general surgery. Chief residents serve 10 months as chief on the three general surgery services and two months as chief on the vascular service. In addition, they participate in hospital and departmental governance, assist in administering the program (call, rotational, and vacation scheduling) and provide leadership in running the conference curriculum and simulationr schedule.
All rotations take place within the University of Tennessee Medical Center except pediatric surgery (Children's Hospital), and the rural hospital experience (Morristown-Hamblen Hospital).
Conferences and Lectures
The didactic program is a self-directed learning program in the basic sciences which includes a textbook review, online assessments, and wide variety of conferences. Below are the conferences offered and expectations. The importance given to the didactic program by the faculty is evidenced by the fact that residents are excused from all activities except absolute emergencies to attend conferences.
Morbidity and Mortality
Starting the PGY-1 year, residents are required to select and present analysis of a case and participate in discussion with attendees. The faculty assigned for the week's didactic conference moderates M & M.
Didactic Conference
Each resident is required to give a case presentation starting the PGY-2 year. Case presentations follow SCORE conference each week and use the Socratic discussion format with an assigned faculty. Residents are required to complete online modules and quizzes weekly for This Week in SCORE. The department provides access and materials for preparation. The weekly topic is discussed during Didactic Conference with an assigned faculty.
Surgery Grand Rounds
Grand Rounds starts September of the new academic year and finishes in May. The department assigns faculty speakers during the year covering a wide variety of interests germane to the practice of surgery and sponsors visiting professors quarterly. Small faculty dinners are hosted the night before with the visiting professor and select residents. Chief residents are expected to give their own grand rounds presentation toward the end of the year. The department will award the chief resident with the best presentation during the graduating residents' dinner.
Journal Club
Journal Club begins in August of the new academic year and ends in May. Journal Club is not hosted during June, July, December, and January. Each month the assigned faculty hosts residents and medical students at their residence or at a local restaurant. Residents and medical students not on call or vacation are expected to attend. The designated faculty provides 4-7 articles assigned to residents with discussion and feedback from attendees. This is an excellent opportunity for faculty to present new research to residents in a more relaxing environment and is a favorite conference among the residents.
Resident Leadership Series
In conjunction with the Department of Anesthesia and the Haslam College of Business, our department sponsors a quarterly series dedicated to resident development. Guest speakers discuss topics in a seminar format and vary from negotiating skills, financial planning, healthcare policy, managing conflict, and giving feedback. Dinner is provided.
Specialty Conferences
Vascular surgery, cardiothoracic surgery, oncologic surgery, breast conference, emergency general surgery, and Trauma PI meet on a weekly basis. In addition, the trauma service has a daily case review discussion among faculty attendings and resident staff. The University of Tennessee Graduate School of Medicine sponsors the Foundational Curriculum which is required of all new residents. The conference focuses on each of the six ACGME competencies.
Resident Protected Time
Following the weekly M & M, residents have one hour of protected time of which they can use however they need to advance their education, whether its studying or going to the simulation lab or operating.
Conference Schedule
Monday

Tuesday

Wednesday

Thursday

Friday

Resident Meeting*
(Heart Hospital Conference Room)
7:00 AM
(1st Monday each month)

Morbidity and Mortality Conference
(Wood)
7:00 AM

Trauma QI Conference
7:00 AM

Grand Rounds
(Wood)
7:00 AM
(No Grand Rounds June, July, August)

Case Presentations
(Pharmacy RM 220)
7:00 AM

Cancer/Tumor Conference
7:00 AM

Pulmonary
Conference
7:00 AM

Didactic Conference
(Pharmacy RM 220)
8:00 AM

QI/PI Conference
(Wood)
7:00AM
(2nd Tuesday each month)



Vascular
Conference
7:00AM

MIS Conference
4:00PM

Breast Conference
7:00 AM

Dedicated Study Time/
Simulation (if assigned)
8:00AM

Surgical Oncology Conference
5:00PM

Journal Club
7:30 PM
(3rd Thursday of each month, except June, July, December, January)



Vascular Conference
7:30 AM

Physician Leadership
5:30 PM
(Every six weeks)