The University of Tennessee Graduate School of Medicine
The University of Tennessee Graduate School of Medicine (UTGSM) has a national reputation in education and is building research programs of national merit. As part of the University of Tennessee Health Science Center College of Medicine, with campuses in Memphis and Chattanooga, we are committed to provide statewide initiatives in medical and dental education as well as selected research endeavors. Our clinical partner, University Health System Incorporated, works with us to create the University of Tennessee Medical Center through which we provide the best medical care in the region.
Today the UTGSM is a growing enterprise of faculty and research with 224 residents and approximately 430 faculty (both full-time and volunteer) in 11 residency and 10 fellowship programs in medicine and dentistry. We offer medical student core third year rotations and fourth electives. Our faculty and residents are some of the nation's finest. Educational and research opportunities are available with the main University of Tennessee (UTK) campus, the University of Tennessee School of Veterinary Medicine, and Oak Ridge National Laboratories.
Our campus prides itself that our faculty practice medicine and dentistry as well as teach. We strongly believe that patient care is still a priority, and that being a practicing doctor is essential to being a good educator.
Recognized in U.S. News World Report's 'Best Hospitals' Edition
For the sixth consecutive year, The University of Tennessee Medical Center, the clinical partner of the UT Graduate School of Medicine, earned recognition in the "Best Hospitals" edition of U.S. News World Report. The report additionally lists The University of Tennessee Medical Center as high performing in all nine of the Common Adult Procedures and Condition Ratings assessed in the survey.
More
Top
From the Faculty Lounge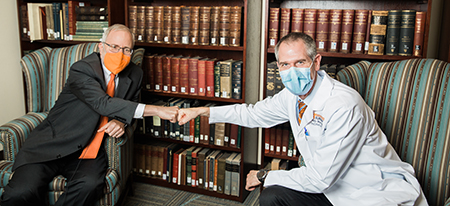 The fourth video in the series "In the UTGSM Faculty Lounge with Dean Hauptman" features Anthony Wilson, MD. Learn about being a rural primary care physician and about the new medical student elective focusing on care of LGBTQ patients. View on YouTube.
---
Residency Programs
Fellowship Programs
Contact Us
The University of Tennessee Graduate School of Medicine
The University of Tennessee Medical Center
1924 Alcoa Highway
Knoxville, TN 37920
Phone: 865-305-9290
The University of Tennessee Graduate School of Medicine
1924 Alcoa Highway
Knoxville, Tennessee 37920 | 865-305-9290
Copyright © 2019