News from the Department of Surgery
August 2022
Letter from the Chair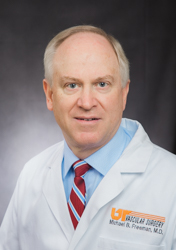 For the past several months the Department of Surgery has experienced a welcome respite from the social distancing that had occurred due to the pandemic. With the faculty and residents vaccinated, we were able to meet at an organized retreat in May and have festivities to celebrate the end of the academic year. I was extremely grateful to see the interaction and engagement of the 66 faculty and residents who attended the retreat to identify and plan our strategic goals for the Department. The Department of Surgery continues to strive to make our alumni proud of the institution where they trained, ensuring that each graduate is technically sound as well as demonstrates the knowledge base to enter practice or seek a sub-specialty fellowship.
One of the highlights of the past year was celebrating our graduating residents and fellows. Dr. Michael Brunt from Washington University was our Kimball I. Maull Lecturer and highlighted the Resident Research Day with his lecture on "Safe Cholecystectomy in 2021 and Beyond". It was so gratifying to be able to see the chief residents and fellows celebrate this milestone in their surgical training with their families and peers. In addition, we were able to welcome our outstanding class of interns to the Department. They come with excellent credentials, and we look forward to their contributions to the Department over the next several years.
Finally, I hope that you will take the time to read the Scalpel in its entirety and note the outstanding achievements and awards of our faculty, staff and residents. I am so proud of their accomplishments and know that the future is bright with such dedicated individuals being in the Department of Surgery.
Best Wishes!
Michael Freeman, MD
Surgery Chair
---
Faculty Spotlight: Dr. Ryan Schmocker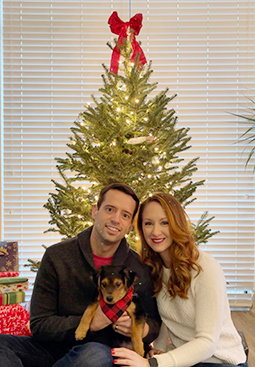 Dr. Schmocker comes to UT as a native of Wisconsin having completed his General Surgery Residency at the University of Wisconsin, Madison. Following completion of his residency, he completed the Surgical Oncology Fellowship at Johns Hopkins in Baltimore, Maryland, with a focus on hepatobiliary surgery. Dr. Schmocker was recruited into the Division of Surgical Oncology to grow the section of pancreas and hepatobiliary malignancies. He brings a new expertise in minimally invasive and robotic approaches to complex abdominal oncologic surgery.
Though Dr. Schmocker's primary focus is the treatment of patients with cancer of the liver, biliary tree and pancreas, he is also specializing in the management of other abdominal tumors including gastric and small intestine cancers as well as sarcomas. "I became a surgeon because of the ability to treat and cure a specific problem with a procedure," he said. "I chose cancer surgery because of the ability to work with other cancer providers, in different specialties, to determine the best sequence and types of treatment for each individual patient. Each cancer surgery presents unique challenges that dictate the operative plan."
In addition to the access to a large diverse population afflicted with cancer, Dr. Schmocker chose UTMCK specifically for its unique opportunities in supporting his ability to offer advanced care. "The people that would be my partners, the ability to expand our minimally invasive and robotic cancer surgery options, and getting to work with and train the next generation of surgery residents and students," were major deciding factors in coming to Knoxville.
When he is not treating patients at the UT Cancer Institute, Dr. Schmocker spends time with his wife, Sandra, and their puppy Poe. Recently adopted from the Young Williams Animal Shelter, Poe is part Australian cattle dog, beagle, poodle, Eskimo dog, and Chihuahua. They enjoy trying new restaurants in the Knoxville area, visiting the local breweries, and spending as much time outside as possible. "The outside season is much longer here than in Wisconsin, so we try to take advantage!" he said.
Dr. Schmocker is an avid Wisconsin sports fan and supports the Packers, Badgers, Brewers, and Bucks. When he is not watching his many favorite sports teams, he can be found relating to the many humors, trials, and revelations of John Michael "J.D." Dorian, M.D. and his best friend Christopher Duncan Turk, M.D. on the TV show Scrubs.
Reflecting on his favorite thing or memory from being a doctor, he said, "My favorite thing is when patients return to see me after a successful cancer surgery and are cured from their cancer."
Dr. James Lewis, Chief of Surgical Oncology, stated that he is excited to see how UTMC and the Division of Surgical Oncology can grow and continue to address the cancer needs of the region. "We robustly welcome Dr. Schmocker aboard the surgical oncology team and look forward to the future of offering our patients the most advanced care.
Pictured: Dr. Schmocker with his wife Sandra and their dog Poe
---
Faculty Spotlight: Dr. Laura Enomoto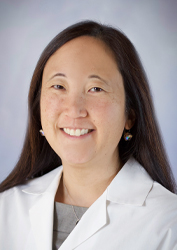 Although originally from Aurora, Colorado, Dr. Enomoto has spent most of her adult life on the East Coast where she attended Virginia Commonwealth University for medical school and met her husband, Harrison McGrath. She completed her General Surgery Residency at the Penn State Hershey Medical Center in Pennsylvania and subsequently the Surgical Oncology Fellowship at Wake Forest Hospitals in North Carolina in 2019.
In September of 2019, Dr. Enomoto joined the Department of Surgery faculty in the Division of Surgical Oncology. "I knew after my first interview that UTMCK was a supportive place for me to start a practice and continue to grow as a surgeon," she said. Her clinical and research interests are cutaneous and peritoneal malignancies. "They balance each other well with the breadth of cases and underlying biology." Reflecting on why she wanted to become a surgeon, Dr. Enomoto says, "Like most surgeons, I want to help people, and I am not patient."
Dr. James McLoughlin is enthusiastic about the role Dr. Enomoto has assumed in the Division of Surgical Oncology. "She brings world class expertise in regional therapies to our institution and offers technical skill, knowledge and creativity in this area that is unique to East Tennessee." Dr. Enomoto is also a gifted researcher and is currently applying for grant funding in oncology research. Her focus is translational research in melanoma, Merkle cell cancers, regional therapies, as well as pancreas cancer. Dr McLoughlin added "She is a natural leader and already impacted the Melanoma and Soft Tissue Tumor Service (MASTT) both in her clinical talents as well as her focus on growth and outreach."
Along with her husband, Dr. Enomoto spends her time with her six-year-old son, who just finished Kindergarten, and their two dogs: a black Labrador and a Cairn terrier. Together they enjoy spending time hiking on the weekends around Knoxville and in the Smokies.
Dr. Enomoto previously dedicated herself to impressive feats of endurance. "I used to train for triathlons and got up to the half-Ironman distance, but the time it takes to train is not feasible anymore." Despite giving up running in marathons, she keeps healthy and active with her Peloton and tries to push herself to take the stairs when they are available. Growing up in Colorado shaped Dr. Enomoto' s outdoor interests and helped influence her decision to move to Knoxville. She enjoyed skiing, swimming, and biking back in Aurora and she is also a self-professed die-hard Denver Broncos fan. "I grew up in the John Elway era and only know how to bleed orange and blue. Moving to the former undergraduate town of Peyton Manning was a no-brainer," she admits.
She still finds time to visit her family but confesses her favorite place to visit is the back bowls at Vail, Colorado, after a heavy snow. In Knoxville she enjoys the many outdoor craft beer venues and food trucks, which have helped fill the void since the COVID pandemic began.
When confronted with the question: if she could share a food truck meal with anyone, alive or not, who would it be? She responded, "It would be with myself 15 years ago so I could reassure her that it all works out pretty well."
---
2021 Graduates
Chief Residents
Jared Griffard, MD
Surgical Critical Care Fellowship
Yale University

Lauren Grimsley, MD
Vascular Fellowship
University of Kentucky

Andrew Hodge, MD
Vascular Fellowship
East Carolina University

Trent Kinnear, MD
Vascular Fellowship
UT Graduate School of Medicine

Bethany Sappington, MD
General Surgery Practice
Twin Falls, Idaho

Jordan Shealy, MD
General Surgery Practice
Wilson, North Carolina
Fellows

Zachary Beam, DO
Private Practice
Springfield, Missouri

Jordan Grubbs, MD
Assistant Professor of Surgery
UTHSC at Houston

Benjamin Powell, MD
Private Practice
Augusta, Georgia

Kevin Treto, MD
Private Practice
Orlando, Florida
---
The Department of Surgery Welcomes New Residents and Fellows
General Surgery Residents

Joseph Balaban, MD
University of Texas Southwestern

Andrew Deek, DDS
Columbia University College of Dental Medicine (OMFS)

Will Donelson, MD
University of Kansas School of Medicine

John Doty, MD
University of Tennessee Health Science Center College of Medicine

Matt Edwards, MD
Medical University of South Carolina College of Medicine

Ryan Hammond, MD
University of Tennessee Health Science Center College of Medicine

Peyton Murdock, MD
University of Oklahoma College of Medicine

Brett Salomon, MD
Louisiana State University School of Medicine, New Orleans

Liz Shake, MD
University of Louisville School of Medicine

Meghan Standridge, MD
University of South Carolina School of Medicine, Greenville

Ryan Taylor, MD
University of South Carolina School of Medicine

Morgan Walker, MD
Medical School of Georgia at Augusta
Fellows
Vascular Surgery

Brett Fowler, MD
Wake Forest Baptist Medical Center

Vascular Surgery

Dariam Cardentey, MD
Orlando Regional Medical Center

Surgical Critical Care

Ji-Ming Yune, MD
Loma Linda University School of Medicine

Advanced GI MIS/Bariatrics

Haley Daigle, MD
Medical College of Georgia
---
Resident Research Day Awards
The Thirtieth Annual Resident Research Day was held Friday, June 18, 2021. Dr. Freeman welcomed all in attendance for their continued support of the Department and dedication to research in surgery. The Kimball I. Maull Lecture was presented by Dr. L. Michael Brunt, Professor of Surgery, Section of Minimally Invasive Surgery, at Washington University School of Medicine, St. Louis, Missouri. His presentation was "Safe Cholecystectomy in 2021 and Beyond: Opportunities for Improvement." Presentations began at 7AM and concluded at noon. Below are the winners for the 2021 department awards.
The Golden Apple Award
Jordan Shealy, MD
Chief Resident

The Hiram B. Crutchfield Resident Teaching Award
Katherine Yared, MD
PGY-3

The Mitchell H. Goldman Faculty Teaching Award
Heath Many, MD
Assistant Professor, Division of Trauma and Critical Care
The Scott B. Frame Trauma Scholarship Award
Brett Salomon, MD
PGY-1

The Society of Laparoendoscopic Surgery Award
Trent Kinnear, MD
Chief Resident

Best Surgery Grand Rounds Presentation
Lauren Grimsley, MD
Chief Resident
Resident Performance Award
First Place
Jordan Shealy, MD
Chief Resident


Second Place
Jared Griffard, MD
Chief Resident

Third Place
Katherine Yared, MD
PGY- 3
The Kimball I. Maull Research Award
First Place
Callie McAdams, MD
PGY-3

Second Place
Evan Foulke, MD
PGY-2

Second Place
Katherine Yared, MD
PGY-3

Third Place
Thomas Kennedy, MD
PGY-4

Exceptional Service Award: UT Medical Center Whirlpool Team

---
OASIS Trial Is a Success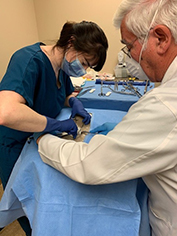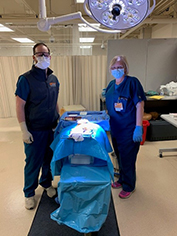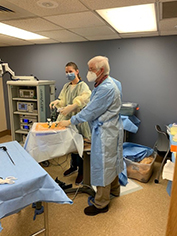 The Department of Surgery in collaboration with the UT Center for Advanced Medical Simulation recently hosted the Objective Assessment of Skills in Surgery (OASIS) pilot on behalf of the OASIS Committee and the American College of Surgeons on March 23. The trial observed simulation models, stations, rooms, and gathered resident and evaluator feedback. Brian Daley, MD, General Surgery Program Director, noted this trial is "deeply appreciated and will help put The University of Tennessee Medical Center on the national stage." Pictures and data will be presented at the next Program Directors meeting and will be used to further structure and promote the project.
Pictured left: Trenton Kinnear, MD and Lou Smith, MD
Pictured center: Amy Howk, MD and Sperry Nelson, MD
Pictured right: Katherine Mass, MD and Hobart Akin, MD
---
Dr. Todd Nickloes Receives Military Award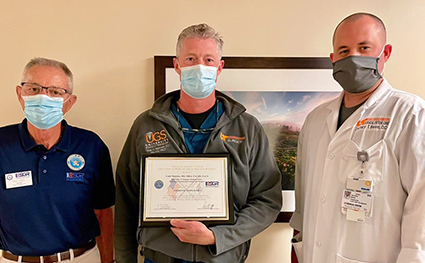 Dr. Todd Nickloes was awarded the Patriotic Employer award on April 29, 2021. This award is presented through the Employer Support of the Guard and Reserve (ESGR), a Department of Defense program which was established in 1972. Its purpose is to promote cooperation and understanding between Reserve Component Service members and their civilian employers, and to assist in the resolution of conflicts arising from an employee's military commitment. ESGR is supported by a network of more than 3,300 volunteers in 54 committees located across all 50 states, the District of Columbia, Guam-CNMI (Commonwealth of the Northern Mariana Islands), Puerto Rico, and the U.S. Virgin Islands. ESGR has served our country for more than 45 years, fostering a culture in which all employers support and value the employment and military service of members of the National Guard and Reserve in the United States. These citizen warriors could not defend and protect us at home and abroad without the continued promise of meaningful civilian employment for themselves and their families. The Patriot Award is awarded to individual supervisors and recognizes their support of their National Guard and Reserve members.
Dr. Nickloes has extensive experience in the Ohio Army National Guard and Tennessee Air National Guard, having completed medical school during his time with the Ohio Army National Guard Medical Corps. He served as trauma surgeon with the Air Force's Critical Care Air Transport Team (CCATT), a highly specialized and vital component of military medical care. Their mission is the medical evacuation of wounded service members from war zones to Germany and/or the United States. Using aircraft, they are able to provide surgical intensive care units for world-class trauma care. Dr. Nickloes retired as Lieutenant Colonel from military service in April 2008 after 22 years of service. He was presented the award by Dr. Zachary Beam, Surgical Critical Care Fellow.
Dr. Beam has been involved with the Missouri Army National Guard (MOARNG), and part of his participation required departures from clinical duties at UTMC for key medical readiness and training events. "Dr. Nickloes has been a model mentor and supervisor. It has been an absolute privilege to train under his leadership, grow from his mentorship and succeed as an Army medical officer due to his unwavering support of my duty obligations during my time with UTGSM," Dr. Beam stated.
Dr. Beam is grateful the ESGR selection committee agreed with his support and nomination of Dr. Nickloes. "I believe the ESGR Patriot Award recognizes his genuine support of me, my service, and the National Guard. He deserved to be recognized for that."
Congratulations to Dr. Nickloes on this well-deserved award!
Pictured (from left): Mr. Ken Huff, USAF, ret.; Dr. Nickloes; Dr. Beam
---
Dr. James Lewis Graduates Johns Hopkins University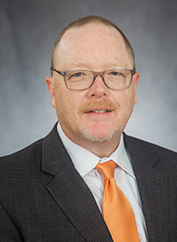 James Lewis, MD, Professor and Associate Program Director of the General Surgery Residency Program, has completed the Master of Education in the Health Professions degree at Johns Hopkins School of Education. On May 26, 2021, a celebratory live virtual graduation ceremony was held to present him with his new degree. Family, friends, colleagues, and staff joined the celebration in the UT Cancer Center Conference Room to congratulate him on his achievement. The program is an internationally acclaimed collaboration of five Johns Hopkins schools and prepares health professionals to be researchers and leaders of education who teach future health professionals culturally sensitive, evidence-based practices that improve the quality of care. Dr. Lewis was able to attend the program online over the past five years. He will be joining their faculty part-time as a Johns Hopkins University Capstone Instructor.
Congratulations to Dr. Lewis on his success!
---
Staff Awarded Excellence in Outstanding Courtesy and Customer Service Award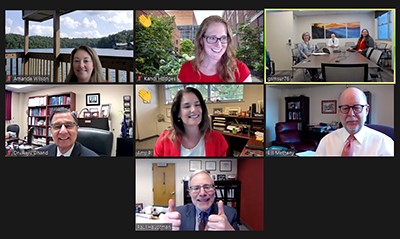 Katy Basler was recognized for her excellence in outstanding courtesy and customer service at the GSM Employee Excellence Awards program on June 15th. Ms. Basler works in the Division of Vascular Surgery and her role often includes the need to communicate complex information to patients and family members. She interacts with patients and family members in a professional and courteous manner. She is also known for meeting patients at the entrance of UTMC to collect insurance and other forms. This saves the patients from navigating the hospital, which is especially helpful to individuals who have limitations with ambulation. She also coordinates appointments with other physicians and providers.
In his nomination letter, Michael Freeman MD, Surgery Chair, said, "Her desk was outside my previous academic office. I could hear her talking to these complex patients. She would go over and above the call of duty in answering their questions or helping them navigate their medical care. I have been amazed at her ability to calm patients and their families. Katy is truly an asset to the GSM."
Pictured: Amanda Wilson, Kandi Hodges, Dr. Freeman, Gillian Hunt, Dr. Dhand, Amy Paganelli, Dr. Metheny and Dr. Hauptman honoring Katy via Zoom.
---
Alumni Updates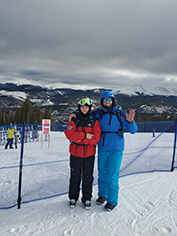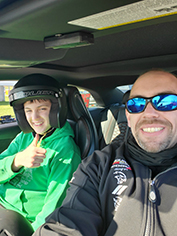 Daniel Alterman, MD, FACS, RPVI (class of 2011 in the General Surgery Residency program and class of 2013 in the Vascular Surgery Fellowship program) is currently Chief of Surgery for Mercy Health Partners in Muskegon, Michigan, and a partner at Muskegon Surgical Associates. Outside of the hospital, Dr. Alterman enjoys spending time with his family. He recently went on a ski trip with his daughter and spent a day at the racetrack with his son. The Department of Surgery is happy to hear Dr. Alterman and his family are doing well!
For the Department of Surgery Alumni please be sure to check them out here: http://gsm.utmck.edu/surgery/alumni.cfm.
Pictured left: Dr. Alterman with his daughter
Pictured right: Dr. Alterman with his son
---
Presentations and Research in the Division of Vascular Surgery
Two novel approaches to complex vascular problems were presented by residents mentored by the faculty of The Division of Vascular Surgery at The Society for Clinical Vascular Surgery in March of this year.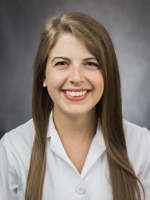 Dr. Callie McAdams, PGY 3, in a podium presentation demonstrated the use of an in-situ laser technique to allow a stent to be placed to allow perfusion to the carotid artery when treating a thoracic aortic endograft leak. Mentored by Dr. Michael McNally, Dr. McAdams showed how a fenestration could be placed in a previously deployed thoracic endograft to provide access for a side branch to perfuse the carotid artery while repairing a leak in the previous graft with a new endograft cuff. They were able to correct the leak, preserve flow to the brain and avoid an open procedure with its attendant high mortality and morbidity.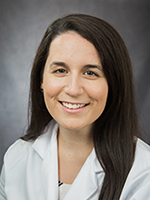 Dr. Joshua Arnold's creative approach to increasing the flow of dialysis grafts placed in the arm by relieving the obstruction of the outflow veins in the thoracic outlet was presented at the same meeting by Dr. Katherine Yared, PGY3. In this large case series, they used an infraclavicular approach to remove the first rib, opening up the thoracic space on the side of the hemodialysis access. Coupled with a venoplasty they were able to increase blood flow, increase graft patency and decrease the number of times the patients had to return for clotted grafts or other reintervention procedures. Relieving the compression of the subclavian vein in this manner increased the usefulness and the longevity of the hemodialysis grafts.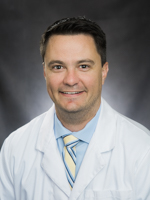 In a poster presentation, Evan Foulke MD, PGY3, noted an unexpected effect of the SARS COVID-19 pandemic: the increase in patients receiving lower extremity amputation for severe vascular disease. Dr. Foulke and other members of the vascular division hypothesized that reluctance to come to the hospital or go to doctors' offices as well as the unavailability of routine access to medical care resulted in delays in diagnosis and treatment of arterial and diabetic lower extremity ulcers. These untreated lesions progressed to severe infection or gangrene leaving amputation as the only option.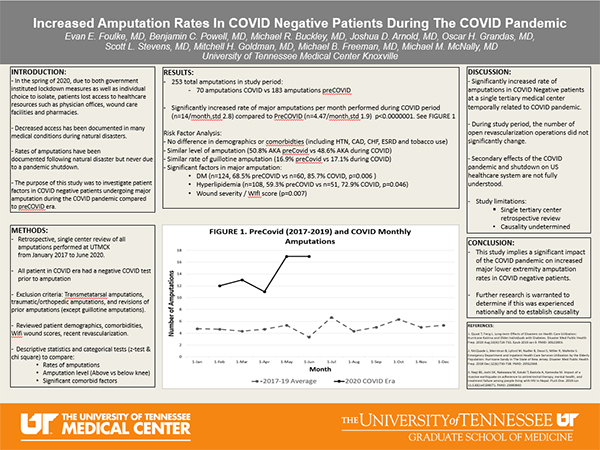 (Click to see a larger image.)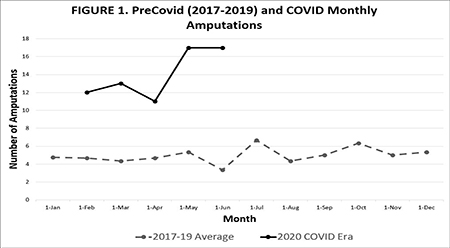 (Click to see a larger image.)
Pictured top: Dr. Callie McAdams
Pictured center: Dr. Katherine Yared
Pictured bottom: Dr. Evan Foulke
See the Department of Surgery's recent publications and presentations.