News from the Department of Surgery
March 2021
Letter from the Chair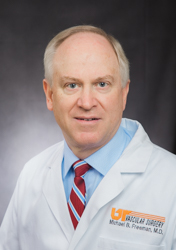 Well 2020 is in the books and 2021 began with a bang. COVID-19 peaked in December and January, and it caused us to pause elective surgery that required inpatient admission. Fortunately, most of the staff completed their vaccinations by the end of January, and COVID-19 numbers continue to decrease with work getting back to normal (except for the mask wearing!) We have completed our resident interviews and are anxious for the Match to arrive. This was a year like no other in that all the interviews were virtual. There is a strong possibility our new residents may have never been to Knoxville or The University of Tennessee Medical Center before they show up to begin their internship. To let the applicants peak into the Knoxville "vibe" and the medical center, the department created a recruiting video, the GSM created a video tour of the medical center, and a virtual meet and greet was hosted by the residents for the applicants the night before resident interviews. A big shout out to the residents and staff that participated in the interview process as we virtually hosted 135 applicants. The word "unprecedented" continues to be frequently used during this pandemic for many of the things we do! For alumni, if you have time, take a look at the videos to take a walk down memory lane and see all that has changed since you left. As always, we hope all of our alumni will get back to Knoxville to visit, and if you do please stop by to see some old familiar faces who are still around. Best wishes for a healthy and prosperous 2021.
Michael Freeman, MD
Surgery Chair
---
Faculty Spotlight: Dr. Stefanos Boukovalas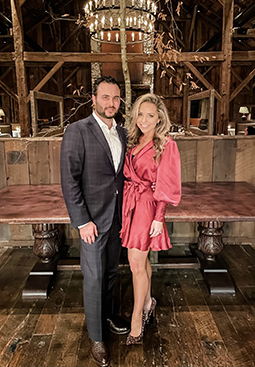 The Department of Surgery is pleased to announce the newest addition to the Division of Plastic Surgery faculty. Dr. Stefanos Boukovalas joins the Department as an Assistant Professor. Dr. Boukovalas was born and raised in Athens, Greece, earning his medical degree at the University of Athens School of Medicine. He then completed his Plastic Surgery Residency at the University of Texas Medical Branch in Galveston as well as a fellowship in Microsurgery and Complex Reconstruction at the University of Texas MD Anderson Cancer Center.
Dr. Boukovalas's clinical interests include oncologic and trauma reconstruction, microsurgery, lymphedema surgery, general plastic and cosmetic surgery. He also has a passion towards innovative and cutting-edge reconstructive techniques, including DIEP and PAP flaps for breast reconstruction, neurotized free flaps, head and neck reconstruction using virtual surgical planning (VSP), targeted muscle re-innervation (TMR) and lymphovenous bypass surgery using super-microsurgery techniques. On the academic side, Dr. Boukovalas has a strong interest in research, surgical education and contributing to scientific societies. He is currently very involved in the American Society of Plastic Surgeons (ASPS) and the American Society of Reconstructive Microsurgery. He has also participated in several national scientific committees and served as a member of task forces contributing to guideline development and patient care quality improvement. His research is focused on clinical outcomes, healthcare disparities and guideline development.
Dr. Joseph T. Chun, Chief of the Division of Plastic Surgery, remarked, "Dr. Boukovalas is a strong addition to the plastic surgery faculty who not only compliments the skills of our present faculty, but he also brings academic achievement, American Society of Plastic Surgery committee involvement, and the latest in the microsurgical treatment of lymphedema. He will be a great faculty member, and we all look forward to working with him."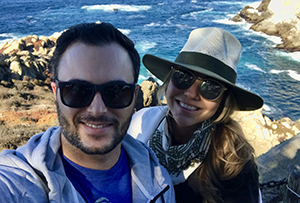 Outside of the hospital, Dr. Boukovalas enjoys spending time with his fiancé, Bria Wall, as well as music, exploring new destinations, traveling, cooking, swimming and hiking. He continues his musical interest by frequently playing the keyboard or piano in his spare time. In fact, during his residency Dr. Boukovalas played in a band called "Midnight Takeback."
When it came to choosing the UT Graduate School of Medicine after his fellowship, it was an easy decision for Dr. Boukovalas.
"The University of Tennessee Medical Center had everything I was looking for when I was exploring career opportunities following my fellowship," Dr. Boukovalas said. "This is a unique place for a reconstructive plastic surgeon. The volume, variety, and complexity of cases performed not only intrigued me but also inspired me. There are not many places in the country somebody can build a practice that entails head-to-toe oncologic and trauma reconstruction, lymphedema, general plastic and cosmetic surgery," Dr. Boukovalas added. "Additionally, the medical center serves a diverse patient population. I felt that I would have the opportunity to really make an impact here. Beyond that, I appreciated the respectful, collegial, and educational environment that the medical center and the Department of Surgery fosters, which is essential for professional growth and optimal patient care."
Pictured: Dr. Stefanos Boukovalas and his fiance Bria Wall
---
Faculty Spotlight: Dr. Tanaz Vaghaiwalla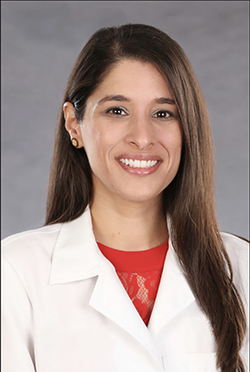 The Department of Surgery welcomes Dr. Tanaz Vaghaiwalla, Assistant Professor, as the newest member of the Division of General Surgery. Originally from Florida, Dr. Vaghaiwalla finished her General Surgery Residency at the University of Miami Jackson Memorial Hospital in Florida. She then completed an Endocrine Surgery Fellowship at the University of Chicago Medical Center in Illinois in 2020. She has also been completing a Master of Science in Public Health Sciences degree at the University of Chicago.
Her clinical passions include the surgical care of adult and pediatric patients with endocrine disorders, which includes disorders of the thyroid, parathyroid, adrenal glands, and pancreas, as well as neuroendocrine liver metastases. Dr. Vaghaiwalla is involved in researching surgical outcomes for patients with thyroid cancer and optimal treatment strategies for neuroendocrine tumors.
After her fellowship in Chicago, she was excited to start at the UT Graduate School of Medicine and work in a warmer climate.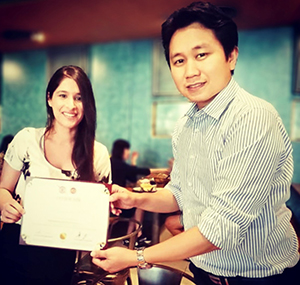 "I am so fortunate to join as faculty at the UT Graduate School of Medicine because of the unique opportunity to build a surgical practice dedicated to the care of patients with endocrine disorders. Escaping the Chicago winters was also a bonus," she said. Reflecting on life in Knoxville, Dr. Vaghaiwalla is looking forward to enjoying her hobbies of running, cycling and hiking. She is especially interested in exploring Knoxville's parks and trails.
In regards to her accomplishments with endocrine surgery, Dr. Greg Mancini said, "Dr. Tanaz is great! Her background brings a unique and welcome expertise for our patients and for our training programs."
Dr. Vaghaiwalla was able to travel to Thailand for one month during her fellowship at the University of Chicago where she gained additional training in scarless surgery for thyroid and parathyroid disorders using the transoral endoscopic thyroidectomy vestibular approach (TOETVA).
"Thailand is also where I discovered my favorite dessert, mango sticky rice called khao niaow ma muang," Dr. Vaghaiwalla added.
Pictured top: Dr. Vaghaiwalla
Pictured bottom: Dr. Vaghaiwalla receiving her certificate in Minimally Invasive Thyroidectomy from Dr. Angkoon Anuwong, Program Director, Minimally Invasive Surgery Division, Department of Surgery, Police General Hospital, Bangkok, Thailand
---
New Staff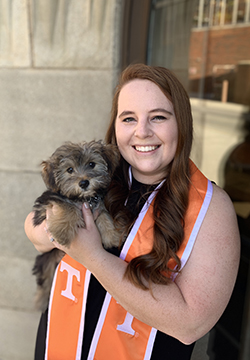 The Department of Surgery administrative offices would like to welcome Grace Whiteley, BA, MS, to the team. Grace joined the department in October 2020 after completing her Master of Science degree in Sports Management at the University of Tennessee, Knoxville. Originally from Spokane, Washington, she graduated from Eastern Washington University with a degree in journalism. Should you wish to include something in the weekly department email or have questions about our social media presence, Grace is your go to person.
Pictured: Grace Whiteley
---
Dr. Herbig Named Director, Section of Microsurgery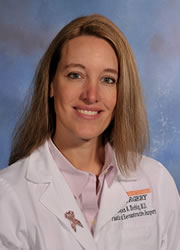 Dr. Katie Herbig has been named the Director of the Section of Microsurgery in the Division of Plastic Surgery. With her fellowship training from MD Anderson, Dr. Herbig has used her experience and expertise to organize, strengthen and broaden the scope of reconstructive microsurgery at The University of Tennessee Medical Center. She is the first fellowship trained microsurgeon in east Tennessee and performs complex head and neck, breast, and extremity microsurgery with world-class results. According to Dr. Joseph T. Chun, Chief of the Division of Plastic Surgery, "Dr. Herbig is a perfectionist who pursues excellence in microsurgery and does so with passion and determination. She has a clear vision for the future of microsurgery at UTMCK and will be a great leader in our Division."
Pictured: Dr. Katie Herbig
---
Surgery Grand Rounds Features Women of Surgery
During Fall 2020, Jillian Lloyd, MD and Lindsay McKnight, MD presented Surgery Grand Rounds on the topic of women in surgery, both in academia and in practice. Dr. McKnight presented virtually "Empowerment and Success in Academic Surgery" on September 17. She highlighted the disparities of men and women in academic surgery, noting that even with nearly equal matriculation of U.S. male and female graduates, the number of female academic positions post-graduation decreased, starting from faculty professorship and increasing to Dean.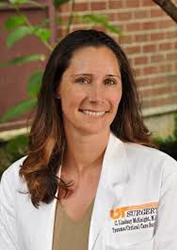 Dr. McKnight emphasized the importance of not only knowing your strengths and weaknesses but also expecting to be treated as an equal, being an ally and agent of change, embracing diversity, and having a core set of values, among other points, to empower oneself in academic medicine.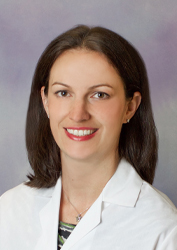 Dr. Lloyd also embraced the topic of women in surgery during her presentation on October 29 entitled "Gender Inequalities in Academic Surgery: How do you do it?" She described the complexity of being a woman, wife, mother and surgeon, and the implicit gender bias of excelling in an academic model. Dr. Lloyd proposed options for improving the approach to work-life balance including coping strategies and changing the system. "Know your tribe, identify your tribe, and lean on your tribe," Dr. Lloyd advised.
A cornerstone of the presentation was collaboration, being better listeners, and paying closer attention to your own bias, especially in meetings, residency and taking tests. Dr. Lloyd stated, "Women can often be our own worst enemies from this perspective and tend to be pretty competitive and elitist, tearing each other down instead of building each other up." Changing the system includes calling out gender discrimination when it is seen or experienced; becoming an ally; and alternative compensation and promotion strategies including administrative and educational contributions, as well as practice sharing.
Pictured top: Dr. Lindsay McKnight
Pictured bottom: Dr. Jillian Lloyd
---
Dr. Stevens Speaks as Visiting Professor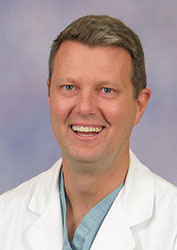 Scott Stevens, MD, Professor of Surgery, Division of Vascular Surgery, Director of Endovascular Surgery and Co-Director of the Aortic Center, presented as Visiting Professor at the University of Texas at San Antonio Long School of Medicine Surgery Grand Rounds in October 2020. His topic was "Pioneers and Innovators: Creative Disruption in Surgery."
Pictured: Dr. Scott Stevens
---
Dr. Grandas Completes Harvard Leadership Program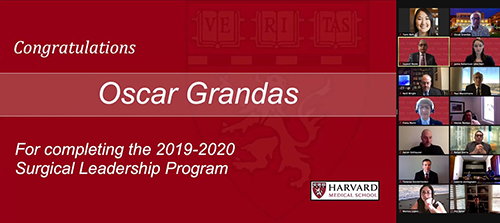 Oscar Grandas, MD, Professor Surgery, Division of Vascular and Transplant Surgery, completed the certificate program on Surgical Leadership at Harvard Medical School for the 2019-2020 year. The Surgical Leadership Program at Harvard Medical School (HMS) is designed for surgeons seeking to acquire the nontechnical, executive skills needed to step into leadership positions and excel as heads of departments, divisions, projects and institutions. Participants have the opportunity to learn directly from Harvard's leading faculty across all areas influencing surgical leadership, including communication, mentoring, change management, process and quality improvement, financial management, and surgical research and technique. Congratulations to Dr. Grandas on completing the program!
---
Dr. Beam Graduates PEMBA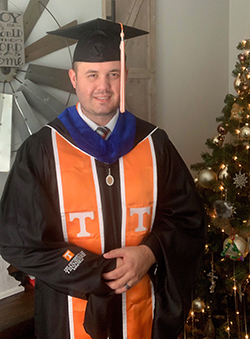 Surgical Critical Care Fellow, Zachary Beam, DO, graduated from the Physicians Executive MBA Program at the University of Tennessee Haslam College of Business this past December. The program provides physicians the opportunity to improve the future of healthcare and serves as a comprehensive experience during their fellowship in Trauma/Critical Care.
Pictured: Dr. Zachary Beam
---
The Department of Surgery Gives Back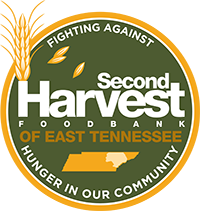 This past holiday season the Department of Surgery partnered with local charities to host a Thanksgiving canned food drive and a Christmas toy donation drive. For Thanksgiving, the Department participated with the Second Harvest Food Bank of East Tennessee to provide food for families in need. At Christmas, they partnered with The Ladies of Charity to host a drive for children in the Knoxville area. Dr. Devin Clegg and Dr. Mary Read led efforts to bring the toy drive to the Department. Donations were requested to benefit the Ladies of Charity Christmas Children's Give Away which provided free coats, cold weather accessories and new toys. Ladies of Charity were able to provide for 102 children with the donations provided.
---
Research in the Department of Surgery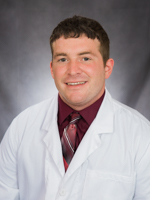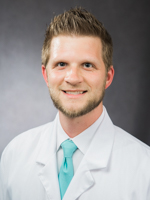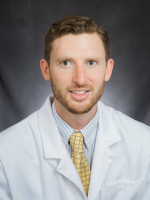 Research is an integral part of the mission of the Department of Surgery. Participation in research and performance improvement studies by UT Graduate School of Medicine faculty, residents, and students teaches them ways to be more cogent evaluators of new therapeutic and diagnostic developments in medicine. Research also guides them on how to deliver better treatment to patients and adds new knowledge to the general field of medicine. It's what differentiates the Department of Surgery at The University of Tennessee Medical Center.
The Department has over 20 ongoing research projects and is participating in three major multicenter trauma studies. The PreHospital Air Medical Plasma Trial (PAMPer) continues to produce multiple papers from the secondary analyses of the data presented in The New England Journal of Medicine. The soon to start TOWAR study, a Department of Defense multicenter trial organized by the University of Pittsburgh, will look at the use of whole blood in the acute trauma setting. The ongoing multicenter trial sponsored by the Henry M. Jackson Foundation, headed at the medical center by Dr. Reagan Bollig and initiated by one of our graduates, Dr. Valerie Sams, at Brook Army Medical Center evaluates the use of maintenance hypertonic saline in the treatment of trauma victims who have undergone damage control laparotomy.
Dr. Lindsay McKnight and surgical resident Dr. Brett Salomon are presenting a paper on COVID-19 in resident trauma education at the Association for Surgical Education. Their findings compared the pre and post shelter in place periods of the COVID-19 pandemic. Resident trauma experience and education was not curtailed. It also reinforced the concept that the new airway processes and precautions instituted by the medical center were beneficial in that there were no COVID-19 infections contracted by the residents during the study period.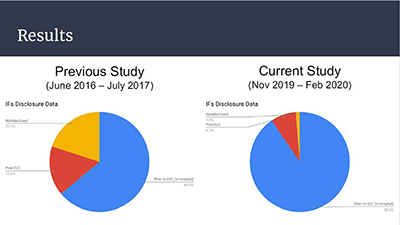 Dr. Lou Smith and Chief Resident Dr. Jordan Shealy's study, "Incidental Findings in the Trauma Population: Interdisciplinary Approach and Electronic Medical Record Reminders Improves Pre-Discharge Reporting and Reduces Medicalegal Risk," will be published in the April issue of The Journal of the American College of Surgeons as a featured paper from the Southern Surgical Association. It centers on the unexpected findings found on a CT scan when a patient is admitted for trauma. With a multidisciplinary team using EMR reminders to report incidental findings to patients, patient care improved while the medical/legal liability decreased. They are planning a follow up study to ask what the patients do with the information. (The graph shows results related to Dr. Smith's study. Click it to see a larger version.)
On the clinical side, Dr. Alex Cavalea is performing a review of mass shooting reporting in the various databases of the country. He notes that there are great inconsistencies in reporting and cataloging mass shootings that may have impact on future policymaking, a key focus of the national Committee on Trauma.
Dr. Heath Many and Surgical Critical Care Fellow Dr. Nathan Hieb are studying the role of temperature in trauma victims when they arrive at the hospital. Chief Resident Dr. Jared Griffard has a poster at the American Geriatric Society on the Beers Criteria in the geriatric population. Beers Criteria are the measurement of medication effects on morbidity and mortality in surgery. He along with Dr. McKnight found that polypharmacy is rampant and there are multiple instances of toxic drug interactions in the population.
In the translational science arena, Dr. Michael Karlstad, in his trauma research laboratory was instrumental in developing a commercially available enteral nutrition diet providing fish oil and other inflammatory lipids to modulate the inflammatory process and improve outcomes in critically ill patients with acute lung injury. Dr. Karlstad is the principal investigator of a recently awarded half-million dollar pharmaceutical grant allowing his team to investigate the use of a highly purified form of eicoapentanoic acid (EPA) to mitigate the release of deleterious pro-inflammatory eicosinoids that drive many inflammatory diseases.
The Division of Trauma and Critical Care demonstrate a culture of inquiry with the hopes of benefitting the care of trauma and acute care patients at The University of Tennessee Medical Center. Residents accomplish the majority of these studies with faculty support which testifies to the commitment of the Department to furthering medical knowledge and education.
Pictured L-R: Residents and fellows participating in research are Dr. Brett Salomon, Dr. Jordan Shealy, and Dr. Nathan Hieb
Top