News and Events
Residents Recognized for Best in Research
University of Tennessee Graduate School of Medicine Deans Paul Hauptman, MD, and William Metheny, PhD, recognized residents for Best in Research. Awards were given for Best Original Research Project, Best Quality Improvement Project, and Best Case Report.
Best Original Research Project
Lauren Grimsley, MD
Surgery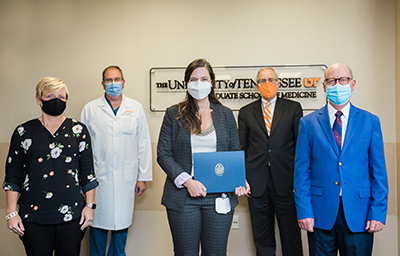 "Liposomal nanocarriers designed for sub-endothelial matrix targeting under vascular sheer stress"

Co-authors: Richard Fisher, Raymond Dieter MD, Joshua Arnold MD, Ryan Buckley MD, Michael McNally MD, Michael Freeman MD, Deidra Mountain PhD, Oscar Grandas MD

The objective of this study was to test the therapeutic benefit of a novel liposomal nanoparticle created in the Vascular Research Laboratory designed to bind to areas of injury in the blood vessel wall. The research team harvested arteries from amputated lower extremities and maintained their viability in a perfusion bioreactor to simulate physiological blood flow.  Subsequently, they tested the ability of the nanoparticles to bind specifically to areas of vessel disease and deliver molecules in a targeted manner. The ultimate goal is to use this technology to design therapeutic interventions to treated diseased blood vessel tissue, leading to a decrease in the occurrence of symptomatic and life-threatening vascular blockages.
Pictured L-R: Dr. Deidra Mountain, Dr. Brian Daley, Dr. Lauren Grimsley, Dr. Paul Hauptman, Dr. William Metheny
Best Quality Improvement Project
Gabriel Collins, DO
Pathology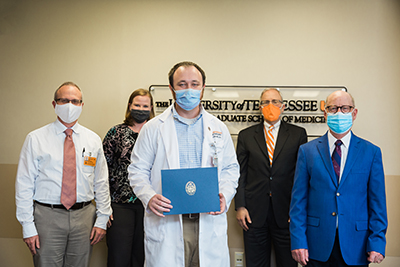 "Effectiveness of provider education in reduction of inappropriate plasma transfusion"
Co-authors: Christopher Clark MD and Anna Rains

Given the need for standardized guidelines for plasma transfusion, Dr. Collins evaluated the effectiveness of provider education in improving plasma utilization, and consequently, more uniform transfusion practices within the medical center.
Pictured L-R: Dr. Christopher Clark, Anna Rains, Dr. Gabrial Collins, Dr. Paul Hauptman, Dr. William Metheny
Best Case Report
Hunter Upton, MD
Radiology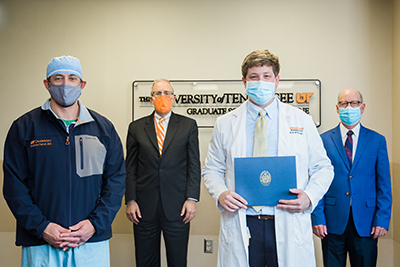 "Bow Hunter's syndrome: Case review and literature survey"

Co-author: Andrew Ferrel, MD
Bow Hunter's Syndrome is a rare condition that causes occlusion of an artery to the brain with turning of the head. Dr. Upton described a patient who was diagnosed using multiple imaging studies including positional catheter angiography followed by successful treatment with surgical decompression.

An Honorable Mention was awarded to Eric Riedinger, MD, Urology Resident, for his study entitled "Robotic distal ureterectomy with uretero-enteric reimplant." Co-authors are Kevin Reed, MD and Wesley White, MD.
Pictured L-R: Dr. Andrew Ferrel, Dr. Paul Hauptman, Dr. Hunter Upton, Dr. William Metheny
Posted: December 17, 2021