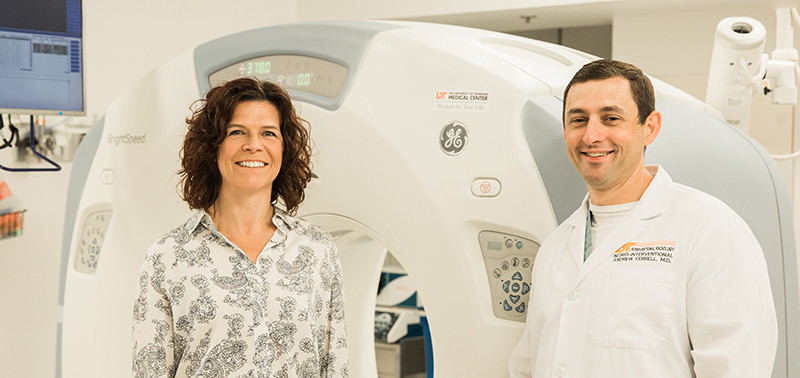 The Department of Radiology
The Department of Radiology offers a range of imaging services and performs more than 200,000 procedures annually. The department is staffed by 23 attending physicians supported by residents in a four-year diagnostic radiology program. The Department of Radiology also offers a school in radiography.
Our Mission
The mission of the Department of Radiology is to provide
Innovative imaging services of high quality
Timely, compassionate care
An enriching educational environment
Residency Programs
The radiology residency program exposes the resident to every phase of radiology and encourages a disciplined approach to medical problem solving. The program is structured to introduce each subdivision of radiology. Basic understanding of individual techniques is emphasized, followed by hands-on experience aimed at challenging the resident to accept increasingly greater responsibilities as the training program progresses.
In addition to conventional radiology and nuclear medicine, training is offered in computer science, related imaging technologies, angiography, vascular, and interventional radiology.
The department encompasses a specialized Biomedical Imaging Center which contains three high-field MRI scanners, one PET/CT scanner, and an 11 MeV cyclotron. Clinical facilities and electronic chemistry and research laboratories are available to further enrich the learning experience.
Top
Department Chair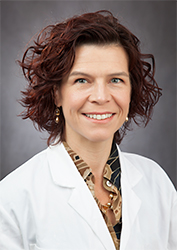 Laura Findeiss, MD, FSIR, Associate Professor serves as the Chair of the Department of Radiology. Dr. Findeiss received her medical degree from the University of Pittsburgh School of Medicine in 1997 followed by two years of General Surgery Residency at the UTGSM. She completed her Diagnostic Radiology Residency at Virginia Mason Medical Center in Seattle, WA.
More
---
Facilities
The Department of Radiology's equipment is housed in a 43,000-square-foot facility.
Equipment includes:
Full-departmental PACS network featuring filmless and paperless image interpretation
Four high-field MRI units (three 1.5 Tesla and one 3 Tesla)
Five helical CT scanners (four are multi-detector and one is dedicated for interventional procedures)
PET/CT prototype LSO-crystal, 16-slice scanner; (PET: Positron Emission Tomography)
An 11 MeV cyclotron
Comprehensive Breast Center
Four ultrasound units
Outpatient Center with CT, PET/CT, and digital radiography
Digital and Computed Radiography
Employment
The department employs approximately 150 technical and support personnel.
Patient Base
Approximately 220,000 exams are performed each year with a regional population base approaching 1.5 million. The University of Tennessee Medical Center is a regional tertiary referral center with busy trauma, surgical, oncologic, medical, pediatric and obstetrical services.
The Molecular Imaging and Translational Research Program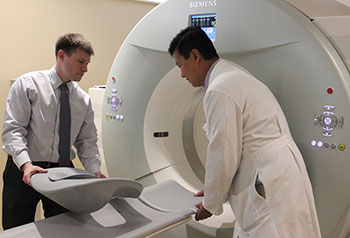 The Molecular Imaging and Translational Research Program is organized into three principal components: physics and methodology, radiopharmaceutical development, and applications for both animals and humans. More
---
Medical Simulation and Learning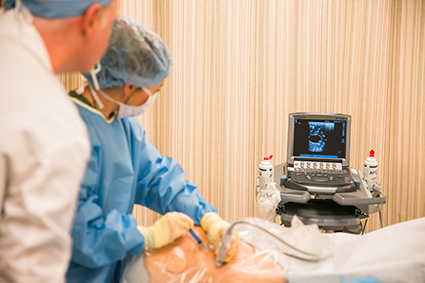 No longer is lecture the only mode of transferring knowledge. At the UT Center for Advanced Medical Simulation, residents, fellows, and medical students use simulation to follow curricula and learning objectives that meet learning styles and satisfy goals of specialties and needs of patients. Specific skills are taught and assessed by faculty physicians from the UT Graduate School of Medicine, who are, themselves, lifelong learners.
In addition to advanced, virtual reality technology, the medical simulation center offers low- and mid-fidelity trainers that refine essential skills used regularly by medical professionals, including inserting catheters, accessing veins, administering injections, and using defibrillators. Today's doctors exercise low-fidelity simulation training to re-enact proper techniques for inserting central venous lines, which will minimize the chance of central line associated blood stream infections, and suturing to ensure proper healing of wounds. The simulation center plays an important role in making the University of Tennessee Medical Center and UT Graduate School of Medicine leaders in healing and education.
---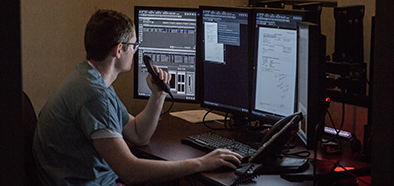 The Reading Room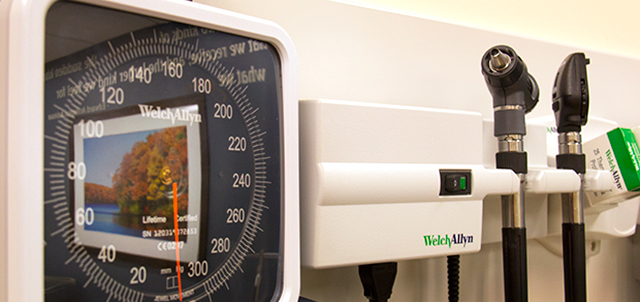 Headlines