The Department of Medicine
Interventional Cardiology Fellowship Program
Application Information
The Interventional Cardiology fellowship positions for AY2020-2021 and AY 2021-2022 have been filled.
To apply for our fellowship, you must have completed a three-year Cardiovascular Medicine Fellowship program prior to starting the Interventional Cardiology Fellowship program. Applications are accepted only through the ERAS website and it opens for applicants in December of each year. Our fellowship program is listed as "University of Tennessee Medical Center at Knoxville Program" and our program ID is: 1524714162.
The following documents are required to be provided in ERAS when applying:
ERAS Application Worksheet
Three (3) Letters of Recommendation (including one each from the Program Director & Cath Lab Director)
Personal Statement
Medical School Transcript
Medical Student Performance Evaluation / Dean's Letter
Wallet Size Color Photograph
ECFMG Status Report (International Medical Graduates Only)
USMLE Transcript - Transmitted by the NBME
Selection Criteria
Applicants are selected based on preparedness, ability, aptitude, academic credentials, prior training, publications, grants, scholarly activity, communication skills, motivation, integrity, and other personal qualities, as evidenced by transcripts, USMLE and COMLEX-USA scores, letters of recommendation, other data, and fellow and faculty perceptions during interviews. Characteristics such as sex, race, age, religion, color, national origin, disability, or veteran status are not used in the selection procedure. Recommendations of all interviewing faculty and fellows are considered in determining to whom to extend fellowship offers.
Review
Following selection for a fellowship position, applications and supporting documentation are forwarded to the Graduate Medical Education (GME) office. The documents are reviewed to verify that the candidates possess the required credentials for licensure or licensure exemption by the Tennessee State Board of Medical Examiners, certification by ECFMG if required, and other credentials as appropriate. Candidates are required to provide a copy of their medical school diploma, copies of certificates from prior residency programs, and copies of USMLE or COMLEX-USA documents. The PGY status of selected candidates is also verified for pay purposes.
Appointment
All Letters of Agreement are issued through the GME office following the above review of eligibility. Appointment to the fellowship program is on a yearly basis with the expectation that continuation within the one-year appointment and reappointment yearly throughout the duration of the fellowship will be based on evidence of satisfactory progress in scholarship and professional growth and the availability of training positions in the fellowship program. The GME office verifies the satisfactory performance of each fellow with the program director prior to re-issuing a Letter of Agreement for continuation in the program in each successive year.
Top
Contact Information
Interventional Cardiology Fellowship Program
Department of Medicine
The University of Tennessee Graduate School of Medicine
1924 Alcoa Highway, Box U-114
Knoxville, TN 37920
865-305-6324
---
Medicine Fellowship Program Manager
Pam Trentham
Email: ptrentha@utmck.edu
---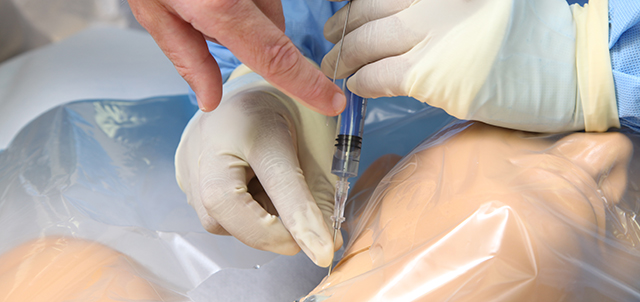 Medical Simulation
Simulation is the imitation of real-life experience including the use of task and virtual reality trainers, as well as standardized patients to refine technical and clinical skills of healthcare professionals. At the UT Center for Advanced Medical Simulation, the goal is continual improvement in quality of patient care and safety through education, practice, and assessment. Simulation can replicate almost any diagnostic or therapeutic situation, from simple IV insertions using low-fidelity task technology to complicated surgeries using high-fidelity, computerized manikins or virtual reality modules.