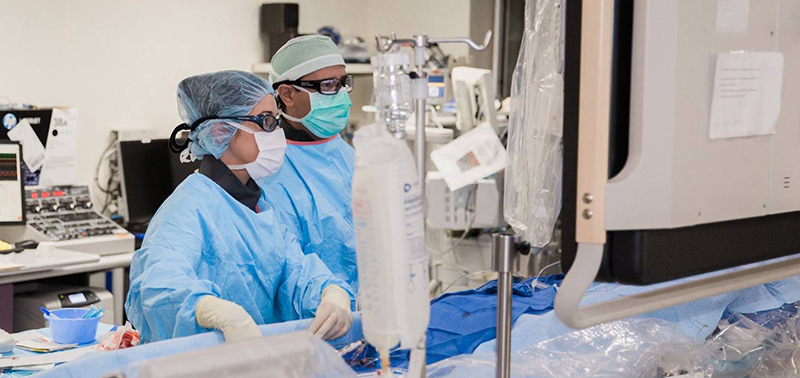 The Department of Medicine
The Department of Medicine is the largest department in the University of Tennessee Graduate School of Medicine (UTGSM). The UTGSM is the Knoxville campus of the University Tennessee Health Sciences Center (UTHSC). The Department is comprised of 15 Divisions and 114 full time, part time, and volunteer faculty. The primary focus of the department is the training of medical residents. We also provide clinical training for third and fourth year medical students, who are primarily enrolled at the UTHSC Memphis campus. We currently offer fellowship training in Cardiovascular Diseases, Interventional Cardiology and Pulmonary Medicine/Crtitical Care Medicine. All of our training programs are fully accredited by ACGME.
Training Facilities
Clinical training is provided mainly at the nationally ranked University of Tennessee Medical Center (UTMC) and affiliated clinics located in Knoxville. Our trainees and faculty are committed to providing exceptional patient care in a collegial environment, and several divisions are nationally recognized for their excellence. We have the twin advantages of being an academic training program without being a large one, where each trainee is well known and recognized for their achievements. We offer several unique programs that encourage our trainees to be critical thinkers; and that prepare them for the ever changing needs of healthcare, both in the current milieu and also for the future. In addition to our experienced faculty, we have outstanding support from ancillary staff in both the hospital and ambulatory clinic settings. We have a robust basic science research program, are rapidly expanding our clinical research, and have ongoing collaborations with other research institutions in and around Knoxville.
Our Mission
The mission of the Department of Medicine is to help physicians in training acquire the knowledge, skills, and attributes necessary to become competent, compassionate physicians who possess a lifetime love of medicine, learning, and teaching; to provide an organization for the delivery of excellent medical care from both the generalists and specialists in the field of Internal Medicine; and to provide an invigorating environment for basic and clinical research. Our enthusiastic and experienced clinical and research faculty are dedicated to the fulfillment of this mission.
---
The "In Touch" Newsletter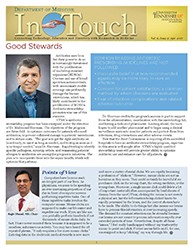 In Touch is produced by the University of Tennessee Graduate School of Medicine's Department of Medicine. The mission of the newsletter is to build pride in the Department of Medicine by communicating the accessible, collaborative and human aspects of the department while highlighting pertinent achievements and activities.
In Touch is published each quarter and features faculty and resident news, upcoming events, and awards and accomplishments. As an institute of learning and discovery, the newsletter highlights how the Department of Medicine contributes to a global body of medical knowledge through various scholarly activities.
Medical Specialties Match Results
We are pleased to announce the following residents matched in the 2016 Medical Specialties Matching Program:

Dr. Marc Collins: Rheumatology, University of Alabama, Birmingham, AL

Dr. Jamie Morris: Cardiovascular Diseases, University of Tennessee Graduate School of Medicine, Knoxville, TN
Dr. Brian Reed: Allergy and Immunology, Medical College of Georgia, Augusta, GA
Dr. Cody Stroupe: Cardiovascular Diseases, Ochsner Clinic Foundation
Dr. Aimee Wehber: Cardiovascular Diseases, University of Tennessee Graduate School of Medicine, Knoxville, TN
Department Chair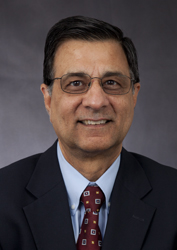 Rajiv Dhand, MD, FCCP, FACP, FAARC, is a noted expert in pulmonary and critical care medicine. Dr. Dhand oversees patient care, research and educational activities of the department, which encompasses 15 medical specialties and is comprised of more than 100 faculty physicians, research scientists, residents and fellows, who serve patients through inpatient and outpatient services.
More
---
Dr. Norwood Receives ACP Laureate Award of the Tennessee Chapter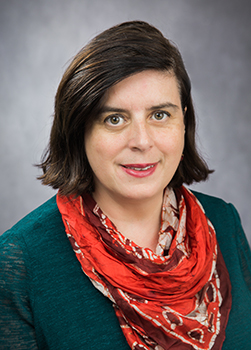 Daphne Norwood, MD, Assistant Professor and Transitional Year Residency Program Director, received the 2016 Laureate Award from the Tennessee Chapter of the American College of Physicians for her commitment to excellence in medical care, education, research and service. In the presentation of Dr. Norwood's award, she was said to embody the qualities of the classically-trained physician.
Dr. Norwood is a graduate of Princeton University as well as the Robert Wood Johnson School of Medicine. In addition, she attained a MPH studying Quantitative Methods and Epidemiology.
Dr. Norwood began practicing inpatient and outpatient medicine in 1998 while teaching at the UT Graduate School of Medicine. In 2006, she took on the roles of Transitional Year Residency Program Director and Associate Program Director of the Internal Medicine Residency.
For the Tennessee Chapter of the ACP, Dr. Norwood has been active in the Council of Transitional Year Program Directors for many years and is the immediate past-chair. She serves on the board of the Association of Hospital Medical Education where her efforts include website content and professionalism milestone development through the Academic Leadership and Program Development Division. She also has been a very active member of the Advisory Council to the Tennessee ACP where she has helped with program content and leads the section on narrative medicine.
Top
---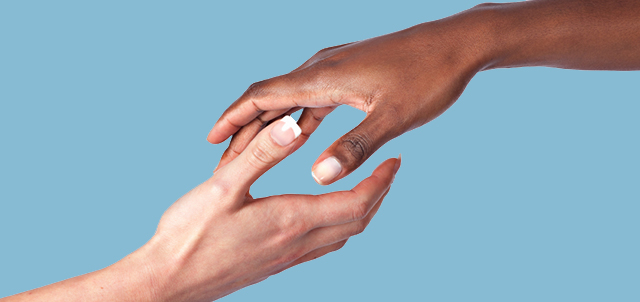 In Touch Newsletter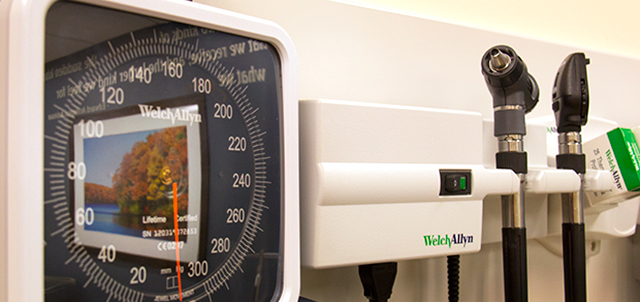 Headlines