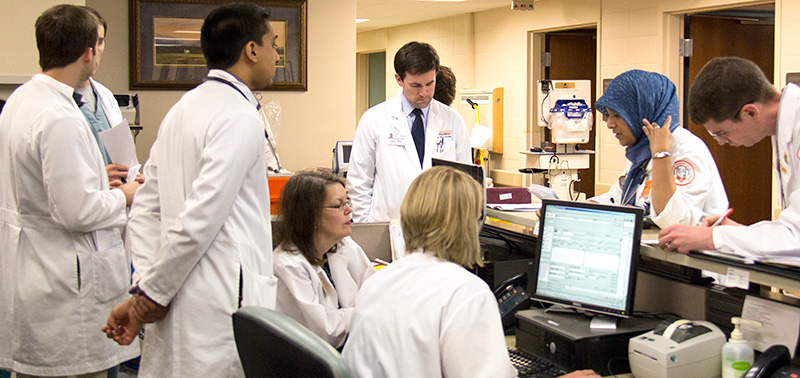 The Department of Medicine
The Department of Medicine is the largest department in the University of Tennessee Graduate School of Medicine (UTGSM). The UTGSM is the Knoxville campus of the University Tennessee Health Sciences Center (UTHSC). The Department is comprised of 15 Divisions and 114 full time, part time, and volunteer faculty. The primary focus of the department is the training of medical residents. We also provide clinical training for third and fourth year medical students, who are primarily enrolled at the UTHSC Memphis campus. We currently offer fellowship training in cardiology and pulmonary medicine. All of our training programs are fully accredited by ACGME.
Training Facilities
Clinical training is provided mainly at the nationally ranked University of Tennessee Medical Center (UTMC) and affiliated clinics located in Knoxville. Our trainees and faculty are committed to providing exceptional patient care in a collegial environment, and several divisions are nationally recognized for their excellence. We have the twin advantages of being an academic training program without being a large one, where each trainee is well known and recognized for their achievements. We offer several unique programs that encourage our trainees to be critical thinkers; and that prepare them for the ever changing needs of healthcare, both in the current milieu and also for the future. In addition to our experienced faculty, we have outstanding support from ancillary staff in both the hospital and ambulatory clinic settings. We have a robust basic science research program, are rapidly expanding our clinical research, and have ongoing collaborations with other research institutions in and around Knoxville.
Our Mission
The mission of the Department of Medicine is to help physicians in training acquire the knowledge, skills, and attributes necessary to become competent, compassionate physicians who possess a lifetime love of medicine, learning, and teaching; to provide an organization for the delivery of excellent medical care from both the generalists and specialists in the field of Internal Medicine; and to provide an invigorating environment for basic and clinical research. Our enthusiastic and experienced clinical and research faculty are dedicated to the fulfillment of this mission.
The "In Touch" Newsletter
In Touch is produced by the University of Tennessee Graduate School of Medicine's Department of Medicine. The mission of the newsletter is to build pride in the Department of Medicine by communicating the accessible, collaborative and human aspects of the department while highlighting pertinent achievements and activities.
In Touch is published each quarter and features faculty and resident news, upcoming events, and awards and accomplishments. As an institute of learning and discovery, the newsletter highlights how the Department of Medicine contributes to a global body of medical knowledge through various scholarly activities. Read the latest edition of the In Touch newsletter.
Top
Department Chair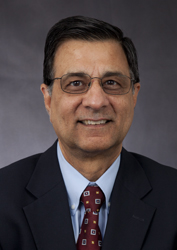 Rajiv Dhand, MD, FCCP, FACP, FAARC, is a noted expert in pulmonary and critical care medicine. Dr. Dhand oversees patient care, research and educational activities of the department, which encompasses 15 medical specialties and is comprised of more than 100 faculty physicians, research scientists, residents and fellows, who serve patients through inpatient and outpatient services.
More
The Kind of Physician I Hope to Be
Resident Feature by Christen Flemming, MD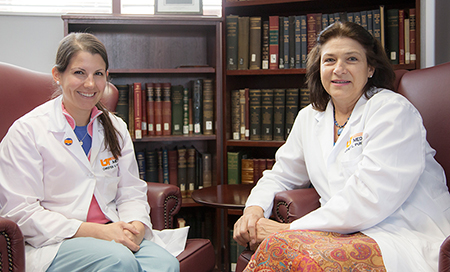 Mentorship of residents and students is very crucial to their development as physicians. We have many excellent mentors here at the Department of Medicine who invest a portion of each busy day in the development of young physicians. During my training here, Dr. Janet Purkey has emerged as a truly exemplary influence. At the beginning of their third year clerkships, many students' first encounter Dr. Purkey and are immediately calmed by her easygoing personality. Shadowing her in the clinic was a great learning experience, and when I later reflected on Dr. Purkey's love of her profession and her passion for her patients, this had a strong impact on my decision to become an internist.
Besides myself, many students would call Dr. Purkey a mentor. Functioning as the UT Internal Medicine Medical Student Clerkship Director and also as an attending on housestaff, Dr. Purkey influences young medical minds each year. She does not limit her mentorship to physicians, however. She has also forgone private practice to help establish The Free Clinic of East Knoxville with several other "faithful volunteers." Undoubtedly these patients, to whom she provides free medical care, learn medicine from her daily. She has many passions outside of medicine, each with a common theme: helping and teaching others. She is on the board for A Hand Up for Women, the Knox County site of a national ministry called Christian Women's Job Corps.
A pivotal experience for me was visiting a patient with Dr. Purkey at the patient's home. The patient, whom Dr. Purkey has seen since intern year in the residents' clinic, was celebrating her 93rd birthday. In her feeble state, without vision and with minimal hearing, this patient beamed with joy at the sound of Dr. Purkey coming with goodies in hand. I hope to have this impact on a single patient in my lifetime. Dr. Purkey has had a great influence on the career direction of the medical students and residents here. Her dedication to the community, her patients, and her residents and students is exemplary. Excellent mentorship has a great influence on residents, both as physicians and as individuals, and is essential in developing strong future physicians.
---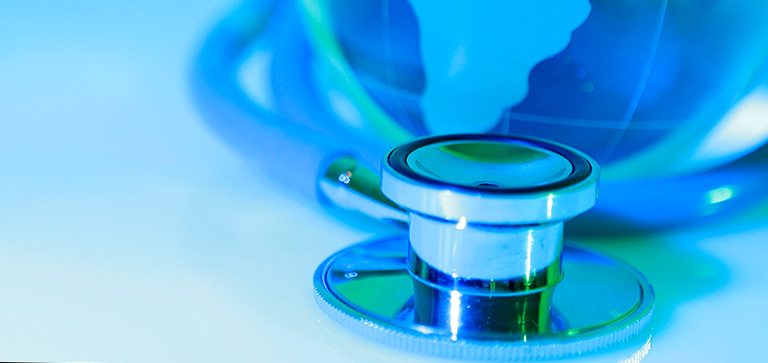 Second Annual Medicine Conference - Today's Technology and Treatment Trends
February 28 - March 1, 2014
UT Conference Center, Knoxville, Tennessee
Faced with an aging population, new developments in technology and treatment options, it will be increasingly important for the health care provider to stay up-to-date on the newest developments and trends in the medical community. The Second Annual Medicine Conference will address new developments and trends in relevant areas such as osteoporosis, celiac disease, hypertension and lung cancer among others.
Approved for AMA, AAPA and ACPE credits and CEUs.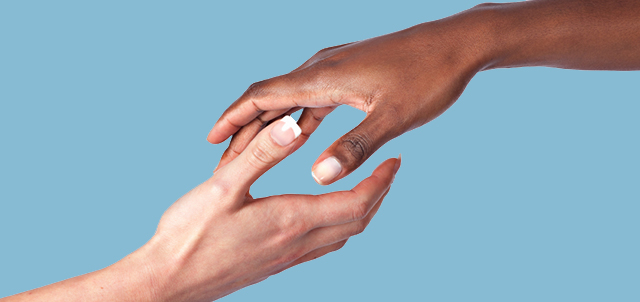 In Touch Newsletter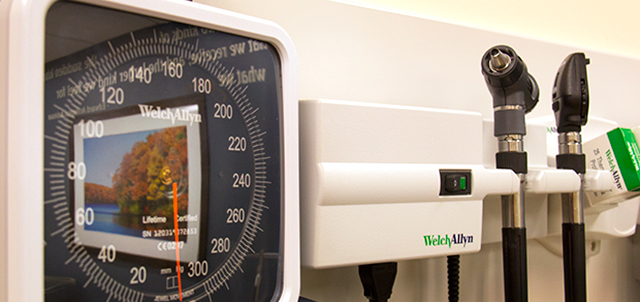 Headlines