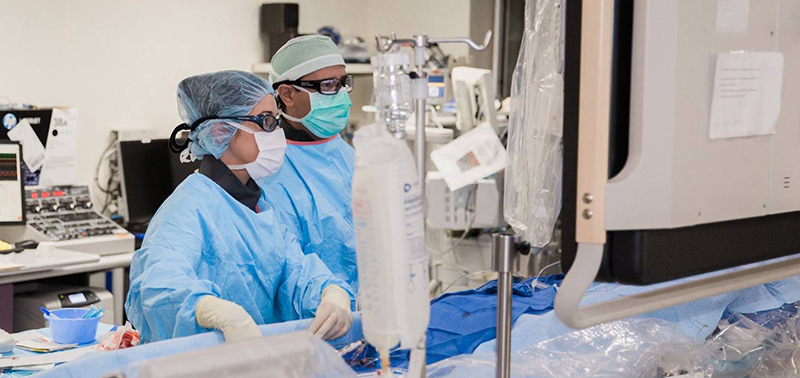 The Department of Medicine
The Department of Medicine is the largest department in the University of Tennessee Graduate School of Medicine (UTGSM). The UTGSM is the Knoxville campus of the University Tennessee Health Sciences Center (UTHSC). The Department is comprised of 15 Divisions and 146 full time, part time, and volunteer faculty. The primary focus of the department is the training of medical residents. We also provide clinical training for third and fourth year medical students, who are primarily enrolled at the UTHSC Memphis campus. We currently offer fellowship training in Cardiovascular Diseases, Interventional Cardiology and Pulmonary Medicine/Critical Care Medicine. All of our training programs are fully accredited by ACGME.
Training Facilities
Clinical training is provided mainly at the nationally ranked University of Tennessee Medical Center (UTMC) and affiliated clinics located in Knoxville. Our trainees and faculty are committed to providing exceptional patient care in a collegial environment, and several divisions are nationally recognized for their excellence. We have the twin advantages of being an academic training program without being a large one, where each trainee is well known and recognized for their achievements. We offer several unique programs that encourage our trainees to be critical thinkers; and that prepare them for the ever changing needs of healthcare, both in the current milieu and also for the future. In addition to our experienced faculty, we have outstanding support from ancillary staff in both the hospital and ambulatory clinic settings. We have a robust basic science research program, are rapidly expanding our clinical research, and have ongoing collaborations with other research institutions in and around Knoxville.
Our Mission
The mission of the Department of Medicine is to help physicians in training acquire the knowledge, skills, and attributes necessary to become competent, compassionate physicians who possess a lifetime love of medicine, learning, and teaching; to provide an organization for the delivery of excellent medical care from both the generalists and specialists in the field of Internal Medicine; and to provide an invigorating environment for basic and clinical research. Our enthusiastic and experienced clinical and research faculty are dedicated to the fulfillment of this mission.
Highlights
IM Residency Program Demonstrates Continued Academic Success
Our Internal Medicine Residency Program continues to compete favorably with top training programs nationally with a strong performance on the IM In-service Training Exam. We view the IM-ITE as a valuable tool which assists our evaluation of curricular components and allows each resident to identify knowledge gaps on a yearly basis. Our recent graduates continued to demonstrate excellence with a 100% Pass Rate on the American Board of Internal Medicine certification exam. We take pride in continuing this rich tradition.
Posted 11/6/17
CHEST 2017
The Department of Medicine was well represented by Drs. Sehgal, Dewald, Pugh and Boulos at Chest 2017; the annual meeting of the American College of Chest Physicians held in Toronto, Canada. Dr. Jonathan Dewald was award a blue ribbon for outstanding case report for "Progression of pulmonary fibrosis in a patient with telomere disease previously treated with danazol."
Posted 11/6/17
PCORI Team Submits Grant Proposal
After months of tireless effort, the PCORI team, headed by Dr. Dhand, Jennifer Ferris and Dr. Paul Terry, recently submitted a grant proposal entitled, "Nebulizers vs inhalers as maintenance therapy to treat dyspnea in advanced COPD" to the Patient-Centered Outcomes Research Institute. If accepted, this three-year project would be completed in phases and would involve approximately 600 patients. Each patient would visit our facility three times during a six-month period. One-half of the participants would use regular inhalers and one-half would use nebulizer delivery systems. If our proposal is accepted, this award would start a very valuable relationship with the PCORI group.
Posted 11/6/17
Dr. Dhand Invited to Speak at 21st Annual Thomas J. Godar Pulmonary/Critical Care Symposium
Dr. Rajiv Dhand spoke, on September 14, at the 21st Annual Thomas J. Godar Pulmonary/Critical Care Symposium sponsored by the Section of Pulmonary/Critical Care and Sleep Medicine at Saint Francis Hospital and Medical Center in Hartford, Connecticut. His talk entitled, "Advancement and Understanding of Pathogenesis and Newer Modalities of Treatment for Chronic Obstructive Pulmonary Disease - Bench to Bedside" was attended by pulmonary/critical care physicians and internists interested in Pulmonary and Critical Care Medicine.
Posted 9/20/17
Dr. Jon Wall Receives Grant to Research Light Chain Amyloidosis (AL)
Light chain amyloidosis (AL) is the most common form of systemic amyloid disease, with an estimated 4,500 new cases each year in the US. AL is a complex plasma cell-related disease characterized by the formation of insoluble protein fibrils composed of misfolded monoclonal immunoglobulin light chain components. Effective clinical management of patients with AL requires, in addition to chemotherapy, removal of destructive tissue amyloid so that organ function can be allowed to recover. To address this Dr. Wall's team has developed a strategy that uses a novel bifunctional "peptope" - that combines a pan-amyloid-reactive peptide and a linear epitope sequence - to enhance the efficacy and extend the utility of current immunotherapeutic antibodies, such as the chimeric reagent, 11-1F4. AL amyloidosis remains a devastating and incurable disease. The goal of this work is to characterize innovative bifunctional peptides that simultaneously bind amyloid and the 11-1F4 monoclonal antibody to generate a novel immunotherapy for AL amyloidosis. This approach will complement current antibody-based therapies for amyloid removal, thereby restoring organ function and securing long-term survival and remission for patients with AL.
Posted 9/13/17
The "In Touch" Newsletter

In Touch is produced by the University of Tennessee Graduate School of Medicine's Department of Medicine. The mission of the newsletter is to build pride in the Department of Medicine by communicating the accessible, collaborative and human aspects of the department while highlighting pertinent achievements and activities.
In Touch is published each quarter and features faculty and resident news, upcoming events, and awards and accomplishments. As an institute of learning and discovery, the newsletter highlights how the Department of Medicine contributes to a global body of medical knowledge through various scholarly activities.
---
The Department of Medicine is pleased to announce a
100% American Board of Internal Medicine Pass Rate!
Congrats to our recent graduates.

Medical Specialties Match Results
We are pleased to announce the following residents matched in the 2016 Medical Specialties Matching Program:

Dr. Marc Collins: Rheumatology, University of Alabama, Birmingham, AL
Dr. Jamie Morris: Cardiovascular Diseases, University of Tennessee Graduate School of Medicine, Knoxville, TN
Dr. Brian Reed: Allergy and Immunology, Medical College of Georgia, Augusta, GA
Dr. Cody Stroupe: Cardiovascular Diseases, Ochsner Clinic Foundation
Dr. Aimee Wehber: Cardiovascular Diseases, University of Tennessee Graduate School of Medicine, Knoxville, TN
Department Chair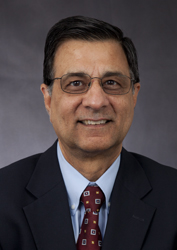 Rajiv Dhand, MD, FCCP, FACP, FAARC, is a noted expert in pulmonary and critical care medicine. Dr. Dhand oversees patient care, research and educational activities of the department, which encompasses 15 medical specialties and is comprised of more than 100 faculty physicians, research scientists, residents and fellows, who serve patients through inpatient and outpatient services.
More