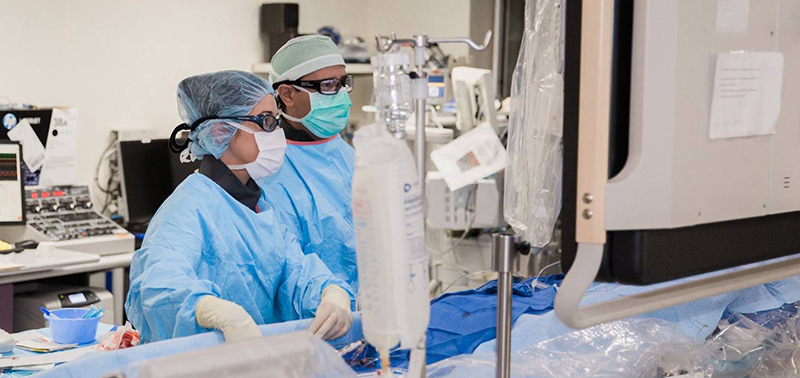 The Department of Medicine
The Department of Medicine is the largest department in the University of Tennessee Graduate School of Medicine (UTGSM). The UTGSM is the Knoxville campus of the University Tennessee Health Sciences Center (UTHSC). The Department is comprised of 15 Divisions and 146 full time, part time, and volunteer faculty. The primary focus of the department is the training of medical residents. We also provide clinical training for third and fourth year medical students, who are primarily enrolled at the UTHSC Memphis campus. We currently offer fellowship training in Cardiovascular Diseases, Interventional Cardiology and Pulmonary Medicine/Critical Care Medicine. All of our training programs are fully accredited by ACGME.
Training Facilities
Clinical training is provided mainly at the nationally ranked University of Tennessee Medical Center (UTMC) and affiliated clinics located in Knoxville. Our trainees and faculty are committed to providing exceptional patient care in a collegial environment, and several divisions are nationally recognized for their excellence. We have the twin advantages of being an academic training program without being a large one, where each trainee is well known and recognized for their achievements. We offer several unique programs that encourage our trainees to be critical thinkers; and that prepare them for the ever changing needs of healthcare, both in the current milieu and also for the future. In addition to our experienced faculty, we have outstanding support from ancillary staff in both the hospital and ambulatory clinic settings. We have a robust basic science research program, are rapidly expanding our clinical research, and have ongoing collaborations with other research institutions in and around Knoxville.
Our Mission
The mission of the Department of Medicine is to help physicians in training acquire the knowledge, skills, and attributes necessary to become competent, compassionate physicians who possess a lifetime love of medicine, learning, and teaching; to provide an organization for the delivery of excellent medical care from both the generalists and specialists in the field of Internal Medicine; and to provide an invigorating environment for basic and clinical research. Our enthusiastic and experienced clinical and research faculty are dedicated to the fulfillment of this mission.
Highlights
Dr. Paul Terry to Review DOD Grant Applications
Dr. Paul Terry will be in Herndon, Virginia, in mid-December to review prostate cancer-related grant applications as a member of the "Clinical Experimental Therapeutics" peer review panel for the Department of Defense's (DOD) Congressionally Directed Medical Research Program (CDMRP). Several of these grant applications relate to novel "natural" or "herbal" agents that have shown promise as anti-cancer agents in vitro and in vivo. Although the CDMRP does not have "permanent" grant-review panel members, this will be Dr. Terry's twelfth grant-reviewing assignment for the DOD since 2008.
Posted 12/5/17
Dr. Dhand Invited to Co-Chair NIH Study Section
Dr. Rajiv Dhand was invited to co-chair a NIH study section on Biomaterials, Delivery and Nanotechnology. The purpose of the study section is to assess the scientific merit of NIH grant applications and play an important role in determining the most promising basic or applied research funded by the NIH.
Posted 12/5/17
Charles Duffy, MD, PhD, Presents Department of Medicine Grand Rounds

Dr. Charles Duffy presented the Department of Medicine Grand Rounds, "Cognitive care in primary care: A neurological perspective," on Tuesday, November 28, 2017. Dr. Duffy is Professor of Neurology at the University of Rochester Medical Center in Rochester, New York.
Posted 12/5/17
DOM Team Seeks CORNET-Clinical Award
Drs. Dhand, Terry, Martin, Rowe and Jennifer Ferris submitted a CORNET-Clinical Award proposal entitled, "Muscle weakness in hospital patients with medical illnesses: Micro-RNA biomarkers of prolonged weakness." The purpose of CORNET-Clinical Awards is to encourage innovative, interdisciplinary, team research creating opportunities for future external funding as well as promoting new lines of research.
Posted 12/5/17
The "In Touch" Newsletter

In Touch is produced by the University of Tennessee Graduate School of Medicine's Department of Medicine. The mission of the newsletter is to build pride in the Department of Medicine by communicating the accessible, collaborative and human aspects of the department while highlighting pertinent achievements and activities.
In Touch is published each quarter and features faculty and resident news, upcoming events, and awards and accomplishments. As an institute of learning and discovery, the newsletter highlights how the Department of Medicine contributes to a global body of medical knowledge through various scholarly activities.
---
The Department of Medicine is pleased to announce a
100% American Board of Internal Medicine Pass Rate!
Congrats to our recent graduates.

Medical Specialties Match Results
We are pleased to announce the following residents matched in the 2017 Medical Specialties Matching Program:

Neena Agrawal, MD Medical Genetics, National Human Genome Research Institute/NIH, Bethesda
Jonathan Angotti, MD, Pulmonary and Critical Care Medicine, Medical University of South Carolina, Charleston
Lesley Jackson, MD, Global Health, Beth Israel Deaconess Medical Center, Boston
Jonathan Dewald, MD, Pulmonary and Critical Care Medicine, St. Elizabeth's Medical Center, Boston
Vamsee Lakkakula, MD, Cardiovascular Disease, East Carolina University, Greenville, NC
Adam Price, MD, Nephrology, Medical University of South Carolina, Charleston
Spencer Pugh, MD, Pulmonary and Critical Care Medicine, University of Tennessee, Knoxville
Department Chair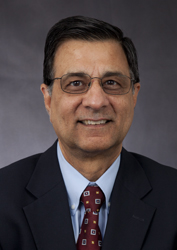 Rajiv Dhand, MD, FCCP, FACP, FAARC, is a noted expert in pulmonary and critical care medicine. Dr. Dhand oversees patient care, research and educational activities of the department, which encompasses 15 medical specialties and is comprised of more than 100 faculty physicians, research scientists, residents and fellows, who serve patients through inpatient and outpatient services.
More