The Department of Medicine
Cardiovascular Disease Fellowship Program
Our mission is to cultivate a culture of intellectual curiosity with engagement of learners and teachers, spanning a comprehensive clinical experience and opportunities for research and discovery. Therefore, we aim to:
Graduate clinically astute cardiologists capable of achieving diverse career goals;
Continue to foster a uniquely collegial/supportive educational environment that fulfills the career goals of both fellows and faculty.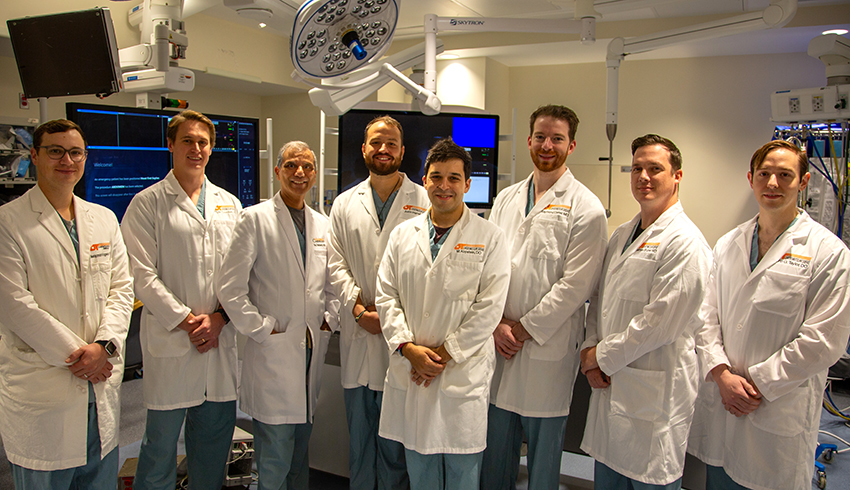 Learn About Our Program
Thank you for your interest in the University of Tennessee Graduate School of Medicine Cardiovascular Disease Fellowship program. Please explore all the opportunities our program has to offer and contact us with any questions.
Fellowship Applicants: Learn About Our Program
This three year, ACGME approved program is designed to develop the internal medicine residency program graduate into an expert consultative cardiologist capable of pursing a clinical or academic career or further subspecialty training in cardiovascular medicine.
Diverse clinical opportunities facilitated by experienced, attentive faculty in a collegial, shoulder-to-shoulder setting combine with research and other scholarship undertakings to provide a supportive educational atmosphere for the physician dedicated to providing compassionate, patient-centered care while cultivating a career devoted to lifelong learning.
Clinical activities include inpatient consultative services and outpatient staff and continuity clinics as well as a comprehensive curriculum to develop mastery of invasive and noninvasive diagnostic procedures: electrocardiography (ECG), outpatient Holter/telemetry monitoring, echocardiography (both transthoracic and transesophageal), exercise and pharmacologic stress testing with ECG/echocardiography/myocardial perfusion imaging, right and left heart catheterization, invasive electrophysiology (EP) testing, EP device interrogation and evaluation. Fellows also have the opportunity to participate in EP device implantation, EP ablative therapies, temporary cardiovascular support device implantation (e.g. intraaortic balloon pumps and Impella), and catheter-based structural heart procedures, including transcatheter valve replacement/repair, septal defect closures, and septal myocardial ablations.
Our fellows have presented the fruit of their scholarly activities at regional and national meetings, winning awards for their research. Our graduates have chosen careers in all aspects of cardiology, successfully matching to advanced fellowships in interventional cardiology and EP as well as entering both private practice and academic careers.
Get to Know Us


Stuart Bresee, MD
Program Director


Michael Kopstein, MD
Fellow


Rajiv Dhand, MD
Chair of Medicine
Our Campus
Facilities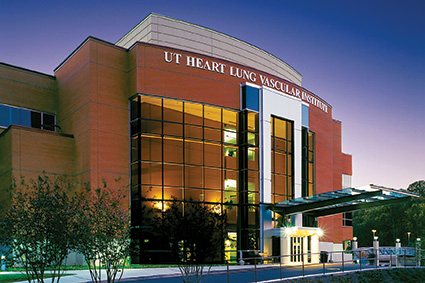 Inpatient training takes place at the University of Tennessee Medical Center (UTMC), a tertiary referral center and Level-I Trauma Center serving the entire East Tennessee region. During the consultative and critical care rotations, the fellow treats inpatients with the entire range of cardiovascular disorders. During the required and elective rotations, the fellow receives extensive training in electrocardiography, exercise stress testing, echocardiography, nuclear cardiology, and diagnostic cardiac catheterization. Higher level training is available in any of the above subspecialty areas at the fellow's request and with program director approval. Ambulatory training takes place in the Heart Lung Vascular Institute, which adjoins the hospital. There the fellow evaluates cardiovascular disease patients in a private practice setting and follows the fellow's own panel of patients in a continuity clinic. Throughout the fellowship, the fellow works closely with a research mentor on a research project of the fellow's choosing. The fellow is provided with six months of dedicated research time during the third year of the fellowship to complete the research project.
Center of Excellence
The Heart Lung Vascular Institute is one of the medical center's six Centers of Excellence. Each center is dedicated to providing comprehensive care to patients and expert commitment plays a critical role in the hospital's ongoing success.The Heart Lung Vascular Institute brings together expertise in clinical care, teaching and research. Patients receive exceptional healthcare combined with patient-centered care, premier technology and extensive patient/community education in one convenient outpatient facility.
Program Strengths
The fellowship program is an integral part of the University of Tennessee Graduate School of Medicine Department of Medicine program that has been in existence since 1956, with continued full accreditation since its inception. The UTGSM program has over 170 residents and fellows training in 10 ACGME accredited core residency programs and four ACGME accredited subspecialty fellowship programs.

UTGSM provides fellows with an excellent support system, including nursing, pharmacy, library, laboratory, nutritional support, social workers, consultative support from subspecialists, and an excellent Resident Assistance Program. The University of Tennessee Medical Center(UTMC) has state-of-the-art diagnostic and therapeutic facilities with an electronic medical record system, the CoPath pathology information system, and the PACS radiology information system.
UTGSM draws patients from a large geographic area in East Tennessee, southeast Kentucky, northwest North Carolina, and western Virginia. University of Tennessee Medical Center is a Level 1 Trauma Center, with three helicopters providing transport of critically ill patients, including numerous acute myocardial infarction patients. Due to the tertiary referral nature of the university program, a large number of patients with a broad spectrum of clinical pathologies are available for both clinical experience and research studies.

The fellowship faculty practice, University Cardiology, is located in offices connected to the hospital and is part of the University of Tennessee Medical Center's Heart Lung Vascular Institute. The large University Cardiology practice sees over 200 patients daily from all over the East Tennessee region and neighboring states.


The fellowship faculty physicians have trained at some of the best training programs in the country, including Baylor, Johns Hopkins, Brown, University of Michigan, Boston University, Emory, LSU, Harvard, Tulane, Southwestern, Vanderbilt, and University of Pennsylvania. All faculty members are board-certified in cardiovascular disease. In addition, there are faculty members board-certified in interventional cardiology, nuclear medicine, and electrophysiology and pacing.


The volume of cardiovascular procedures performed annually at UTMC, in both the hospital and clinic, is substantial, with more than:



21,525 of echocardiograms (1,491 TEE's)


2,607 cardiac catheterizations (778 PCI's)


Structural interventions include:



131 TAVR's
35 MitraClip
80 Watchman



902 cardioversions


986 devices


74,129 ECGs


2,766 stress tests (50/50 inpatient PET/outpatient SPECT)


493 of electrophysiological studies




Cardiovascular Disease Fellowship Program Director
Stuart J. Bresee, MD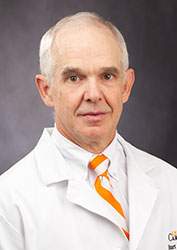 Mission Statement: To cultivate a culture of intellectual curiosity with engagement of learners and teachers, spanning a comprehensive clinical experience and opportunities for research and discovery.
---
What Our Fellows Are Saying:
"Thanks to this great program, I am well-prepared for my future in invasive non-interventional cardiology."

Rajiv Sharma, MD
Top
Support The University of Tennessee Graduate School of Medicine
The University of Tennessee Graduate School of Medicine
1924 Alcoa Highway
Knoxville, Tennessee 37920 | 865-305-9290
Copyright © 2023