Medical Student Education
Third Year Clerkships - Neurology
In the four-week Neurology Clerkship in Knoxville, students will have inpatient as well as outpatient and ER experience. The four week block will be divided into two weeks each of inpatient/consultation service at UT Medical Center, and outpatient clinics at Knoxville Neurology Clinic and Cole Neuroscience Center.
Inpatient Rotation
Students will accompany their inpatient/on-call attending for daily morning rounds and for new patients as assigned by the attending. Students will be responsible to follow at least two patients during the inpatient rotation (such that upon discharge of their patient(s), they will pick up new patients to follow). Each student will present the progress and work up of these patients in the rounds with attending. Students will give written notes for two H&P and 2 SOAP notes to the attending for review and feedback.
Outpatient Rotation
Students will attend four half-days of neurology clinics per week during their 2-week outpatient rotation. Students will work with different attendings and will get the opportunity to see patients in the general neurology clinics as well as subspecialty clinics including: epilepsy, movement disorders, dementia, multiple sclerosis and MDA-ALS clinics. The students will present at least two new patients to their attending in the outpatient clinic. Teaching sessions will be held in the afternoons to correspond with the neurology clerkship teaching rounds at UT HSC (8 half day sessions during the 4 week rotation). Students will participate in these sessions via videoconference.
Additional teaching sessions in Knoxville includes:
LP demo and practice. Neuroradiology, and Neurodiagnostics (EEG, EMG)

Materials and resources for independent study will be the same as recommended by UTHSC (Preston Medical Library is an excellent resource for students in Knoxville). Students will be guided by their attendings for any pertinent reading material.

Students will meet with the clerkship director or associate clerkship director on the 2nd Friday of the rotation for ongoing evaluation and feedback.

Each student will be observed by an attending for ability to perform directed neurological history, perform an appropriate neurological exam, discuss the abnormal neurologic findings in the context of lesion(s) location, and provide a short list of diagnostic possibilities, and will receive feedback on his/her performance.

Students are responsible for maintaining/completing log for patient encounters.
Goals and Objectives
The goals and objectives will correspond to those for the Neurology Clerkship at UTHSC Memphis. Details can be found in Course Documents on Blackboard).
Call
Students will be on call one day per week during their two week inpatient rotation until 10:00pm.
Evaluation & Exam
Method of evaluation:
Performance evaluations by the attending (50%) - weighted 25% for inpatient and 25% for outpatient
Written Examinations - 50% Grading
Grades A, B, C, FF will be determined on the same guidelines as used at the UTHSC campus. Evaluation of Training
Student performance on written exam
Student evaluation of clerkship program
Student evaluation of faculty
Clerkship Faculty
Steven Rider, MD, Clinical Assistant Professor, Clerkship Director
Upinder K. Dhand, MD, Professor
Norman Walton, MD, Clinical Assistant Professor, Clerkship Associate Program Director
William Paulsen, MD, Clinical Associate Professor
John Dougherty, MD, Clinical Assistant Professor
Brian Wiseman, MD, Clinical Assistant Professor
Randall G. Trudell, MD Clinical Assistant Professor
Contact Information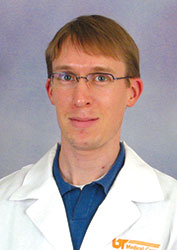 Stephen Rider, MD, Clerkship Director
Phone: (865) 521-6174
Email: srider@utmck.edu

Contact:
Lolita Davis, Office of Medical Student Education
lodavis@utmck.edu (865) 305-5561
---
Visit the Department of Medicine for information about our residency program, faculty, and research.
---
Contact The Office of Medical Student Education
865-305-9618 or students@utmck.edu
---
What Our Students Are Saying:
"You get a lot of one on one time with attendings. Easy to get letters of recommendation for fourth year since attendings know you. Staff get to know you personally and help you out a lot. Free meals when on call."

Rupert Stanborough, Class of 2013
Medical Student Overview of Facilities