Medical Student Education
Third Year Clerkships - Surgery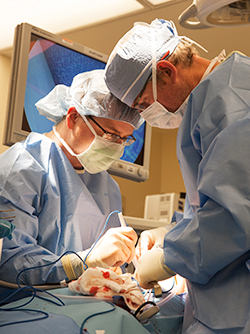 The Surgery Department's eight-week Clerkship can accommodate a maximum of ten students per rotation. Each student participating in the surgery clerkship will become familiar with a variety of surgical diseases and their diagnosis in order to recognize the need for surgical consultation. Students will learn how to prepare patients for surgery, both medically and psychologically. Students will also learn how to manage patients postoperatively, in the ICU, the hospital ward and as outpatients. Students are assigned to General Surgery, Trauma, Critical Care, Vascular Surgery, Transplant Surgery, Colon and Rectal Surgery, or Surgical Oncology. Students are assigned to a three week rotation on the general or trauma surgery service, three week rotation on colon and rectal surgery or surgical oncology services, and an elective week rotation on the vascular, transplant, or surgical critical care services. For specific service requests, please contact Jody Huffaker. Rotation requests are first-come-first-serve and should be made at least 30 days prior to the clerkship start.
The surgical subspecialties of orthopedics, ENT, ophthalmology, and urology are offered in Knoxville for the fourth year required surgical subspecialty rotation.
Although a great deal of time will be spent in the operating room, students will also be expected to attend outpatient clinics and work with different attendings seeing pre and post-operative patients. A designated student mentor is assigned for each surgery service. Students will meet with their current service mentor weekly to review history and physical notes taken by the student. Additionally, each student will meet with the Clerkship Director periodically to assess progress.
Throughout the rotation, emphasis is placed upon developing skills needed by primary care physicians in surgical diagnoses and appropriate referral. Required lectures are scheduled from 7-8am and 3-6pm throughout the week and scheduled surgical conferences (M & M, Grand Rounds, and Professorial Rounds) are on Tuesday and Thursday mornings. Students are required to attend the regular surgery conferences. All general course objectives directly reflect those of UTHSC for the Surgical Core Clerkship, however specific lecture objectives may vary slightly. Preparing the student for both the NBME Surgery Shelf Exam and the on site Oral Exams are both goals of the clerkship.
Students will take call every fourth night with the call ending at 11:00 p.m. Meal tickets will be provided to students on their call nights. Each student will also work one weekend within the eight week period. Remaining weekends are available for study, rest, and recreation time. Each student will receive a mid-term evaluation from the Clerkship Director where student strengths and weaknesses will be discussed. Final evaluations will be completed on the standardized UTHSC form by both Attendings and residents who have worked directly with the student.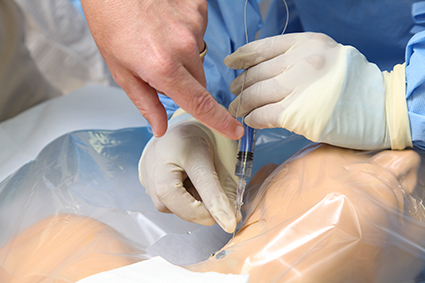 Students have full access to our Medical Simulation Center where opportunities are provided to increase surgical skills. New laparoscopic trainers offer students the ability to practice a variety of skills, such as suturing, dissection and pattern cutting, and allow the students to improve their visual, tactile and coordination skills. These training procedures range from the basics, such as drawing blood to more sophisticated procedures, such as endovascular surgery and trauma care. Sim Man, a full-sized patient simulator, offers training using pre-programmed scenarios, instructor-created scenarios, and on the fly training. Simulation equipment and models include: adult and newborn human patient models, endovascular simulator, procedural models, and laproscopic surgery trainers and instruments.
Since the number of students on the surgery rotation is small, students have the opportunity to receive individualized attention from the staff. Faculty members are passionate about the field of surgery, well known throughout the country for their expertise, and dedicated to teaching. Opportunities to continue to receive the benefit of the faculty teaching skills are available through the surgical residency program. Surgical Education at the University of Tennessee Graduate School of Medicine, Knoxville is designed to exceed the special requirements for residency training in general surgery and produce surgeons with sound clinical and technical skills. Our residency is a five-year program that is fully accredited by the ACGME. We offer four categorical positions per year and preliminary positions. The program graduates have been highly successful in securing post-graduate fellowships, clinical practice positions, and pursuing careers in academic surgery.