Medical Student Education
Third Year Clerkships - Obstetrics and Gynecology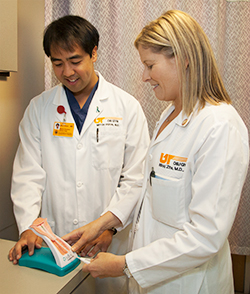 The OB/GYN clerkship is an 8 week block comprised of four weeks dedicated to obstetrics, one week to gynecologic oncology, and three weeks to general gynecology. The purpose of this clerkship is an introduction to the care of women of all ages and emphasizes those aspects of care applicable to all physicians, regardless of ultimate career goals. It provides the knowledge and clinical experience necessary to develop basic skills in diagnosis, treatment options, patient education, economic considerations, and patient values. The program is oriented to help students develop the clinical skills essential for encouraging optimal women's health.
Students attend and are assigned patients for morning rounds for Obstetrical and Gynecologic Services. They attend daily medical student lectures and in addition resident didactic lectures every Friday at noon and diabetic lectures every other Thursday at noon. Students also attend departmental Grand Rounds every Friday morning to further their learning experiences. The didactic portion of the program comprises Problem Based Learning rather than the usual lecture method. The total program is very clinically oriented. Each student is required to present two cases experienced during the rotation, one in obstetrics and one in gynecology. Students have a surgical skills class to teach the proper ways of suturing and other techniques in the Simulation Center.
Students take two weekend calls and four weekday calls during their rotation. Weekday call extends up to 8:00 pm and weekend call is 24 hours. Call adds to the clinical experience learned during the day. Meal tickets are provided to the students on their call nights and can be obtained through the Undergraduate Medical Education Office.
Approximately two weeks before the end of the rotation, a faculty member conducts a two-hour exam review with the students. Sample tests are distributed to assist in identifying problem areas prior to final testing. Faculty and residents complete clinical evaluations of the students comprising 70% of the final exam grade and the remaining 30% is from the written exam grade. Students complete evaluations of the faculty and residents at the end of their rotations to document their overall experiences. The program is oriented to help students develop the clinical skills essential for encouraging optimal women's health.
Contact Information
K. Paige Johnson, MD
Clerkship Director
---
Venessa Rucker, Dept. of OB/GYN Assistant
vrucker@utmck.edu
phone: 865-305-9306
Visit the Department of OB/GYN for information about our residency program, faculty, and research.
---
Contact The Office of Medical Student Education
865-305-9618 or students@utmck.edu
---
What Our Students Are Saying:
"The OB/GYN clerkship at the UT Graduate School of Medicine in Knoxville was an all-around fantastic experience! The extensive amount of one-on-one time with residents and attendings that were eager to teach fostered learning in a variety of weekly clinics, on the labor and delivery floor, and in the operating room. I highly recommend this rotation and the Knoxville location in general."

Carson Rider, Class of 2015
Medical Student Overview of Facilities
The University of Tennessee Graduate School of Medicine
1924 Alcoa Highway
Knoxville, Tennessee 37920 | 865-305-9290
Copyright © 2023