Office of Continuing Education and Professional Development
Regularly-Scheduled Series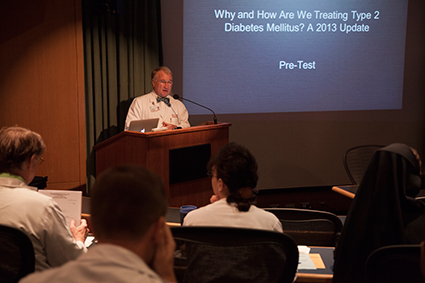 Annual Regularly-Scheduled Series (RSS) are expected to be planned, implemented, and evaluated in compliance with the ACCME Essential Areas and Elements and the ACCME Standards for Commercial Support, and CEPD Policies and Procedures. All RSSs are expected to meet the ACCME Definition of an RSS and are expected to meet the AMA definition of continuing medical education.
A course is identified as an RSS when it is planned to have 1) a series with multiple sessions that 2) occur on an ongoing basis (offered weekly, monthly, or quarterly) and 3) are primarily planned by and presented to the accredited organization's professional staff. Examples of activities that are planned and presented as a regularly scheduled series are grand rounds and tumor boards.
Initial Planning and Requirements
RSS are certified for AMA PRA Category 1 Credit™ once every three years pending the acceptance of an annual review. Initially, each department is expected to complete and submit a Continuing Education Application along with required documentation (please see Forms page). You will be required to create a profile.
Activity Promotion
RSS activities are typically promoted by means of email, flyer, newsletter or web site. A promotional material template should be submitted with the initial CME credit application. The appropriate accreditation statement must appear on all activity materials including promotional materials. The CEPD has final approval on all templates for promotional materials.
Speakers
The majority of RSS are conducted by faculty and local speakers. Providing departments make arrangements for speakers. RSS Coordinators are responsible for obtaining all required forms from speakers scheduled for RSS. The course director assures that all appropriate information is properly disclosed to the audience prior to each session.
Disclosure of Relevant Financial Relationships
All individuals with control over CME activity content must disclose any relevant financial relationships with any commercial interests. The ACCME defines "relevant financial relationships" as financial relationships in any amount occurring within the past 12 months that create a conflict of interest.
The ACCME defines a "commercial interest" as any entity producing, marketing, re-selling, or distributing health care goods or services consumed by, or used on, patients. The ACCME does not consider providers of clinical service directly to patients to be commercial interests.
Prior to the beginning of each session, disclosure for the planning committee and speakers must be made to the audience. When disclosing financial relationships to the learners, the individual's name, the name of the commercial interest(s) and the nature of the relationship with the commercial interest must be given. When there is no relevant financial relationship, learners must be informed that no financial relationship exists. Disclosure must never include trade names or product group messages. Anyone refusing to disclose relevant financial relationships will not be allowed to plan or present at the activity.
Series/Session Evaluations
It is important to demonstrate that evaluation data are used in planning CME activities. Standardized evaluation forms are provided by our office. Each evaluation form should be adjusted to meet individual activity goals and needs. If another evaluation method is used for an activity, a sample must be provided with the initial activity application.
Program Evaluation
As an accredited provider, the CEPD periodically reviews: (1) the extent to which our mission is being achieved by our educational activities; (2) the extent to which educational objectives are being met; (3) the quality of the instructional process; and (4) participants' perception of enhanced professional effectiveness. Documentation for activities within a series is monitored quarterly by CEPD personnel.
Top