Office of Continuing Education and Professional Development
Directly-Provided Courses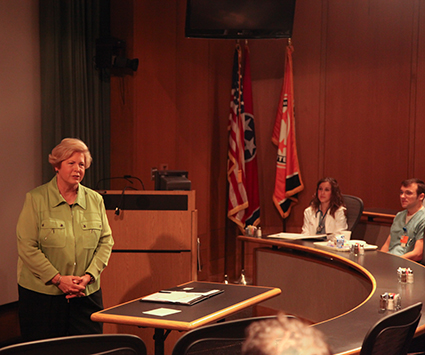 All conference planning relative to CME activities which are certified for AMA PRA Category 1 Credit™ must be coordinated by and through the office of Continuing Education and Professional Development (CEPD). Responsibilities between the CEPD and the Course Directors and Coordinators can and do differ depending on the type and scope of the activity. All UTCOM certified CME activities are expected to be planned, implemented, and evaluated in compliance with the ACCME Essential Areas and their Elements, the ACCME Standards for Commercial Support, and the CEPD Policies and Procedures. The important point is that the CEPD must be notified and involved at the earliest stage of planning.
Initial Planning and Requirements
First, a Course Director (or his/her designee) must contact the CEPD. All direct provided activities must have the co-providership of a UTGSM clinical department. An initial planning session is conducted where all issues relative to certification of credit and conference planning are discussed. Responsibilities are identified and assigned.
The next step is the completion of a web-based Continuing Medical Education Application for AMA PRA Category 1 Credit™ which is submitted to the CEPD along with required documentation. (Please see other Forms). Applications must provide documentation that compliance with ACCME Essential Areas and their Elements and the ACCME Standards for Commercial Support have been met and the activity meets the definition of CME. After thorough review by the CEPD, the activity application packet is forwarded to the Associate Dean for CME at UT Chattanooga for final review and approval.
Please Note: Once you begin the web-based application, you must finish it. You will not be able to return to it to make changes or additions. Please review the requirements before you begin.
Disclosure of Relevant Financial Relationships
All individuals with control over CME activity content must disclose all relevant financial relationships that they may have with a commercial interest.
The ACCME defines a commercial interest as any entity producing, marketing, re-selling, or distributing health care goods or services consumed by, or used on, patients. The ACCME does not consider providers of clinical service directly to patients to be commercial interests.
The ACCME defines a relevant financial relationship as a financial relationship in any amount, which occured in the twelve-month period preceding the time that the individual was asked to assume a role controlling content of the CME activity, and which relate to the content of the educational activity, causing a conflict of interest.
All individuals with control over CME activity content must inform learners prior to the beginning of an activity whether relevant or not relevant financial relationships with a commercial interest exist.
When disclosing financial relationships to the learner, the individual's name, the name of the commercial interest(s) and the nature of the relationship with the commercial interest must be given. When there is no relevant financial relationship, learners must be informed that no financial relationship exists. Disclosure must never include trade names or product group messages. Anyone refusing to disclose relevant financial relationships will not be allowed to plan or present at the activity.
Budgeting and Financial Obligation
In general, income and expenses are processed by the CEPD. An account of all income and expenses will be kept by the CEPD for each individual activity. Income sources are typically registration fees, exhibit fees and educational grants from commercial interests such as pharmaceutical, hospital equipment, and health care product and service companies. The source of all support from commercial interests must be disclosed to learners. All commercial supported activities must comply with the ACCME Standards for Commercial Support.
The financial risk is the sole responsibility of the UTGSM department. If the course realizes a surplus, the department will retain it. If surplus revenue is not realized the remaining deficit will be covered by a restricted account identified by the UTGSM department.
All educational grants associated with CME activities must have a Letter of Agreement (LOA) with the commercial interest. All LOAs must be approved by the Associate Dean for CME in Chattanooga and follow the ACCME Standards for Commercial Support.
Activity Promotion
If the CEPD is managing the activity, promotional materials will be designed inhouse. Regardless of who designs them, these materials must contain certain statements relative to CME credit and the educational program. These elements include registration policies, accessibility, education objectives as well as the appropriate certificaiton statements. Also, brochures will include information about registration and lodging (if applicable).
The accredidation statement will appear on all activity material including promotional materials with the exception of initial save-the-date type activity announcements.
The CEPD must have final approval on all brochures and promotional materials prior to mailing.
Registration
UT Conferences provides web registration for all CEPD activities for a nominal fee that is charged back to the conference. In addition to advance registration, allowances are always made for on-site registration the day of the event, if space allows.
Course fees for certain individuals may be waived at the discretion of the Course Director and will be restricted to speakers and department chairs. Although full-time faculty, residents, and students receive a reduced or waived registration fee for CEPD provided or joint-provided CME activities, they must register in advance.
The CEPD employs the following policies with regard to registration:
In order to receive a full refund, UT Conferences must receive written notification of cancellation at least two weeks prior to the start date of the conference. A $40 processing fee will be deducted if a written request for a refund is received within 14 days prior to the course date. No refund will be issued without prior written notification.

We reserve the right to cancel any course based on enrollment or conditions beyond our control. In cases of cancellation, each registrant will be notified by telephone with written notification and a full refund following. CEPD is not responsible for any other cost incurred, such as airline or hotel penalties.
Food and Social Functions
The CEPD makes arrangement for social events or meals at CME activities. These functions generate a significant portion of conference costs. Therefore, careful planning and an accurate count of participants are necessary. Social events or meals at CME activities cannot compete with or take precedence over the educational activity.
On-Site Activity Management/Staffing
Up to four CEPD staff members (Coordinator, Director, AV Technician and Registrar) will be considered complimentary attendees of the conference in order to ensure compliance with the ACCME Essential Areas and their elements and ACCME Standards for Commercial Support. Staff travel expenses will be billed to the conference budget in accordance with the travel policies approved by the State of Tennessee for state employees.
On-site management of directly-provided conference and symposia will be the responsibility of the CEPD. On-site management may include the following:
Preparing name tags and sign-in sheets
Administering ARS pre and exit-tests
Assigning exhibit space
Coordinating food functions
Scheduling audiovisuals Distributing handouts
Distributing and collecting activity evaluations
Awarding CME certificates
Assisting the course director and conference faculty
Speakers
The course director from the providing department and/or the planning committee are tasked with the identification of appropriate speakers. This must occur without the aid of any commercial interest or their representatives. Once speakers are determined for conferences and smyposia, the CEPD contacts them directly to obtain information on disclosure/conflict of interest, objectives, topics, schedules, PowerPoint slides, handouts, audiovisuals, and travel arrangements.
Honoraria and Expense Reimbursement Policy
Full-time faculty are expected to contribute to all aspects of the medical education mission of UTGSM. Faculty are expected to teach medical students, residents, and physician colleagues in CME. Therefore, it is not appropriate for faculty to accept honoraria from CME activities provided by CEPD. Faculty may accept honoraria from CME presentations provided by other accredited organizations as their contracts allow.
Visiting faculty may be paid honoraria and reimbursement of expenses associated with presentations based upon submission of original receipts. There is no maximum honorarium amount for visiting faculty as the amount varies with the specialty and subspecialty, speaker qualifications, and nature of a CME conference.
Speakers, medical directors, planning committee members or individuals having any control over activity content may not receive payment directly from a commercial interest for honoraria, travel or out-of-pocket expenses.
Activity Evaluation
Standardized evaluation forms are provided by the CEPD. Additionally, participants are asked to participate in a pre and exit test conducted by audience response system. Questions are provided by the speakers based on their presentations. Two to three months after the conference, a post-test will be sent to participants electronically. Included with the presentation questions are questions regarding the use of information gleaned from the conference and its impact on the participant's practice.
Attendance and Record Keeping
The ACCME Essential Areas require documentation and record keeping. Each CME activity file should have copies of (1) attendee lists; (2) evaluation summaries; (3) activity financial reconciliation; (4) speaker honorarium contracts; (5) financial disclosures; (6) all promotional material; (7) planning information; and (8) letters of agreement with commercial interests, when applicable. These files are to be maintained for six years.
Addition to the paper file, computer files are established which contain the title and date of the CME activity, attendees, and number of credits awarded. Each attendee's participation is also recorded in an individual file. Transcripts will be mailed to each participant after the conference.
Top