Office of Continuing Education and Professional Development
The University of Tennessee Graduate School of Medicine, Department of General Dentistry, Division of Forensics
Presents
Forensic Odontology National Conference: All That Remains
July 29 - August 2, 2019
University of Tennessee Medical Center
Knoxville, Tennessee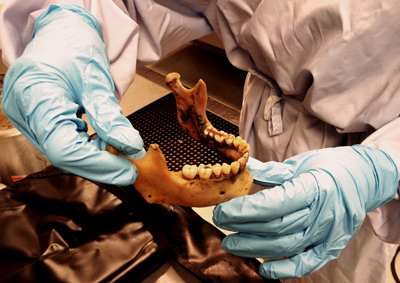 Course Overview
The third "All That Remains" conference is led by a forensic faculty that includes dentists who are officers on the American Board of Forensic Odontology and forensic pathologists and forensic anthropologists. During this week-long, hands-on course, attendees will participate in workshops using dental evidence in the practice of identification, age estimation, bitemarks and jurisprudence. We will visit the forensic dental laboratory to perform an oral autopsy, including jaw resection, excavate a clandestine grave, view soft tissue decomposition and witness courtroom testimony.
REGISTER NOW
All registration questions should be referred to the UT Conference Center at (865) 974-0280 or Conferences@utk.edu
Course Directors
James M. Lewis, DMD, D-ABFO
Murray K. Marks, PhD, D-ABFA
Faculty
Angie Ambers, MA, MS, PhD
William M. Bass, PhD, D-ABFA
Heath Blockley, DDS
Paula C. Brumit, DDS, D-ABFO
Mark Crumpton, DMD
Thomas J. David, DDS, D-ABFO
Beverly Hedgepeth, DDS
Shaza Mardini, DDS, MS
Darinka Mileusnic-Polchan, MD, PhD, D-ABFP
Robin Slattery, F-ABMDI, EMT-P
Paige Smalley, DMD
Richard A. Weems, DMD, MS, D-ABFO
Target Audience
This course is designed for general dentists, endodontists, oral surgeons, periodontists, orthodontists, prosthodontists, pediatric dentists, and public health dentists
Course Objectives
At the conclusion the participant will be able to
Discuss the theory and apply the methods required for individual and mass disaster casualty identification
Participate in the dental identification process, perform antemortem and postmortem charting and the radiographic capture and comparison techniques
Aid in the identification of disaster victims using the team-DMORT approach and applicable software
Recognize and manage bitemark evidence
Evaluate remains using dental age estimation methods on living and the deceased
Recognize human abuse
Participate in expert witness exercises
Practice human remains recovery in the field
Registration Fees
Early Registration (through June 3, 2019)
$2,795
Registration (after June 3, 2019)
$3,000

Education Credit
These 42.5 hours are accepted by the Tennessee Board of Dentistry for re-licensure credit. Participants licensed outside of Tennessee should check with their licensing board. The teaching format for this activity is lecture/didactic and hands-on. AGD's Continuing Education Subject Codes for the activity are 010, 012, 017, 138,145, 155, 156, 165, 431, 555, and 731.