The Department of Surgery
Scott L. Stevens, MD, FACS
Professor
Division of Vascular & Endovascular Surgery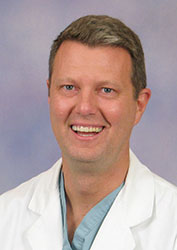 Clinical Focus
Endovascular treatment of Aortic Disease, Endovascular Treatment of Lower Extremity Arterial Disease
Education
Medical School
University of Utah School of Medicine, Salt Lake City, UT, 1984
Residency
General Surgery, University of Tennessee Graduate School of Medicine, Knoxville, TN, 1989
Fellowship
Vascular Surgery, Washington University School of Medicine, St. Louis, MO, 1992
Certifications
American Board of Surgery
American Board of Surgery, Vascular Surgery
Professional Affiliations
American Venous Forum
Society for Clinical Vascular Surgery
Southern Association for Vascular Surgery
International Society for Vascular Surgery
Society for Vascular Surgery
Current Publications
Mountain DJH, Kirkpatrick SS, Arnold JD, Buckley MR, McNally MM, Stevens SL, Freeman MB, Grandas OH.
The efficacy of systemic doxycycline adminstration as an inhibitor of intimal hyperplasia after balloon angioplasty arterial injury. Annals of Vascular Surgery. 2019 May;57:201-209. Epub 2019 Jan 24.
Jagadish M, McNally MM, Heidel RE, Teffeteller S, Arnold JD, Freeman M, Stevens SL, Grandas OH, Goldman MH.
Diabetic foot ulcers: The importance of patient comorbidity recognition and total contact casting in successful wound care. The American Surgeon. 2016 Aug;82(8):733-736.
Current Presentations
Gregory LB, Grandas OH, Tayidi IT, Buckley MR, Arnold JA, Cantafio AW, Stevens SL, Freeman MB, Goldman MH, McNally MM. Contemporary clinical and financial analysis of open versus percutaneous mechanical thrombectomy for occluded hemodialysis access Presented at Southern Association of Vascular Surgery; 2018 Jan 16-20; Scottsdale, AZ.
Tonks S, Lee S, Freeman MB, Grandas OH, Stevens SL, Goldman MH, McNally MM, Arnold JD. Threatened AV access with central venous obstruction: Thoracic outlet decompression versus hero graft. Presented at Southeastern Surgical Congress; 2017 Feb 25-28; Nashville, TN.
Top