The Department of Surgery
Matthew L. Mancini, MD, FACS
Professor
Chief, Division of General Surgery
Division of General Surgery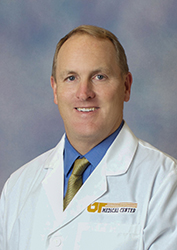 Clinical Focus
Minimally Invasive Surgery
Research Focus
Dr. Mancini participates in clinical research designed to assess multiple facets of thyroid and parathyroid surgery including the use of specialized imaging and adjunctive treatment in the perioperative period.
Education
Medical School
Mercer University School of Medicine, Macon, GA
Internship
General Surgery, University of Tennessee Graduate School of Medicine
Residency
General Surgery, University of Tennessee Graduate School of Medicine
Certification
American Board of Surgery
Professional Affiliations
American College of Surgeons
Society of American Gastrointestinal Endoscopic Surgeons
Southeastern Surgical Congress
Tennessee Medical Association
Knoxville Academy of Medicine
Current Publications
Wijayatunga NN, Sams VG, Dawson JA, Mancini ML, Mancini GJ, Moustaid-Moussa N.
Roux-en-Y gastric bypass surgery alters serum metabolites and fatty acids in patients with morbid obesity- A prospective exploratory pilot study. Diabetes/Metabolism Research and Reviews. 2018 Jul 13:e3045.
Ramshaw B, Vetrano V, Jagadish M, Forman B, Heidel E, Mancini M.
Laparoscopic approach for the treatment of chronic groin pain after inguinal hernia repair : Laparoscopic approach for inguinodynia. Surgical Endoscopy. 2017 Dec;31(12):5267-5274. Epub 2017 Jun 7.
Current Presentations
Shepherd M, Duncan L, Vaghaiwalla T, Mancini M. Case report of thyroid paraganglioma. Presented at Southeastern Surgical Congress; 2021 Aug 21-24; Atlanta, GA.
Grubbs JE, Shepherd M, Kleppe KL, Mancini ML, Mancini GJ. Fighting the obesity pandemic during the COVID pandemic. Presented at Tennessee Chapter of the American Society for Metabolic and Bariatric Surgery Annual Meeting; 2021 Aug 5-8; Memphis, TN.
Landry M, Grimsley L, Mancini M, Forman B, Shokur N, Vetrano V, Ramshaw B. Treating inguinodynia after laparoscopic or open inguinal hernia repair. Presented at 13th Annual Academic Surgical Congress; 2018 Jan 30 - Feb 1; Jacksonville, FL.
Top