The Department of Surgery
James M. Lewis, MD
Associate Professor
Associate Program Director, General Surgery
Division of Surgical Oncology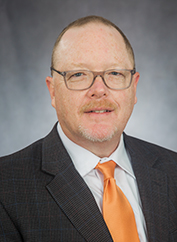 Clinical Focus
Cutaneous Malignancy, General Oncologic Surgery, Outreach/Education, Screening
Research Focus
Cutaneous Malignancy
Outreach/Education
Education
Medical School
University of Florida College of Medicine, Gainesville, FL
Internship
General Surgery, Louisiana State University, New Orleans, LA
Residency
General Surgery, Louisiana State University, New Orleans, LA
Fellowship
Surgical Oncology and Melanoma/Sarcoma, H. Lee Moffitt Cancer Center/University of South Florida, Tampa, FL
Certification
American Board of Surgery
Professional Affiliations
Society of Surgical Oncology
American College of Surgeons
Association for Surgical Education
American Downs Syndrome Association
Current Publications
Rumberger LK, Lewis J.
Chronic expanding hematoma of the thigh masquerading as a soft tissue malignancy. The American Surgeon. 2015 Jul;81(7):279-81.
Lee S, Lewis J, Liaw K, Bushkell L, Young Y, Googe P.
Recurrent atypical fibroxanthoma with satellite metastasis. Journal of Cutaneous Pathology . 2014 Nov 19. [Epub ahead of print]
Gahdhi SS, Kestler DP, Bruker CT, McLoughlin JM, Heidel RE, Siddiqui S, Foster JS, Gray KD, Bell J, Solomon A, Lewis J.
Nuclear Odontogenic Ameloblast-Associated Protein (ODAM) Correlates with Melanoma Sentinel Lymph Node Metastasis Journal of Cancer Therapy. 2013;4:1283-1289.
Current Presentations
Bhat SG, Simpson H, Heidel RE, Lewis JM. Utilization of human regenerative tissue matrix: A promising alternative to full thickness skin grafts in select patients undergoing wide local excision. Presented at Tennessee Chapter of American College of Surgeons; 2016 Jul 22-24; Memphis, TN.
Landry M, Keith LF, Lewis JM. Comparison of outcomes between open vs. videoscopic superficial inguinal lymph node dissection. Presented at Tennessee Chapter of American College of Surgeons; 2016 Jul 22-24; Memphis, TN.
Beierle SP, Lewis J, Heidel RE, Stewart E, McLoughlin J. Women in breast surgery - does a shared anatomy equate to a shared interest? Presented at Academic Surgical Congress; 2016 Feb 2-4; Jacksonville, FL.
Beierle S, Heidel E, Lewis J, Stewart E, Bell J, Gray K, LaPinska M, Mancini M, Nelson HS, McLoughlin J. A novel technique using intraoperative fluoroscopy as a tool to achieve negative margins after a wire-guided partial mastectomy. Presented at Southeastern Surgical Congress Annual Scientific Meeting; 2016 Feb 20-23; Atlanta, GA.
Ward AJ, McLoughlin JM, Lewis JM, Bell JL, Gray KD, La Charité CT. Oncology-led clinical documentation improvement program beneficial for physicians and hospital. Presented at Society of Surgical Oncology; 2015 Mar 25-28; Houston, TX.
DeSouza K, Duncan L, Lewis J, King R. Malignant blue nevus with blue nevus-like metastases: The combined presentation of two rare entities. Presented at American Society of Dermatopathology Annual Meeting; 2014 Nov 6-9; Chicago, IL.
Jeffcoach DR, Alterman D, Freeman M, Goldman M, McLoughlin J, Bell J, Gray K, Lewis J. Isolated limb infusion is feasible at lower volume regional cancer centers. Presented at Ninth International Symposium on Regional Cancer Therapies; 2014 May 15-17; Steamboat, CO.
Top