The Department of Surgery
Michael D. Karlstad, PhD
Professor
Division of Trauma & Critical Care Surgery
Research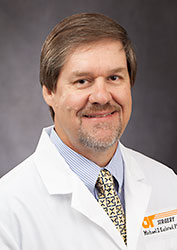 Current Publications
Collier JJ, Burke SJ, Karlstad MD.
What's new in Shock, November 2017? Shock (Augusta, Ga.). 2017 Nov;48(5):501-503.
Burke SJ, Batdorf HM, Burk DH, Noland RC, Eder AE, Boulos MS, Karlstad MD, Collier JJ.
Db/db mice exhibit features of human type 2 diabetes that are not present in weight-matched C57BL/6J mice fed a western diet. Journal of Diabetes Research. 2017;2017:8503754.
Collier JJ, Sparer TE, Karlstad MD, Burke SJ.
Pancreatic islet inflammation: An emerging role for chemokines. Journal of Molecular Endocrinology. 2017 Apr 18. [Epub ahead of print]
Burke SJ, Batdorf HM, Eder AE, Karlstad MD, Burk DH, Noland RC, Floyd ZE, Collier JJ.
Oral corticosterone administration reduces insulitis but promotes insulin resistance and hyperglycemia in male nonobese diabetic mice. The American Journal of Pathology. 2017 Mar;187(3):614-626. Epub 2017 Jan 4.
Burke SJ, Karlstad MD, Eder AE, Regal KM, Lu D, Burk DH, Collier JJ.
Pancreatic beta-cell production of CXCR3 ligands precedes diabetes onset. Biofactors (Oxford, England). 2016 Nov 12;42(6):703-715. Epub 2016 Jun 21.
Burke SJ, Karlstad MD, Collier JJ.
Pancreatic islet responses to metabolic trauma. Shock (Augusta, Ga.). 2016 Sep;46(3):230-8. Epub 2016 Mar 7.
Burke SJ, Stadler K, Lu D, Gleason EL, Han A, Donohoe DR, Rogers R, Hermann GE, Karlstad MD, Collier JJ.
IL-1ß reciprocally regulates chemokine and insulin secretion in pancreatic ß-cells via NF-kappaB. American Journal of Physiology. Endocrinology and Metabolism. 2015 Oct 15;309(8):E715-26. Epub 2015 Aug 25.
Burke SJ, Karlstad MD, Regal KM, Sparer TE, Lu D, Elks CM, Grant RW, Stephens JM, Burk DH, Collier JJ.
CCL20 is elevated during obesity and differentially regulated by NF-kappaB subunits in pancreatic beta-cells. Biochimica Et Biophysica Acta. 2015 Jun;1849(6):637-52.
Burke SJ, May AL, Noland RC, Lu D, Brissova M, Powers AC, Sherrill EM, Karlstad MD, Campagna SR, Stephens JM, Collier JJ.
Thiobenzothiazole-modified hydrocortisones display anti-inflammatory activity with reduced impact on islet beta-cell function. Journal of Biological Chemistry. 2015 May 22;290(21):13401-16.
Burke SJ, Karlstad MD, Conley CP, Reel D, Whelan J, Jason Collier J.
Dietary polyherbal supplementation decreases CD3 cell infiltration into pancreatic islets and prevents hyperglycemia in nonobese diabetic mice. Nutrition Research. 2015 Apr;35(4):328-36.
Current Presentations
McLain JM, Alami WH, Glovak ZT, Cooley CR, Burke SJ, Collier JJ, Baghdoyan HA, Lydic R, Karlstad MD. Sleep fragmentation delays wound healing in a diabetic mouse. Presented at Society for Neuroscience; 2017 Nov 15-18; Washington, DC.
Alami WH, McLain JM, Wintenberg AL, Wintenberg KD, Collier JJ, Karlstad MD. Effect of atmospheric plasma on wound disinfection in a diabetic animal model. Presented at 40th Annual Conference on Shock; 2017 Jun 3-6; Fort Lauderdale, FL.
Top