The Department of Surgery
Jesse R. Smith, MD
Instructor
Division of Plastic & Reconstructive Surgery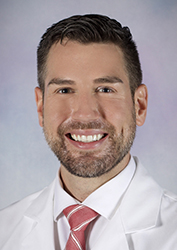 Clinical Focus
His clinical interests include reconstructive plastic surgery for patients who have suffered trauma or are being treated for cancer.
His expertise in microsurgery allows him to perform complex reconstructive procedures (e.g., "DIEP flaps," targeted muscle reinnervation, "VSP" or virtual surgical planning). He is also trained to perform "super-microsurgical" procedures designed to improve a type of chronic limb swelling known as lymphedema.
In addition to reconstructive procedures, Dr. Smith performs the full gamut of plastic surgery, including cosmetic treatments (e.g., chemical peels, Botox, fillers) and procedures (e.g., eyelid surgeries, breast augmentation, liposuction, tummy tucks).
Education
Medical School
Georgetown University School of Medicine, Washington, DC 2014
Residency
Plastic and Reconstructive Surgery, University of Chicago Medicine
Chicago, IL 2020
Fellowship
Microsurgery, New York University Langone Health, New York, NYÂ  2021Â Â 
Top
---