The Department of Surgery
Gregory J. Mancini, MD, FACS, FASMBS
Professor
Program Director, Advanced GI MIS/Bariatric Fellowship
Division of General Surgery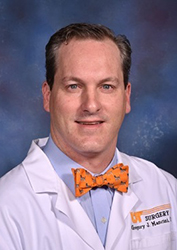 Clinical Focus
Minimally Invasive Surgery, Gastrointestinal Surgery, Bariatric Surgery, Complex Hernia Repairs
Research Focus
Dr. Mancini has been working with Biomedical Engineering at UT on the development of implantable robotic technology for surgical application. He has also focused on adipose (fat tissue) analysis in patients undergoing invasive bariatric ("weight reduction") surgery and the relationship between weight loss and changes in serum electrolytes. Dr. Mancini has also been developing low-dose opioid perioperative treatment algorithms to reduce narcotic use related to surgery. Educational tools have been constructed in collaboration with a major malpractice carrier to aid in education of current practicing physicians and he is planning to measure the impact of the tools on clinical practice.
Education
Medical School
Mercer University School of Medicine, Macon, GA
Internship
General Surgery, University of Tennessee Graduate School of Medicine
Residency
General Surgery, University of Tennessee Graduate School of Medicine
Fellowship
Minimally Invasive and Bariatric Surgery, University of Missouri, Columbia, MO
Certification
American Board of Surgery
Professional Affiliations
American College of Surgeons
Society of American Gastrointestinal Endoscopic Surgeons
Southeastern Surgical Congress
American Hernia Society
Book Chapter
Mancini GJ, Le HN: Loss of abdominal domain: Definition and treatment strategies. In: Hernia Surgery: Current Principles, Cham: Springer, Chapter 34, p. 361-370, 2016.
Current Publications
Yared KE, Mancini GJ.
Euglycemic diabetic ketoacidosis associated with use of SGLT2 inhibitor after laparoscopic Roux-en-Y gastric bypass. The American Surgeon. 2020 Aug 19:3134820940286. [Epub ahead of print]
Yazdanpanah Abdolmalaki R, Liu X, Mancini GJ, Tan J.
Fine orientation control of an insertable robotic camera system for single incision laparoscopic surgery. The International Journal of Medical Robotics and Computer Assisted Surgery. 2019 Feb;15(1):e1957. Epub 2018 Sep 24.
Liu X, Yazdanpanah Abdolmalaki R, Zuo T, Guan Y, Mancini GJ, Tan J .
Transformable in-vivo robotic laparoscopic camera with optimized illumination system for single-port access surgery: Initial prototype. IEEE/ASME Transactions on Mechatronics. 2018 Aug;23(4):1585-1596. Epub 2018 May 24.
Wijayatunga NN, Sams VG, Dawson JA, Mancini ML, Mancini GJ, Moustaid-Moussa N.
Roux-en-Y gastric bypass surgery alters serum metabolites and fatty acids in patients with morbid obesity- A prospective exploratory pilot study. Diabetes/Metabolism Research and Reviews. 2018 Jul 13:e3045.
Roth JS, Anthone GJ, Selzer DJ, Poulose BK, Bittner JG, Hope WW, Dunn RM, Martindale RG, Goldblatt MI, Earle DB, Romanelli JR, Mancini GJ, Greenberg JA, Linn JG, Parra-Davila E, Sandler BJ, Deeken CR, Voeller GR.
Prospective evaluation of poly-4-hydroxybutyrate mesh in CDC class I/high-risk ventral and incisional hernia repair: 18-month follow-up. Surgical Endoscopy. 2018 Apr;32(4):1929-1936. Epub 2017 Oct 23.
Liu X, Abdolmalaki RY, Mancini GJ, Tan J.
Optical design of an in vivo laparoscopic lighting system. Journal of Biomedical Optics. 2017 Dec;22(12):1-15.
Mancini GJ.
Challenges and opportunities to change the course of the opioid epidemic: A surgeon's perspective. Postgraduate Medicine. 2017 Jan;129(1):1-4. Epub 2016 Dec 22.
Ramshaw B, Forman BR, Moore K, Heidel E, Fabian M, Mancini G, Joshi GP.
Real-world clinical quality improvement for complex abdominal wall reconstruction. Surgical Technology International. 2017 Jan 13;30:155-164.
Current Presentations
Grubbs JE, Shepherd M, Kleppe KL, Mancini ML, Mancini GJ. Fighting the obesity pandemic during the COVID pandemic. Presented at Tennessee Chapter of the American Society for Metabolic and Bariatric Surgery Annual Meeting; 2021 Aug 5-8; Memphis, TN.
Yared K, Mancini GJ. Euglycemic diabetic ketoacidosis associated with use of SGL T2 inhibitor after laparoscopic roux-en-y gastric bypass. Presented at Southeastern Surgical Congress; 2020 Feb 8-11; New Orleans, LA.
Li N, Reza Yazdanpanah A, Mancini GJ, Tan J. Initial design and results of an untethered insertable laparoscopic robotic surgical camera system. Presented at IEEE International Conference on Robotics and Biomimetics; 2017 Dec 5-8; Macau, China.
Top