Professor Jonathan Wall Receives $1.58 Million Grant for Amyloid Disease Research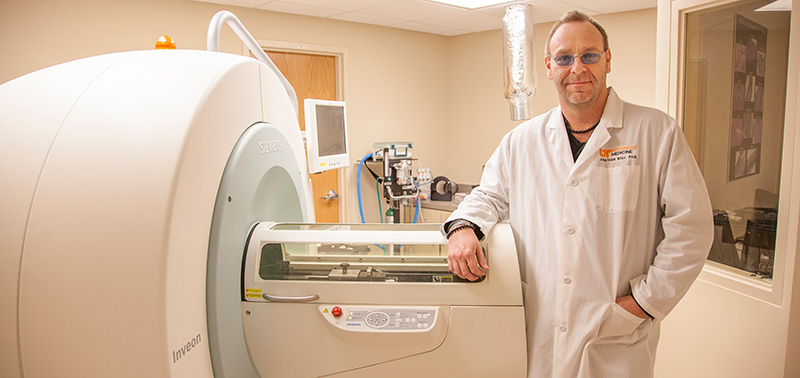 Jonathan Wall, PhD, Professor and at Director of the Preclinical and Diagnostic Molecular Imaging Laboratory, received a four-year grant totaling $1,580,808 from the National Institute of Diabetes and Digestive and Kidney Diseases, a subsidiary of the National Institutes of Health, to study "Preclinical Diagnostic Imaging of Amyloid."
In a person with Alzheimer's or a related disease, amyloid, a substance composed of sticky protein fibers and sugar molecules, builds up relentlessly in the brain or other body organs. Doctors do not know whether this plaque causes Alzheimer's disease and type 2 diabetes, or whether these diseases lead to amyloid formation. But there is an urgent need to "see" the sticky substance in order to accurately diagnose and stage the diseases and monitor the therapies used to treat patients. Now, through the research of Wall and his team, this is possible.
"We've made amazing progress, but we need to move faster."
- Jonathan Wall, PhD
Dr. Wall and his collaborators Steven Kennel, PhD; Alan Stuckey, BA, CNMT; Tina Richey, MS; Emily Martin, BS; and Angela Williams, MS, have developed a new imaging agent that might advance the treatment of patients with Alzheimer's disease, as well as those who suffer from other amyloid-related diseases such as type 2 diabetes, light chain amyloidosis and rheumatoid arthritis.
Wall's new imaging agent is a peptide, a tiny protein he's named p5. In preclinical testing, radioactive p5 has been shown to bind to amyloid in the brain and other organs, making the amyloid visible through PET imaging and other techniques. Wall expects that with appropriate modifications, p5 may eventually be used in the clinical setting to image amyloid in the brains of people with Alzheimer's disease, as well as in other body organs. The peptide performs better than other imaging agents because it specifically seeks amyloid, producing clearer images.
"In the U.S., our ability to detect amyloid deposits is limited," says Wall. "We've made amazing progress, but we need to move faster. The peptide p5 is the next generation of amyloid-imaging agents, and it holds much promise for helping people with amyloid-related diseases."
The peptide amyloid-imaging technique is currently undergoing review by the U.S. Patent Office, and Wall hopes a patent will be issued early this year. Meanwhile, he and his team are seeking funding and partnerships with the pharmaceutical industry to prepare for a clinical trial of p5 in people with amyloid-related diseases. They'll test whether p5 can be used to image disease by employing the PET scanners at The University of Tennessee Medical Center.
The National Institutes of Health (NIH), the nation's medical research agency, includes 27 Institutes and Centers and is a component of the U.S. Department of Health and Human Services. NIH is the primary federal agency conducting and supporting basic, clinical, and translational medical research, and is investigating the causes, treatments, and cures for both common and rare diseases. For more information about NIH and its programs, visit www.nih.gov.
Top