The Department of Radiology
Yong C. Bradley, MD
Clinical Professor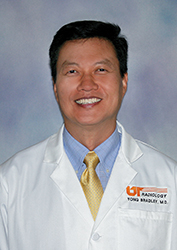 Education
Medical School
Medical College of Georgia, Augusta, GA, 1990
Internship
Medicine, Tripler Army Medical Center, Honolulu, HI, 1991

Residency
Diagnostic Radiology, Tripler Army Medical Center, Honolulu, HI. 1996
Fellowship
Nuclear Medicine, Brooke Army Medical Center and University of Texas Health Sciences Center, San Antonio, TX, 1998
Certifications
American Board of Radiology
American Board of Nuclear Medicine
Honors and Awards
Legion of Merit, Highest non-combat associated award in US Army, 2011
Meritorious Service Medal (2). Second highest non-combat associated award in US Army
Order of Military Merit Medal (O2M3), 2007
Radiology Residency Teacher of the Year Award: 1998-1999, 1999-2000
United States Army, Retired, COL, 1990-2011
Professional Affiliations
Radiological Society of North America
American Roentgen Ray Society
Society of Nuclear Medicine and Molecular Imaging
American College of Radiology
Books and Book Chapters
Pasciak AS, Bradley Y, McKinney JM. Handbook of Radioembolization: Physics, Biology, Nuclear Medicine, and Imaging. Boca Raton: CRC Press, 2016.
Current Publications
Tumpa TR, Acuff SN, Gregor J, Bradley Y, Fu Y, Osborne DR.
Data-driven head motion correction for PET using time-of-flight and positron emission particle tracking techniques. PLoS One. PLoS One. 2022 Aug 31;17(8):e0272768. doi: 10.1371/journal.pone.0272768. eCollection 2022.
Top