Preston Medical Library
Poet-in-Residence - Donna Doyle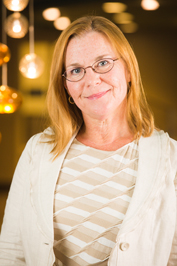 As Poet in Residence at Preston Medical Library, Donna Doyle utilizes the library as a focal point for integrating poetry and other expressive arts into the medical center community. She nurtures engagement in the arts by hosting events and exhibits as a way of supporting The University of Tennessee Graduate School of Medicine's goals of healing, education, and discovery.

Donna joined the Preston Medical Library team in 2008. In addition to her responsibilities as Poet in Residence, she serves as Communications & Programs Coordinator at the Health Information Center - Preston Medical Library.

Literary Rounds: Where Medicine Mingles with the Muse is one of the programs Donna coordinates. Literary Rounds is a monthly public reading and conversation series featuring writers from East Tennessee. The series is held monthly on the second Wednesday from 5-6 p.m. It is free and open to the public.

Literary Rounds participants gain knowledge of literature and writing as important aspects in the practice of integrative medicine; gain enhanced empathy skills and interpersonal communication skills by participating in discussions with a diverse community of participants; gain appreciation of the role of literature and writing as contributing factors in total wellness - mind, body, and spirit.

Donna assists with the Narrative Medicine component of medical student and residency education at The University of Tennessee Graduate School of Medicine. She also provides reflective writing instruction for other groups at the medical center and in the community.

In addition to her medically-themed writing and journal publications, Donna's work has been published in a chapbook - Heading Home - several literary journals, and has been anthologized in All Around Us: Poems from the Valley, Breathing the Same Air, Literary Lunch, Migrants & Stowaways, Low Explosions: Writings on the Body, Outscape: Writings on Fences and Frontiers, Knoxville Bound, Southern Poetry Anthology Volume III: Contemporary Appalachia; MOTIF 3, and Southern Poetry Anthology: Tennessee.

Some of Donna's medical-themed work includes Stroke, The Kiss, Storm Damage, Intensive Care, Rescue, Family Doctor, and Custodial.
Top
Have a question? Ask us!
1924 Alcoa Hwy
Knoxville, TN 37920
Phone: 865-305-9525
Fax: 865-305-9527
Text: 865-262-8920
library@utmck.edu
---
Library Events
The Library is proud to host routine events such as the Human-Animal Bond in Tennessee (H.A.B.I.T.) stress-reduction dog visits and Literary Rounds: Where Medicine Mingles with the Muse. Both programs support complementary and alternative initiatives at UT Medical Center and the UT Graduate School of Medicine's narrative medicine curriculum.
The University of Tennessee Graduate School of Medicine
1924 Alcoa Highway
Knoxville, Tennessee 37920 | 865-305-9290
Copyright © 2017