Meet the UTGSM Academy of Scholars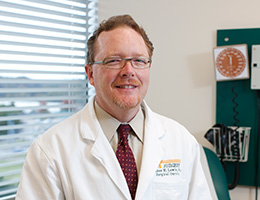 The UT Graduate School of Medicine has established an Academy of Scholars, an externally reviewed fellowship of UT faculty physicians who have demonstrated excellence in medical education with the goals to develop activities and methods to strengthen the academic mission of the institution.
The Academy's mission is to recognize and promote teaching excellence and educational scholarship. The inaugural members are responsible for setting the directions the Academy will take. A planning workshop was held on Friday, January 17. Topics discussed included:
Patient safety and quality improvement
Internal and external promotion of scholarly activity
A wellness and burnout program for physicians
Ways to strengthen UTGSM's relationship with the Knoxville campus
Ways to further strengthen UTGSM's relationship with UHS
all while promoting education within the institution.
Inaugural members of the academy are Robert Craft, MD, Vice-Chair and Program Director of Anesthesiology; Brian Daley, MD, General Surgery Residency Program Director and Surgical Critical Care Fellowship Director of Surgery; Mitchell Goldman, MD, Professor and Chair of Surgery and Assistant Dean of Research; Kathleen Hudson, MD, Associate Professor, Residency Program Director of Radiology; Larry Kilgore, MD, Professor of Obstetrics and Gynecology; James Lewis, MD, Assistant Professor of Surgery and Surgery Clerkship Directory; Patrick McConville, MD, Instructor of Anesthesiology; Daphne Norwood, MD, MPH, Assistant Professor and Associate Residency Program Director of Medicine and Transitional Year Residency Program Director; Mark Rasnake, MD, Assistant Professor and Residency Program Director of Medicine; and Nikki Zite, MD, MPH, Associate Professor and Residency Program Director of Obstetrics and Gynecology. Dr. Lewis serves as Chair.
Look for more details on the goals of the Academy as well as those of each member in the coming issues of The Scope. For more information, including bios of current members, visit The Academy of Scholars.
---
Medical Students Share Medical School Advice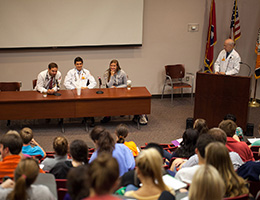 UT Health Science Center College of Medicine medical students participated in a panel discussion to share their experiences and offer their advice regarding medical school to more than 50 undergraduate students from the University of Tennessee, Knoxville. The discussion is part of a class, Introduction to Healthcare, led by Richard Obenour, MD, Professor of Medicine.
Participating in the discussion were Jenna McKinnie, M4, Alex Golovelv, M3, and Sam Seylor, M3. They all agreed that medical school was not what they expected. In a nutshell, it was harder. McKinnie said, "Make sure medical school is what you really want to do because it's tough. I never thought it would get to me, but it did."
Their tips for survival include:
Make a study schedule.
Find an upperclassman to be your peer mentor.
Do not compare yourself to other students, just work hard and do your best.
Do not stop exercising in exchange for extra study time.
The University of Tennessee Graduate School of Medicine, Knoxville is one of the three College of Medicine campuses for the University of Tennessee Health Science Center, with campuses also located in Memphis and Chattanooga. Each year approximately 150 medical students from The University of Tennessee College of Medicine and accredited schools across the United States elect clinical rotations at UTGSM. Core clerkships for third-year medical students are offered in family medicine, internal medicine, obstetrics and gynecology, surgery, pediatrics, neurology and psychiatry. With all required clerkships now offered on the Knoxville campus, UTCOM students may now choose to complete their entire third and fourth years of medical school in Knoxville. Fourth year electives are offered to encompass all specialties and subspecialties.
Top