Advance Research Digest
Advance spotlights research programs at the UT Graduate School of Medicine and explains how the work of the institution's researchers impacts healthcare in Tennessee and beyond.
View the latest edition of Advance
Would you like to receive Advance in the mail?
Please complete the form below to receive your own copy of Advance:
To request multiple copies, contact the office of Continuing Education and Professional Development, 865-305-9190 or AdvanceDigest@utmck.edu.
We welcome your comments about Advance. Please contact us.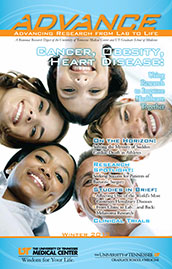 The University of Tennessee Graduate School of Medicine
Office of Continuing Education and Professional Development
cme@tennessee.edu
865-305-9190
1924 Alcoa Highway , D-116 Knoxville , TN 37920-6999