The Department of Pathology
Letter from the Chief Resident, 2017
Dear Prospective Applicant,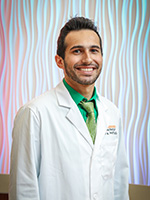 We're so glad you've decided to enter the world of pathology! Most practicing pathologists would say it's an amazing field, with the potential for so much lifelong intellectual and emotional fulfillment. Having completed over two full years of my time at UTMC, I can safely say I am fortunate to have had the opportunity to train here. I remember all too well the overwhelming process of researching and applying to pathology residency programs; after all, so many personal and professional criteria come into play. Hopefully I can give you some information that will help you learn about us!
Our campus in Knoxville is nestled in the foothills of the Great Smoky Mountains, and a more beautiful place to live you will not find. We have a beautiful and fairly mild four-season climate, with abundant opportunities for outdoor adventures, including hiking, rafting, biking, boating...whatever you can put your mind to. Being a college town, the outdoor aspect is complemented with plenty of opportunities for night life and the arts, should you be interested. The classic southern hospitality and sense of community make our town exceptionally safe, not to mention family-friendly. Plus, no matter where in town you choose to stay, the cost of living will be relatively low compared to many other cities. If you're interested in a charming southern town that has a perfect range of urban flair and rural serenity, Knoxville's the place for you!
From an educational standpoint, we have resources that rival much larger programs. Our hospital's busy and growing Cancer Institute supplies us with numerous specimens (including over 30,000 surgical cases annually) that range from common and simple to rare and complex. This caseload is further supplemented by our busy surgery groups, outside physician offices, and consult cases from other pathology labs. Our faculty do an amazing job of balancing our service obligations with educational opportunity, so that we are able to learn both the practical and academic aspects of pathology. Our daily workload is intermingled with a robust and diverse conference schedule, which includes didactic lectures, unknown slide sessions, and tumor boards. Each member of our faculty is an engaged, knowledgeable, and helpful mentor both personally and professionally. Combine that with the great relationships we build with each other (as well as ancillary staff and other departments) and you have a recipe for a wonderful work environment. Finally, we have an amazing track record regarding fellowship placement; in recent years our graduates have gone on to their choice of competitive fellowships at competitive institutions.
At the end of the day, you have to make your own decisions and blaze your own path (pun intended). I find that our program offers a perfect balance of "bread and butter" patient care experience and time to study the esoteric entities that we may see but once in a career. Our residents leave here with the knowledge to pass their board exams, the tools to be thriving pathologists, and the relationships to have lifelong mentors and colleagues. Now that you've read my spiel, please feel free to contact me if you have any questions at all. We also welcome any rotating students who are interested in checking out our program for a longer period of time. Good luck as you begin your journey in pathology, and we hope to see you on your interview trail!
Sincerely,
Vijay M. Patel, M.D.
Chief Resident
Email: vmpatel@utmck.edu