The Department of Pathology
Letter from the Chief Resident, 2023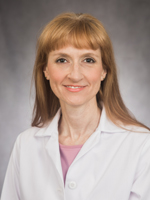 Dear Prospective Applicant,

Welcome to the University of Tennessee Graduate School of Medicine-Knoxville Pathology Residency Program! Thank you for stopping by our site.

For those not familiar with the area, Knoxville has something for everyone. We have the Great Smoky Mountains National Park, one of the oldest mountain ranges in America, which offers outdoor adventure including hiking, camping, and rafting. Also nearby is Pigeon Forge where you can find attractions, shows, and of course Dollywood! Knoxville itself is home to multiple parks and recreational areas, restaurants, concerts, sporting events, and museums.

While centered in a large academic medical center, our residency program maintains a close-knit, personalized feel. The faculty truly care about your success not only as a resident, but in your future career. The faculty to resident ratio is essentially 1:1, which allows for enhanced learning and yields a very collegial atmosphere. There are many opportunities to tailor the program to your interests and career goals, and our subspecialists are enthusiastic about mentorship. The University of Tennessee Medical Center accessions over 30,000 surgical pathology specimens and 50,000 cytology specimens per year, including many rare and interesting cases. Our robust weekly tumor board conferences in areas such as breast, soft tissue, head and neck, colorectal, and pulmonary offer excellent clinical-pathologic correlation and learning opportunities.
Upon completion of training, our residents are well equipped for careers in either academic or private practice and have no trouble obtaining the fellowship(s) they desire. There is true graduated responsibility and residents are encouraged to take ownership of cases to build confidence and skills. Our general sign-out style allows residents to see a wide breadth of cases in a single day and mirrors the structure of many private groups throughout the country.
I am very pleased with my decision to train at UTK, both personally and professionally. I believe we have great faculty, excellent learning opportunities, and amazing program coordinators, all together in a very lovely city. I would 100% choose to come here again.
Thank you again for your interest in our program. I wish you all the best in the coming application season and in your pathology training career. Please do not hesitate to contact me or our wonderful residency program coordinators, Pamela Guider and Ashley Capps, with any questions regarding our program.
Sincerely,
Katia Kenyon, MD
Third Year
American University of Integrative Sciences School of Medicine
kkenyon@utmck.edu