The Department of Pathology
Letter from the Chief Resident, 2021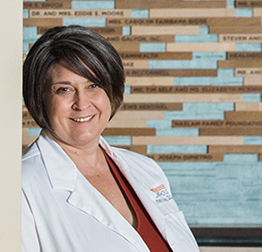 Dear Residency Candidate,
Welcome to the Department of Pathology Residency Training Program at the University of Tennessee Graduate School of Medicine (UTGSM).
In selecting your Pathology residency program, both professional and personal factors are considered. I would like to take this opportunity to give you a brief overview of our program, our clinical partner-UT Medial Center, and our community. I would also like to share my personal reasons for choosing the Pathology Residency Training Program at UTGSM. For more detailed information about the UT Graduate School of Medicine and the Department of Pathology, I urge you to go to the excellent UTGSM website.
KNOXVILLE
The UT Graduate School of Medicine is located within the University of Tennessee Medical Center campus in Knoxville, Tennessee. Knoxville is located on the Tennessee River in beautiful Eastern Tennessee in near proximity to the Great Smoky Mountains. With a moderate climate, you are able to enjoy four distinct, mild seasons. With lower than average national cost of living and housing costs, Knoxville is an affordable place to live. The wide range of available outdoor activities, convenient location, and friendly atmosphere-just to name a few of Knoxville's outstanding qualities-appeal to both families and singles.
UNIVERSITY OF TENNESSEE MEDICAL CENTER
University of Tennessee Medical Center is the region's only Level 1 Trauma Center and serves as a referral center for Eastern Tennessee, Southeast Kentucky and Western North Carolina. Along with six Centers of Excellence-Brain & Spine Institute, Cancer Institute, Emergency & Trauma Center,  Heart Lung Vascular Institute, Advanced Orthopaedic Center and Center for Women &Infants - it is easy to see why we consistently see an extensive volume of cases ranging on the spectrum from simple to complex.
OUR PROGRAM
Our Anatomic and Clinical Pathology residency program is an ACGME accredited program focused on individualized training with graduated autonomy so that residents can pursue their own unique professional aspirations. The Department's faculty members represent a broad range of sub-specialities enhancing the education base of our program. The Department of Pathology faculty daily demonstrate its dedication to quality training in a collegial environment.

Patient-centered focus (always #1!), strong leadership, effective communication, autonomy, shared responsibility and accountability, and mutual respect are the cornerstones of our program.
Our Department Chair, Dr. Lisa Duncan, and Program Director, Dr. Alan Grindstaff, lead by example through consistent professionalism, dedication, and integrity. In addition, we are very fortunate to have excellent Residency & Fellow Coordinators, Pamela Guider and Ashley Capps, who are on-hand to personally assist you and answer your questions related to the program.
MY WHY
I was fortunate in my 4th year of med school to do a rotation in pathology here. Within a short time I felt like I was home. The Department was busy but still relaxed and welcoming. My questions were welcomed. I loved the details of the work. Most of all, I wasn't just looking at slides-I was touching a patient. I was an integral part in that patient's care and outcome. Plus I saw that you could achieve a satisfying work/life balance that allowed you to continue to bring your best back to your practice. I was hooked and knew that pathology was my choice and the UT Department of Pathology was my place.
So, here I am and never have regretted my choice of residency program for one minute. I know I am being well-prepared as a pathologist. As residents before me, I feel confident that I will be able to obtain the fellowship(s) I desire and my own niche in the fantastic world of Pathology.
Choosing a Pathology Residency Program that matches your goals and aspirations can seem daunting and is a pivotal decision in your career development. Being able to visit the program on-site as we continue to responsibly adhere to COVID-19 restrictions may not be possible, so I again encourage you to visit our website and see how the Anatomic and Clinical Pathology residency program at the University of Tennessee Graduate School of Medicine in Knoxville, Tennessee will help you realize your personal career goals.
Sincerely,
Tiffany Alley, DO, PhD
Chief Resident
Department of Pathology
UT Graduate School of Medicine