The Department of Pathology
Letter from the Chief Resident, 2018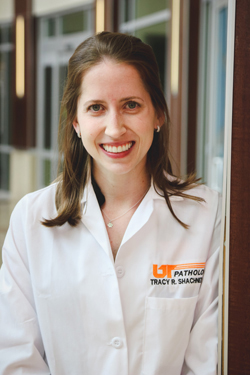 Dear Prospective Applicant,
First and foremost, congratulations on your decision to pursue a career in Pathology. The process of choosing a pathology residency program can be overwhelming- there are many excellent programs to choose from. My advice to you as you start the interview season and matching process is to find a program that you feel comfortable at, and one that will fulfill your personal and educational goals.
From an educational standpoint, the University of Tennessee Medical Center in Knoxville, Tennessee offers our pathology residents a variety of excellent educational opportunities including high volume, case complexity, and diversity of cases. Our case volume per year averages over 30,000 surgical pathology specimens, 50,000 cytology specimens, and ample clinical pathology cases. We also have opportunities to perform bone marrow aspirations and biopsies, as well as fine needle aspirations. Our department and the hospital are growing, which continues to provide us with unique educational opportunities. Not only is UTMCK a Level I Trauma Center, but we also have an active Cancer Institute at which enables our residents to experience a vast spectrum of complex oncologic pathology cases. Our residents and faculty are actively involved in research projects, and frequently present at national and international conferences. We also participate in a large number of interdepartmental conferences, hospital committees, and in teaching medical students and fellow residents. Our program is a smaller program, which allows for establishing and maintaining personal relationships with residents and faculty members. Our faculty-to-resident ratio is approximately 1:1, which provides residents with one-on-one supervision and teaching.
Most of our rotations are on-site, with supplementation by the Regional Forensic Center, East Tennessee Children's Hospital, Dermatopathology Partners, and Molecular Pathology Laboratory Network, which are all close by. We also have a structured didactic series, which includes lectures and slide conferences each week. Our residents have an excellent record of obtaining their choice of fellowship in a variety of subspecialties. Within the last few years, we have had residents accept fellowship positions across the country in dermatopathology, forensics, hematopathology, surgical pathology, cytopathology, molecular, and transfusion medicine. Subsequently, most obtain positions in private practices.
Not only does UTMCK have great educational opportunities, the Knoxville area is an up and coming place to live and a wonderful city to raise a family. The cost of living is lower than most places across the country, and you can always find something to do. From hiking in the Smoky Mountains to watching a show at the Tennessee theater, there is something for everyone.
I look forward to meeting many of you over the next several months.

If you have questions about our program or about living in Knoxville, please do not hesitate to contact me.

Sincerely,
Tracy R. Shachner, DO
Chief Resident, PGY-3
Nova Southeastern University College of Osteopathic Medicine
TShachner@utmck.edu