News and Events
Dr. Many Joins UTGSM Faculty and Inspires Residents to Participate in Global Medicine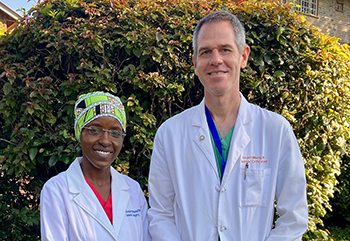 Following six years of mission work in Kenya, Heath Many MD joined the Department of Surgery faculty at the University of Tennessee Graduate School of Medicine (GSM) to provide patient care and teach trauma and critical care surgery as an assistant professor.
Dr. Many is a Knoxville native who received his medical degree from the UT Health Science Center College of Medicine. Following his General Surgery residency at the University of New Mexico School of Medicine, he returned to Knoxville for a career in private practice.
However, he and his wife, who is an obstetrician-gynecologist, decided to pursue their calling to serve in overseas mission work.
"When we were fourth-year medical students, my wife and I completed a two-month rotation in Kenya. Being able to have that as medical students plated a seed," he said.
Dr. Many moved to Kenya in East Africa where he and his wife served at Tenwek Mission Hospital for six years providing medical education and surgical residency training. During that time, Dr. Many took a furlough year and completed GSM's Surgical Critical Care Fellowship, which strengthened his connection to the GSM and teaching.
He said, "I was not involved in education prior to Kenya. While there, I learned how much I enjoyed teaching, and that affected my choice to come back to UT. I wanted to engage more in medical student and resident education."
Dr. Many said that medical students and residents are expressing an unprecedented interest in global surgery. "I was surprised that during Surgery residency interviews, many candidates said global surgery is one of their career goals. I think that the current generation sees the world differently — it's a smaller world to them. They see reaching out and being engaged as having value, and they want to contribute. For me to be able to connect our residents and the Department to global opportunities is really fun, unexpected and rewarding."
Dr. Many is still involved with Kenya's medical education programs. "I continue to provide critical care teaching to Tenweck. Twice a week, I participate in virtual rounds with the residents in Kenya via Zoom. I also continue to mentor the doctor who took over my role as program director. She was a graduate of the program."
He continued, "Prior to Covid-19 we weren't engaging in virtual teaching — it was too cumbersome — but now we've gotten used to using Zoom. Virtual teaching never replaces teachers on the ground, but I am able to continue specialty aspects of education such as critical care and trauma, so virtual teaching allows expansion of educational opportunities."
Dr. Many said he plans to continue his mission work in East Africa. While he has relationships with people in Kenya, medical care is advancing there and more surgeons are trained to care for its population. As a consequence, he plans to gravitate to other areas in the future.
In addition to Dr. Many, Surgery faculty members Dr. Lou Smith and Dr. Blaine Enderson have also participated in several mission trips to Kurdistan. Read more: http://gsm.utmck.edu/surgery/news/main.cfm#story5.
Pictured: Dr. Heath Many with Dr. Liz Mwachiro who took over as Program Director at Tenweck.

Posted: April 27, 2021