News and Events
Pulmonary and Critical Care Medicine Recognized with the GSM's Exemplary Service Award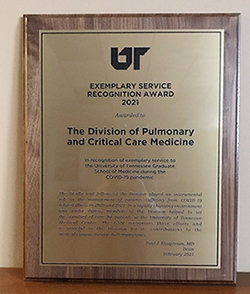 Paul J. Hauptman MD, Dean of the University of Tennessee Graduate School of Medicine (UTGSM), honored faculty and fellows in the Division of Pulmonary and Critical Care Medicine for exemplary service during the COVID-19 pandemic. The Division, led by Paul Branca MD, Tina Dudney MD and Elise Schriver MD, played an instrumental role in the management of patients suffering from COVID-19 related illness in 2020 and 2021. In a rapidly changing environment and under duress, members of the Division helped to set the standard of care for patients at The University of Tennessee Medical Center, and their efforts continue to this day.
Rajiv Dhand MD, Chair of Internal Medicine and Associate Dean of Clinical Affairs, assisted Dr. Hauptman in presenting a plaque to the Division team members. William Metheny PhD, Assistant Dean for Graduate and Undergraduate Medical Education, and Amy Paganelli, Assistant Dean for Finance and Chief Operating Office, also joined a virtual presentation to honor the members of the Division.
UTGSM offers a fellowship in Pulmonary Disease and Critical Care Medicine. Learn more about the fellowship program: http://gsm.utmck.edu/internalmed/pulmonary/main.cfm.

Posted: March 10, 2021
Top
---
The University of Tennessee Graduate School of Medicine
1924 Alcoa Highway
Knoxville, Tennessee 37920 | 865-305-9290
Copyright © 2023