News and Events
Amyloidosis Research Team Earns a National Reputation and Secures Increased Funding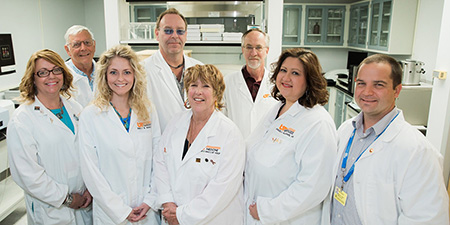 Efforts to improve diagnostic and treatment approaches for patients with amyloidosis are expanding nationally, and research initiatives at the Graduate School of Medicine's Amyloidosis and Cancer Theranostics Program (ACTP) continue to lead the way.
Amyloidosis is a rare disorder in which abnormal protein aggregates called amyloid fibrils build up in organs such as the heart, kidneys, liver, spleen and nerves causing loss of function. Although there are now several new FDA-approved agents that can slow the deposition process, there are no available drugs for removing amyloid deposits from damaged organs.
Furthermore, there are no FDA-approved imaging agents that can be used to non-invasively, rapidly and accurately detect amyloid throughout the body. The disease can difficult to diagnose, and often by the time amyloid is discovered, several of the body's organs are adversely and potentially irreversibly affected.
Since 2020, the ACTP team, directed by Jonathan Wall PhD, has received more than $2 million in funding through grants and contracts to develop and study amyloid clearing therapies. Most recently, the National Institute of Diabetes and Digestive and Kidney Diseases awarded the ACTP a four-year $1.79 million grant for a study titled "Developing a Theranostic Immunotherapy for Systemic Amyloidosis." This project seeks to develop new reagents that can be used primarily to image as well as clear amyloid from affected organs.
Dr. Wall's team offers hope to patients. In addition to developing therapies, they have also generated a novel amyloid imaging agent called p5+14 (or AT-01). The team is conducting a first in-human clinical trial to see if p5+14 can successfully image amyloidosis throughout the body. So far, the ACTP has studied 46 subjects from all over the U.S.
"The results are extremely promising," said Dr. Wall. "Originally we were going to image 43 patients, but we have extended the study to 88 participants. So far, we have imaged 7 different types of amyloid, including some types that are extremely rare. We have also imaged disease in patients that clinicians couldn't yet detect and before symptoms appeared. Early detection of amyloid is key for improving a patient's prognosis. The goal of the trial is to demonstrate that we can safely and accurately image every type of amyloid in the body, and so far we have been successful."
Dr. Wall said the success of the trial would not be possible without the resources available to him through The University of Tennessee Medical Center. "Improving amyloidosis diagnosis and prognosis is truly a team effort," he said. "In addition to the incredible and dedicated researchers that I work with, the imaging study is a collaboration with GSM faculty from the Cancer Institute and the Department of Radiology and Nuclear Medicine. This trial would not have happened without the help of Dr. Ronald Lands, who is the study physician, and Bryan Whittle and Dr. Dustin Powell who help with the image collection and analysis."
Dr. Wall expects the clinical trial to continue for at least another year. The next step for the imaging agent is a Phase 3 trial that will generate data that can be submitted to the FDA for approval. The team is hopeful that the decades of research will be able to benefit all patients within the next few years.
Dr. Wall added, "Our other studies, in the laboratory, aim to design focused therapies to remove amyloid from the body. Currently, the only therapies available to patients are drugs that stop the formation of new amyloid proteins. We want to create and test a series of therapeutic options to see if they can completely remove amyloid from the body."
Dr. Wall has devoted 26 years to studying the pathogenesis of amyloid diseases. During his career, he and his colleagues have received nine US-based patents as well as 22 international patents in countries including Australia, China, Europe, India, Israel, Japan, and South Africa.
Pictured: Dr. Jonathan Wall and research team. From left to right: Front: Tina Richey, Emily Martin, Sallie Macy, Angela Williams, Alan Stuckey Back: Stephen Kennel, Dr. Wall , James "Steve" Foster. Not pictured: Craig Wooliver

Posted: April 26, 2021