News and Events
UTGSM Announces the Wahid T. Hanna MD Endowed Chair for the Department of Medicine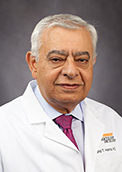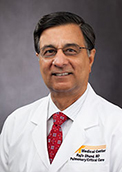 Paul Hauptman MD, Dean of the University of Tennessee Graduate School of Medicine (GSM), announced that Dr. Rajiv Dhand, Professor of Medicine and Associate Dean has been named as the inaugural Wahid T. Hanna MD Endowed Chair for the Department of Medicine.
"This important step forward for the Department and the GSM is due to the philanthropic support of the many donors who invested in the initiative honoring Dr. Hanna," Dr. Hauptman said. "We are also grateful to the members of the fundraising committee for their tireless efforts: Mr. Bernard Bernstein, Dr. Samia Hanna, Mrs. Michelle Jubran, Dr. Jack Lacey, Mrs. Mary Neutens, and Mr. Panos Ioannides."
Through endowment funding, the Department will be able to better enhance the training environment for residents, fellows, post graduate trainees, students, faculty, and staff; support patient care of the highest quality and safety for people in the service region; and encourage innovation and research in medicine with a focus on oncology and hematology.
Dr. Hanna, for whom the endowment is named for, is an internist and oncologist of the highest quality. Educated at Ain-Shams University in Cairo and trained in pathology, hematology and oncology at St. Catherine's Hospital and the Liverpool Royal Infirmary (both in England) and at the University of Tennessee Memorial Research Center and Hospital (the precursor to the UT Medical Center), Dr. Hanna has been a dedicated member of the UT community since 1978. He has garnered multiple awards and other forms of recognition from the Tennessee Hemophilia and Bleeding Disorder Foundation and the Leukemia & Lymphoma Society for his dedication to patients with hematological disorders.
Dr. Hanna said "I am grateful to all the donors and for this wonderful gift. It has been an honor for me to practice, teach and contribute to the acquisition of knowledge during my more than four decades at The University of Tennessee Medical Center. I am delighted to know that the Department of Medicine will now be better able to advance its research and educational missions." He added, "I can think of no more a deserving candidate to hold the Chair than Dr. Dhand."
Dr. Dhand is a graduate of a pulmonary and critical care fellowship at Loyola University Medical Center, and subsequently served on faculty at the Stritch School of Medicine and then as Director, Division of Pulmonary, Critical Care, and Environmental Medicine at the University of Missouri. He was named Chair of Medicine at the GSM in 2012 and Associate Dean for Clinical Affairs in 2015. Internationally recognized for his work in aerosolized medicine, Dr. Dhand has had multiple editorial appointments, including as Editor of Pulmonary Therapy and the Journal of Aerosol Medicine and Pulmonary Drug Delivery, and has served as a member of the American College of Chest Physicians Task Force for Developing Clinical Practice Guidelines on Aerosolization of Medication and as President of the International Society of Aerosols in Medicine. He has authored over 130 peer reviewed original contributions, editorials and reviews and 14 book chapters.
Dr. Dhand said, "It is a great honor for me to be named as the inaugural Hanna Endowed Chair, which honors Dr. Hanna and his decades of dedication to patients living with cancer or blood disorders. He has made important contributions to the field of hemophilia, in part through his role in teaching the next generation of physicians. This support will be of great benefit to the Department of Medicine as we seek to expand our academic footprint."
In order to publicly recognize and thank the donors, a ceremony hosted by the UTMC Development Office will be held once it is safe to do so.
Pictured top left: Dr. Wahid Hanna
Pictured top right: Dr. Rajiv Dhand

Posted: March 15, 2021