News and Events
Dr. Anthony Wilson Named Chairman of Family Medicine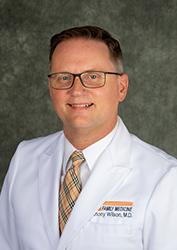 Dr. Paul J. Hauptman, Dean, announced that G. Anthony Wilson MD FAAFP has been named Chair of the Department of Family Medicine at the University of Tennessee Graduate School of Medicine following a rigorous search, effective May 1.
Dean Hauptman said, "Dr. Wilson has served as Interim Chair since January 2020 and almost immediately faced challenges associated with the COVID pandemic. He has steered the Department with focus and brilliance, and we are truly excited to officially launch a new era of leadership at the GSM."
Dr. Wilson is a graduate of Tennessee Technological University and received his medical degree from the University of Tennessee Health Science Center. Upon completing his residency at the UT GSM, Dr. Wilson practiced in Crossville, TN. Re-focusing his interests on academics, Dr. Wilson returned to the GSM as a faculty member in 2011 and completed a fellowship in faculty development at the University of North Carolina in 2015. He initiated our Faculty Development seminar series (now in its third year) and along with Eric Carlson DMD MD, created the Academic Leadership Academy (currently in its first year). He has been a campus leader in education and service, for example as Associate Program Director of the Family Medicine Residency, Director of the Capstone course for fourth-year medical students, and director of CME courses for primary care providers. His research has focused on medical education and diabetes screening, and he has been a reviewer for multiple journals including Annals of Family Medicine and Academic Medicine.
In response to his appointment, Dr. Wilson said: "I am sincerely honored to be chosen as the next Chair of Family Medicine. I am eager to serve in this new role in order to help the Department fulfill its clinical mission and increase its footprint in medical education and research. We are committed to excellence in teaching and to the development of primary care physicians who are not only ready to meet the challenges of an ever-changing medical landscape but who can be leaders as well."
Dr. Wilson's new role follows the chairmanship of Dr. Gregory Blake who led the Department for over two decades and whose influence on the GSM in general and Family Medicine in particular continues to this day.
Dr. Hauptman thanks the members of the Search Committee: Dr. William Metheny, Dr. Kimberly Fortner, Dr. Erika Herrera, Dr. Kendra Kemmet; David Hall; and Dr. Rajiv Dhand, Chair, for their dedication and service to GSM.

Posted: April 9, 2021
Top
---