News from the Department of Surgery
November 2020
Letter from the Chair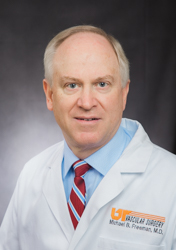 Appreciation, honor and a big thank you are the themes of my Chairman's thoughts for this edition of The Scalpel. The goal of funding an endowed chair for the Department of Surgery named after Dr. Goldman has been reached. A big thank you goes out to all of the faculty, alumni, staff and friends of the department who contributed to make this a reality. Many people, including myself, thought the goal of raising one million dollars to fund an endowed chair would happen but not in this short of a timeframe. I also have a great amount of appreciation for the tireless efforts of Dr. Sperry Nelson who worked with the Development Office to push the goal of establishing the endowed chair over the finish line. Finally, it is truly an honor to be named the first inaugural Mitchell H. Goldman Endowed Chair for the Department of Surgery at the University of Tennessee Graduate School of Medicine. Dr. Goldman has been a true friend and mentor as well as a Tennessee Volunteer who has "given his all" for the Department. It is appropriate the endowed chair has his name attached. I cannot say it enough but THANK YOU again to all who have been such stalwart supporters of the Department of Surgery over the years. With your help, we hope to continue to advance the department as we train the next generation of surgeons.
Michael Freeman, MD
Surgery Chair
---
Mitchell H. Goldman Endowed Chair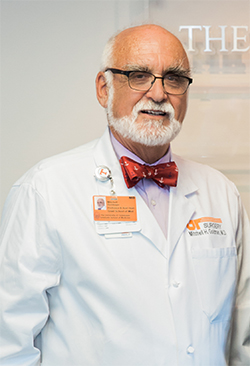 In his recent address to the Graduate School of Medicine, Dr. Paul Hauptman, Dean, announced the Mitchell H. Goldman Endowed Chair for the Department of Surgery. Dr. Michael Freeman was named the inaugural holder of the Endowed Chair. Efforts are due in part to Dr. Goldman, Dr. Sperry Nelson, and many donors who supported this initiative.
"Through endowment funding, the Department will be able to better enhance the training environment for residents, fellows, post graduate trainees, students, faculty, and staff; support patient care of the highest quality and safety; and encourage innovation and research in surgery," Dean Hauptman noted.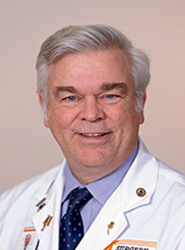 Reflecting on this announcement, Dr. Nelson said he was happy to see the work of a six-year process come to fruition. "I want to give a special thanks to our alumni, to the Department, Dr. Goldman, and Dr. Greg Mancini for kick-starting this initiative. We had a match challenge to meet our goal and far exceeded expectations."
The idea for the Endowed Chair initially began in 2014 to raise donations in response to a concern for government funds available for graduate education. Dr. Nelson stated the process was projected to take around 10 years and having met that goal early was a great accomplishment.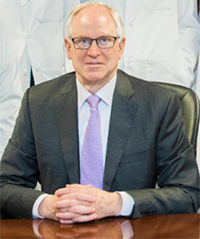 In response to being named the first Endowed Chair, Dr. Freeman said, "The creation of the Mitchell H Goldman Endowed Chair will be of great benefit to the Department of Surgery as we continue Dr. Goldman's lifelong efforts to advance the mission of excellence in clinical care, discovery, and training the next generation of surgeons. For me personally, it is an immense honor to be named the first Chairman with Dr. Goldman's name attached to the position. He has been a great mentor, friend, and stalwart of the GSM."
Pictured: Dr. Mitchell Goldman (top); Dr. Sperry Nelson (middle); Dr. Michael Freeman (bottom)
---
Surgical Oncology Grows and Welcomes Ryan Schmocker, MD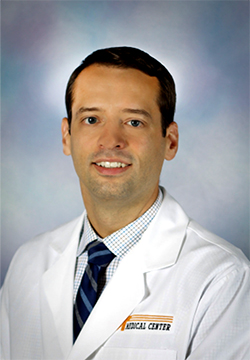 Please join us in welcoming Dr. Ryan Schmocker to East Tennessee and the Division of Surgical Oncology at the University of Tennessee Graduate School of Medicine, Department of Surgery. Dr. Schmocker recently completed his Complex Surgical Oncology Fellowship at Johns Hopkins and graduated from the General Surgery Residency at the University of Wisconsin, Madison.
Though broadly trained in surgical oncology, Dr. Schmocker has been recruited to grow Surgical Oncology's section of pancreas and hepatobiliary malignancies. He brings new expertise in minimally invasive and robotic approaches to complex abdominal surgery. "I am excited to join this distinguished group, and I look forward to continuing to expand and offer unique approaches to a flourishing program," he said.
The section of GI Surgical Oncology has grown over the last 13 years under the leadership of Dr. Keith Gray, now serving as Chief Medical Officer and Sr. Vice President for the medical center. Currently the Section of GI Surgical Oncology is comprised of Drs. Laura Enomoto, Keith Gray, Ryan Schmocker, and newly appointed section head: Dr. James McLoughlin.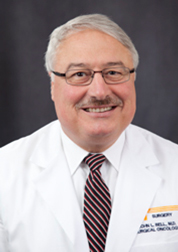 GI Surgical Oncology has not been the only surgical oncology section to experience growth and change. Dr. John Bell initiated the Division of Surgical Oncology and currently serves as Director of the UT Cancer Center. He joined the UT Surgical faculty in 1988. Dr. Bell stated, "I am overwhelmed and gratified when I reflect on the progress and complexity of the Division of Surgical Oncology. Watching the growth of our division over the past 30 years has been truly remarkable. We now have sub-specialty fellowship trained surgeons in all disciplines offering quality, evidence-based surgical care covering all aspects of oncology."
Recently Dr. Jillian Lloyd was designated the interim section head of breast surgical oncology. The Division of UT Surgical Oncology now consists of three clinical sections: breast, GI, and melanoma and soft tissue surgical oncology, boasting seven faculty. Surgical Oncology is actively recruiting an additional full-time breast surgeon as well. Newly appointed Chief of Surgical Oncology Dr. James Lewis gratefully acknowledges the opportunity and privilege to serve the cancer needs of East Tennessee and UT's mission of healing, education, and discovery. Dr. Lewis reflects that "you never step into the same river twice," and he is excited to see how the medical center and the Division of Surgical Oncology can grow and continue to address the cancer needs of the region.
Pictured: Dr. Ryan Schmocker (top) and Dr. John Bell (bottom)
---
Robotics Course Shapes Resident Didactics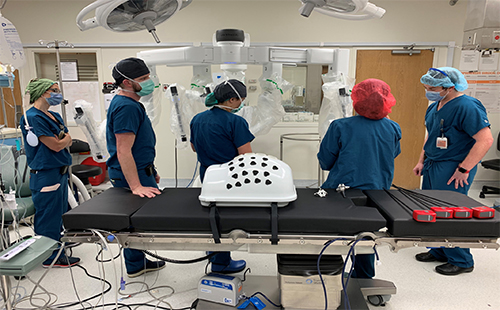 Robotic surgery continues to grow within the specialty of General Surgery. The Department of Surgery, with direction by Drs. Greg Mancini and Kyle Kleppe, has developed an educational curriculum for robotic surgery which includes online didactics, virtual reality (VR) simulation, and dry lab docking training. Graduate Medical Education (GME) received an educational grant from Intuitive to provide a robotic surgeon console and VR simulation system for the UT Center for Advanced Medical Simulation (UTCAMS).
Access to such simulation technology serves to enhance resident skill acquisition, thereby shortening the learning curve of the robotic platform.
Jordan Shealy, MD, who participated in the robotics course, notes that, "The robotics training session allowed familiarization of the intricacies of the da Vinci robotic system's functionality in a non-clinical setting. It is truly an intuitive machine once the numerous controls are mastered. The da Vinci educational representative was helpful and guided our session with expertise. Each resident was able to participate with hands-on practice to develop the assistant skills needed to understand the ergonomics and restrictions of the robotic arms for the ultimate goal of independent operation."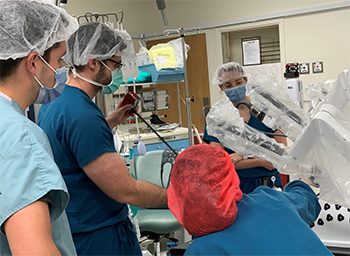 Over the past 5 years, graduates of the program have had the opportunity to earn robotic certification to take to their next step in their surgical career. In 2019-20, nearly 400 general surgery procedures were performed at the medical center with a high level of general surgery resident participation, both as bedside assistant and at the surgeon console. The Department of Surgery continues to evolve our training paradigm to meet the ever changing technical advancements in surgery. Robotics training exemplifies our focus on providing the most advanced training opportunities to both attract the best trainees and yield the highest trained general surgery resident.
Pictured top: Dr. Bethany Sappington, Dr. Jordan Shealy, Meredith Hunter with Intuitive, and Dr. Andrew Antill
Pictured bottom: Dr. Alan Good, Dr. Tom Mazonas, Meredith Hunter, and Dr. Katherine Yared
---
Bariatrics Team Performs 2,000th Surgery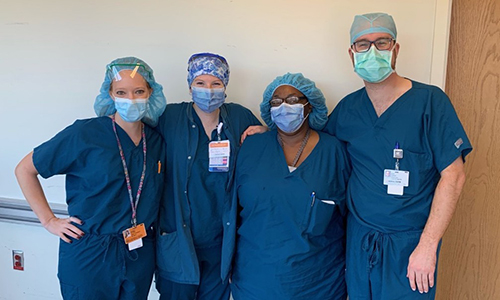 On October 21, a team performed a Roux-en-Y Gastric Bypass (RYBG) procedure which was the 2,000th bariatric surgery. Reaching this milestone is a huge accomplishment for the bariatrics program. Weight reduction surgery improves quality of life and lessens or eliminates associated diseases like diabetes, hypertension, obstructive sleep apnea and high cholesterol. It also positively impacts other areas, like gastroesophageal reflux disease, stress incontinence, cardiac function, infertility and osteoarthritis. Weight loss surgery might even help reduce the need for certain medications. Most importantly, it can put people back in control of their life, and this is especially important now because growing evidence suggests that a large proportion of patients hospitalized with COVID-19 are overweight or obese.
Pictured: Jordan Grubbs, MD, Shea Saunders, RN, Vickie Brabson, Surgical Tech, and Kyle Kleppe, MD
---
Kurdistan: An Experience from Dr. Lou Smith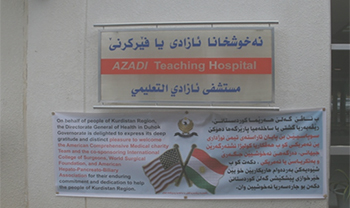 In the September publication of the American College of Surgeons Dr. Lou Smith co-authors "Medical Capacity-Building in War-Torn Nations: Kurdistan, Iraq as a Model." Dr. Smith traveled to Kurdistan along with Dr. Blaine Enderson as part of a 28-year study on the medical capacity building in an unstable civilization. From 1992 to 2020, American surgeons volunteered in Kurdistan in order to support these communities in their attempts to rebuild a healthcare system.
Dr. Smith shares her story in this incredible feat:
While I was the trauma director at LSU-Shreveport, I had a resident who attended UTHSC College of Medicine but was originally from the Kurdish region of Iraq. In 1988, Saddam Hussain gassed the city of Halabja, killing over 3,000 people in an effort toward ethnic cleansing. My resident, Dr. Gazi Zibari, now a world-reknowned transplantation and hepatobiliary surgeon, had a brother that was Peshmerga—fighting for Kurdish lives and freedom—with former President Masoud Barzani.
This brother, Babaker, who eventually became the chief of staff for the Iraqi Army during the Bush and Obama administrations, advised their mother to take the family—three boys and numerous cousins—and get out of Iraq immediately. On short notice, his mom gathered them all up, and in the month of March, they traveled by night to avoid detection. With a bare minimum of supplies and possessions, they walked, often in snow, to Turkey. When they tried to cross the border, they were turned away.
From here, they traveled, hiding in caves during the daylight, until they reached Iran, who agreed to harbor them as refugees. Eventually, Gazi was accepted into a refugee program in the USA, but he had to leave his entire family behind him. It is no wonder that a person with that kind of story successfully maneuvered his way through college, medical school, residency and a fellowship at John's Hopkins under the famed John Cameron. Dr. Zibari wasn't able to return to Iraq for over 20 years. When he did, he established a regular mission to bring a kidney transplant program to the city of Duhok.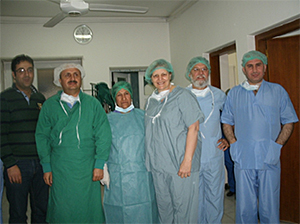 My personal involvement with shoulder to shoulder education in the Kurdish Governate began 13 years ago when Dr. Zibari's nephew died tragically of a ruptured spleen in Erbil—the capital of Kurdish region. Dr. Zibari asked me to assist the region in establishing a trauma system, updating trauma protocols, teaching a version of what we know as ATLS, and teaching ultrasound for emergencies as well as journal critique and design and analysis for house staff.
Since that time, I have worked in Iraq annually with amazing local colleagues there such as Dr. Abdullah Ibrahim, who never fails to do the right thing and works tirelessly to improve trauma care. It is a joy to work with surgeons, house staff, medical students and even ambulance drivers who get excited and are so appreciative when we share with them things that our own doctors take for granted. I remember helping a surgeon do the very first laparoscopic cholecystectomy in Duhok Emergency Hospital. He was so happy that he bought the entire OR staff a lunch. The morning after we taught FAST scan to senior medical students, we were greeted by a student who found a pericardial tamponade in a 10-year-young boy who was injured by ISIS troops. The intervention for this child was life-saving and gratifying. I could give so many examples.
Our mission team has expanded and teaches advanced laparoscopy, bariatric surgery, complex ophthalmology and complex ENT as well. We are trying to break ground on breast cancer intervention which has many technical and cultural barriers.
It is an honor to be able to share new ideas and surgical skills with such gracious and enthusiastic hosts. Despite being there during the period ISIS ruled Mosul only 20 miles away, I never felt unwelcome or unsafe (except during an earthquake one afternoon!) I hope to continue this work for years to come.
Pictured top: Azadi Teaching Hospital in Duhok
Pictured bottom: Dr. Lou Smith and Dr. Blaine Enderson with medical staff
---
Virtual Visiting Professor J. Stephen Scott, MD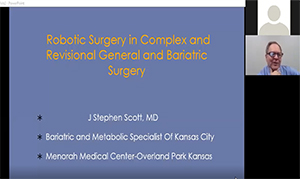 This year has seen many changes and challenges. The Department of Surgery continues to adapt and bring conferences to our residents and faculty virtually. Surgery Grand Rounds was hosted this fall for all Graduate School of Medicine faculty and staff. Presenting for Grand Rounds was J. Stephen Scott, MD on September 24.
Dr. Scott is Associate Program Director for the HCA General Surgery Residency Program at Menorah Medical Center in Overland Park, Kansas. Dr. Scott is also a board-certified bariatric surgeon at the Bariatric and Metabolic Specialist Clinic in Overland Park. In his presentation titled "Robotic Surgery in Complex and Revisional General and Bariatric Surgery," Dr. Scott discussed clear advantages robotic surgery has in general and bariatric surgery. "Robotic complex surgery is only practical with progressive robotic surgery experience. Digital surgery is the present of bariatrics," he said.
---
Faculty Honors: Dr. Joseph Chun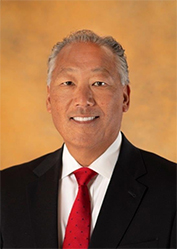 Congratulations to Joseph Chun, MD for his induction into the Alpha Eta Honor Society, the national allied health science honor society. This induction is based on his GPA for his master's degree in Health Informatics and Information Management which he completed earlier this year at UTHSC.
The society recognizes graduating allied health science students who exhibit superior academic achievement and potential for leadership in their chosen professions. No more than twenty percent of each graduating class may be selected for membership. The names of newly elected members are announced as part of the college observance of graduation. Alpha Eta has 93 chapters and more than 35,000 members nationally.
---
Tennessee Chapter American College of Surgeons Virtual Annual Meeting 2020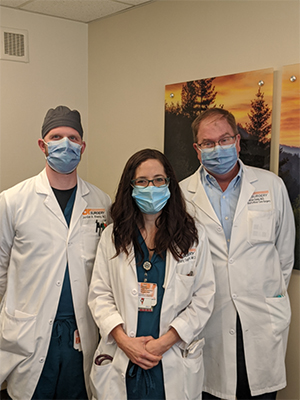 Bethany Sappington, MD and Jordan Shealy, MD participated in the Tennessee Committee on Trauma Timothy Fabian Resident paper Competition virtually on August 25th in conjunction with the Trauma Care Advisory Council Meeting of the Tennessee Board of Health.
Brian Daley, MD, Chair of the TN COT and Director of TCAC hosted the meeting. The Tennessee COT will host the Region 4 paper competition with representatives from AL, FL, GA, KY, MS, NC, SC and TN on November 13th in a virtual format.
Although Dr. Shealy's paper did not win, it was selected for inclusion in the Southern Surgical Association Proceedings which will be published in JACS in lieu of an In-Person Meeting. His presentation was "Improved Incidental Findings Reporting and Medicolegal Risk Reduction in the Trauma Population" by Jordan Shealy MD, Lou Smith MD, Rachel Savoy C-NP, Brent Rosen C-NP, Melinda McManus, LPN, Eric Heidel PhD, Sarah King MS, Garnetta Morin-Ducote MD, Leland Husband MD, Clay Callison MD, and Brian Daley MD.
Dr. Sappington's presentation was "Harbingers of Splenic Artery Embolization Failure," a research project in conjunction with Dr. Daley, Reagan Bollig, MD, Dr. Heidel, and Shaun Rowe, PharmD.
Pictured: Dr. Jordan Shealy, Dr. Bethany Sappington, Dr. Brian Daley
---
Fellowship Match Results for 2021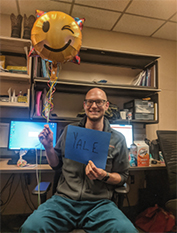 Chief Resident Jared Griffard, MD was recently matched to a two-year Surgical Critical Care Fellowship at Yale School of Medicine. Two surgeons are accepted annually into the program. The critical care service manages around 2600 patients a year, including admitted patients at the 26-bed SICU, 9-bed surgical step-down unit, and overflow units.
Congratulations to Dr. Griffard on his match!
Surgical Critical Care Fellow
Ji-Ming J. Yune, MD




Medical School: Loma Linda University School of Medicine

Residency: Huntington Hospital

Advanced GI MIS/Bariatric Fellow
Haley Daigle, MD




Medical School: Tulane University School of Medicine

Residency: Medical College of Georgia at Augusta University

Vascular Fellow
Brett Fowler, MD




Medical School: University of South Carolina School of Medicine

Residency: Wake Forest Baptist Medical Center

Vascular Fellow
Dariam Cardentey Olivia, MD




Dariam Cardentey Oliva, MD
Medical School: USF Health Morani College of Medicine

Residency: Orlando Regional Medical Center/Orlando Health
---
Resident Awards: Lauren Grimsley, MD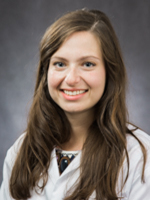 Chief Resident Lauren Grimsley, MD was awarded "Best Original Research Project" from the Office of Graduate Medical Education in September. Her project was "Liposomal Nanocarriers Designed for Sub-Endothelial Matrix Targeting under Vascular Sheer Stress." It is authored in part by faculty mentors Raymond Dieter, MD, Joshua Arnold, MD, Ryan Buckley, MD, Michael McNally, MD, Michael Freeman, MD, Deidre Mountain, PhD, and Oscar Grandas, MD.
Congratulations Dr. Grimsley!
Top