Faculty Focus on Fostering Teaching Skills Among Doctors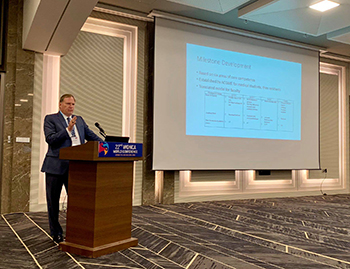 Family Medicine faculty Gregory Blake, MD, Professor and Chair; Kendra Kemmet, MD, Assistant Professor; and Anthony Wilson, MD, Associate Professor, directed a workshop on using milestones for physician faculty development at the World Conference for Family Doctors in Seoul, South Korea in October.
Faculty development for practicing physicians has been identified as an area for improvement. Just as there is high demand for physicians, there is high demand for skilled teachers of medicine. Family Medicine faculty have been working to develop metrics with specific, achievable goals for an academic career in medicine.
Dr. Kemmet said she and her colleagues wanted to develop a layout based on existing milestone guidelines for medical students and residents in core competencies outlined by the Accreditation Council for Graduate Medical Education:
Patient Care
Medical Knowledge
Systems-based Practice
Professionalism
Practice-based Learning and Improvement
Communication
They identified ways to develop young faculty through good mentorship from seasoned faculty and by establishing clear career trajectories. This serves to translate the abstract idea of being a good teacher to a goal oriented task with clearly outlined and attainable milestones.
Their faculty development model includes building instructional expertise, engaging in scholarly activity, developing leadership skills, networking internally and externally, and navigating the promotion process.
The 90-minute workshop in Seoul was attended by family medicine doctors from 11 countries, and the response was enthusiastic. Although the type and scope of teaching institutions differs from country to country, the need for formalized mentorship was recognized as essential to success in an academic setting.
Dr. Wilson said, "Formal mentorship has historically lacked guidelines for a clear career trajectory. With this new rubric, a well-delineated path to success is available to academic physicians of any specialty."
Pictured: Dr. Gregory Blake
---
Undergraduate UTGSM Researcher Grant Rigney Named Rhodes Scholar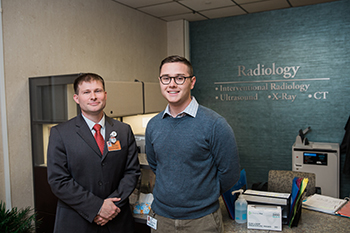 Grant Rigney, a UT senior in biomolecular engineering and undergraduate volunteer in the Molecular Imaging and Translational Research Program (MITRP), has been named a Rhodes Scholar – the eighth in university history.
Rigney's research, led by David Blevins, PhD, Assistant Professor of Radiology, and MITRP Director Dustin Osborne, PhD, focuses on the toxicity of PET imaging agents and is patent-pending. Rigney helped develop a test that detects and calculates the concentration of residual phase transfer catalysts in a final radiopharmaceutical product. These toxic elements must be below certain federal limits for use in patients. The current gold standard for testing relies on a subjective visual test. The device created by this research team, which also includes Michael Fang, Research Assistant, and Murthy Akula, PhD, Associate Professor of Radiology, provides quantitative results, allowing for more accurate and automated product testing that better meets stringent FDA requirements for production.
"Grant has been an excellent student in our lab willing to take on a range of projects to expand his own skillset and assist us with our radiochemistry efforts as he works towards his goal of pursuing a medical degree," Dr. Osborne said.
While Rigney's research efforts benefit his future career goals, Dr. Osborne said the new technique Rigney helped develop for testing these compounds may eventually have a wide impact on improving how quality control is performed in routine radiopharmaceutical production, benefitting patient care and safety for the nearly 2,000,000 people who receive PET scans every year.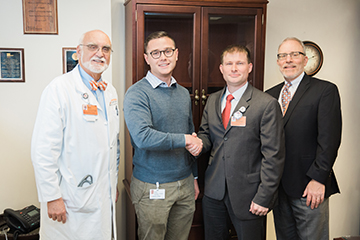 Mitchell Goldman, MD, Assistant Dean for Research said, "Grant's work is another example of the excellent biomedical research performed at The University of Tennessee Medical Center and the opportunities for UT undergraduates to be part of the exciting research performed by our faculty and advancing medical care for our patients."
Rigney said conducting research at the medical center under Dr. Blevins and Dr. Osborne has been a formative experience in multiple ways, preparing him to conduct independent research in the future and helping him realize the type of research he hopes to pursue in the future. He said, "After studying for Masters degrees in Global Health Science and Epidemiology and Evidence-Based Social Intervention and Policy Evaluation, I will attend medical school. Ultimately, I hope to be a surgeon and public health researcher."
"We congratulate Grant and wish him well as he pursues additional research at Oxford," said Paul J. Hauptman, MD, Dean of UTGSM. "From the vantage point of the Dean's Office, I'm also more confident than ever that with faculty members like Drs. Goldman and Osborne, the GSM is well positioned to fulfill its mandate to advance medical knowledge through research and discovery."
Read more about Rigney from the UT Office of Undergraduate Research.
Picture 1 L-R: Dr. Dustin Osborne and Grant Rigney
Picture 2 L-R: Dr. Mitchell Goldman, Grant Rigney, Dr. Dustin Osborne and Dean Paul J. Hauptman
Top