Moments
Jennifer Russomanno Named in Knoxville 40 Under 40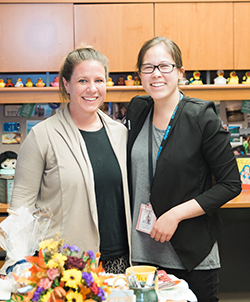 Jennifer Russomanno, Coordinator, Continuing Education and Outreach, (pictured left with a Knox.biz representative) was recently named in the Knox.biz 40 Under 40. Russomanno recently earned a master's degree in public health and is now pursuing a doctorate degree. She focuses her work and research on educating the community on farm fresh foods while also making farm fresh, organic foods more readily available to the rural community. See who else was honored in the 2018 Knox.biz 40 Under 40.
---
Surgeons Host Hernia Screening
Surgery faculty Melissa LaPinska, MD, Associate Professor; Kyle Kleppe, MD, Assistant Professor; and Mariah Beasley, MD, hosted a hernia screening on October 6. Approximately 40 people attended the event. Of the attendees, 21 people were screened and 16 hernias were found. Dr. LaPinska said, "I am hopeful that we will be able to recruit the 16 hernia patients into the UT system as many of them made appointments to come back to our clinic on the day of the event. All but one of the hernias that we found were compatible with a minimally invasive repair based on hernia size. Overall, I think this was a great event."
---
ATLS Course Taught in Zimbabwe
A medical team from The University of Tennessee Medical Center recently traveled to Zimbabwe to teach an Advanced Trauma Life Support (ATLS) Course as the continuation of a training initiated in 2015. The team included: Trauma and Critical Care Surgery faculty Lou Smith, MD, Clinical Associate Professor, and Blaine Enderson, MD, Professor; and Trauma and Critical Care nurses Niki Rasnake, RN; Debi Tuggle, RN; and Theresa Day, RN. In 2015, the training also included Advanced Trauma Care for Nurses (ATCN), taught for the first-time ever in Africa. ATCN trainig has continued via Skype. Rotary International is partnering with South Africa ATLS to grow equipment and qualified instructors to continue ATLS training in Zimbabwe. Read news coverage of the 2015 trainings.

---
Student Research Presented to American College of Surgeons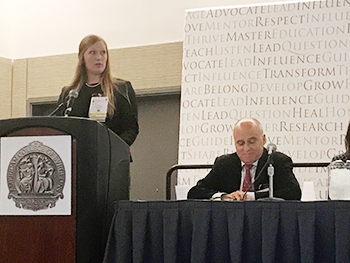 Taylor Harris (pictured at the podium) presented her video paper written in conjunction with Michael McNally, MD, Assistant Professor and M3 Clerkship Director, at the Clinical Congress of the American College of Surgeons in Boston, Massachusetts. Her presentation, "Open Inferior Vena Cava Filter Removal," was based on research she completed at the UT Graduate School of Medicine as a UT undergraduate student. Harris is now a first-year medical student at East Tennessee State University Quillen School of Medicine.
---
Matthew Mihelic, MD, Associate Professor, Family Medicine, was co-leader of a workshop, "Applying Systems Sciences to Primary Care" at the 2018 Annual Meeting of the North American Primary Care Research Group. During the workshop, he presented, "How Do We Manage the Complexity of Medical Care Delivery Today?"
---
New Faculty

Paul Hauptman, MD, Professor, Medicine
Kyle Kleppe, MD, Assistant Professor, Surgery
Dalyn Webb, MD, Clinical Instructor, Dentistry

New Staff
Andrew Burkley, Psychologist, Family Medicine
Diana Gonzalez-Soto, Clinical Assistant, Obstetrics and Gynecology
Gillian Hunt, Administrative Specialist, Surgery
Debbie Shelton, Clinical Assistant, Dentistry
Jacqueline Van Audenhove, Director, Institutional Review Board
Lillian Williams, Accounting Specialist, Business Office
Top