Grateful Patient Family Assists Family Medicine Expansion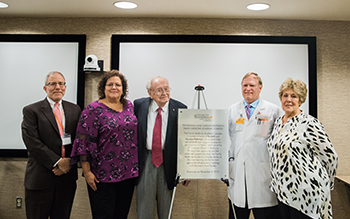 A donation from grateful patients of University Family Physicians is supporting an initial expansion of the facilities, ultimately supporting patient care and resident education.
The generosity of Randall and Carolyn Patterson is supporting updated and renovated facilities for the Family Medicine Residency Program. The expansion will be named the Randall and Carolyn Patterson Family Medicine Academic Complex. In 1970, the residency program began as the first in the state and the seventh in the country. The program started with George Shacklett, MD, as Chair, succeeded in 1995 by Gregory Blake, MD. The Pattersons have been long-time patients of Dr. Blake and initially contributed to a Domestic Violence Conference.
The Patterson family became interested in contributing on a larger scale. Their donation supports the initial phase of a three-part expansion to UFP. A ceremony was held to recognize the Patterson's contribution as well as unveil plaques that will be displayed in the resident academic area and at the entrance of UFP. The expansion is expected to be completed in June 2019.
Pictured L-R: Dean Paul J. Hauptman, Renee Loyed, Dr. George Shacklett, Dr. Gregory Blake, and Carolyn Patterson
---
New NIH Grant Supports Bone Therapy Research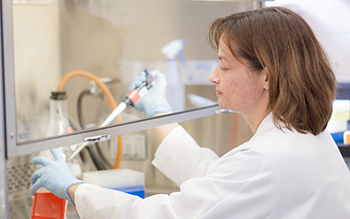 An estimated 126.6 million Americans are affected by musculoskeletal conditions such as bone diseases and bone injuries ranging from simple fractures to face/jaw defects, catastrophic bone loss, and bone cancers. These bone injuries and diseases result in significant pain, distress, and loss of quality of life, as well as considerable financial hardships for patients and the health care system. Therapies are limited, but UT Graduate School of Medicine researchers are collaborating on a study to develop a treatment strategy supported by a new grant from the National Institutes of Health.
A multidisciplinary team including Stacy Stephenson, MD, Assistant Professor; Tom Masi, PhD, UT Graduate School of Medicine Plastic and Reconstructive Surgery Laboratory; Madhu Dhar, PhD, UT College of Veterinary Medicine; and Shawn Bourdo, PhD, University of Arkansas, Little Rock, Center for Integrative Nanotechnology Sciences, is investigating the mechanism triggered in a process that changes stem cells (cells that have remarkable potential to develop into many different cell types) into bone cells.
The team previously discovered that when stem cells are placed on a low oxygen form of a carbon-based polymer (graphene) scaffold, the stem cells transform into bone cells and start to make the components of bone matrix without additional stimuli.
Through this new study, once the investigators determine the mechanism that changes the stem cells to bone cells, the graphene scaffold can be modified to make the process of bone formation occur faster and more efficiently. Graphene can be molded into any shape or form, so the team will also focus on developing a 3D scaffold containing stem cells for implantation in vivo. This will allow the investigators to evaluate bone healing capacity of the scaffold/stem cells as well as biotoxicity and biodegradation.
The long-term goal of this research is to develop an optimal scaffold design that, when combined with stem cells, results in bone healing of a critical sized defect and a return to normal form and function in veterinary or human patients.
The grant entitled "Bone regeneration: mesenchymal stem cells and graphenebiomimetic nanomaterials" has been funded for a three-year period by NIH.
Pictured: Dr. Stacy Stephenson
Our three part mission includes:

---
GSM Surgeons Among First in the Academy of Master Surgeon Educators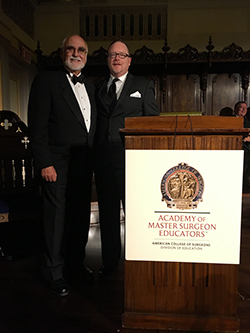 UT Graduate School of Medicine Surgery faculty Mitchell Goldman, MD, Professor and former Chair; Brian Daley, MD, Professor and Residency Program Director; and James Lewis, MD, Professor and Associate Residency Program Director, were among the first of 91 surgeons from 7 countries selected to join the America College of Surgeons (ACS) Academy of Master Surgeon Educators. The induction ceremony was held in October in Chicago.
Developed under the auspices of the ACS Division of Education, the Academy recognizes surgeon educators who have devoted their careers to surgical education. Individuals are selected as Members or Associate Members following stringent peer review. The Academy's mission is to play a leadership role in advancing the science and practice of education across all surgical specialties. Academy membership carries an obligation for commitment to the Academy's goals, which are to identify, recognize, and recruit innovators and thought leaders committed to advancing lifelong surgical education; translate innovation into actions; offer mentorship to surgeon educators; foster exchange of creative ideas; disseminate advances in surgical education; and positively impact the quality of surgical care and patient safety.
Pictured L-R: Dr. Mitchell Goldman and Dr. James Lewis
---
Third-Year Medical Student Presents at National Pathology Conference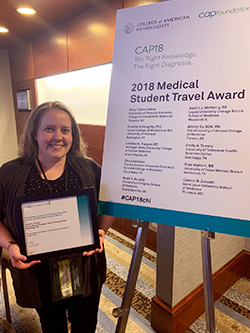 Emily Towery, a UT College of Medicine student completing her third and fourth years in Knoxville, was awarded a travel grant to present at the College of American Pathologists (CAP) 2018 annual meeting in Chicago. Her poster presentation was a case study on, "Primary Middle Ear Squamous Cell Carcinoma Secondary to High-Risk Human Papillomavirus (HPV)" in collaboration with Edward Telow, MD, Department of Pathology at the University of Virginia.
Towery was among 10 national medical students selected for a 2018 Medical Student Travel Award. CAP's website says the award is intended to encourage and support medical students showing a strong interest in the specialty of pathology as a career choice.
Pictured: Emily Towery
Top