Advanced GI MIS Fellowship Receives Bariatrics Accreditation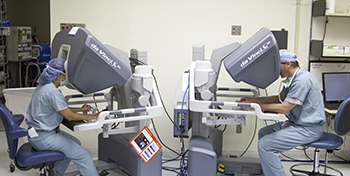 The Advanced GI MIS Fellowship in the Department of Surgery received continued three-year accreditation from the Fellowship Council with the additional designation for Bariatrics. This places an already unique program in "elite" status, according to Fellowship Program Director Greg Mancini, MD.

The Advanced GI MIS/Bariatric Fellowship is a one-year program that focuses on bariatric, foregut, and hernia surgery. The high clinical volume, degree of case complexity, and quality of the faculty provide a world-class training program.

The University of Tennessee Graduate School of Medicine first launched the Advanced GI MIS fellowship in 2014 and received accreditation in 2015. The Fellowship Council oversees 150 non-ACGME (Accreditation Council for Graduate Medical Education) fellowship programs related to minimally invasive surgery and other gastrointestinal surgical specialties.

This year, Dennis Van Dorp, MD, will be the first fellow to graduate with the additional Bariatrics designation. The program welcomes its fifth fellow, Lars Webb, MD, from University of New Mexico August 1.

Learn more about the Advanced GI MIS/Bariatrics Fellowship.



---
GSM Awards Residents for Outstanding Scholarship and Research

The UT Graduate School of Medicine recognized residents and fellows for their achievements as scholars and in scholarly activity at the 2018 New Resident and Fellow Reception and Awards Ceremony.
Outstanding Resident Scholar Award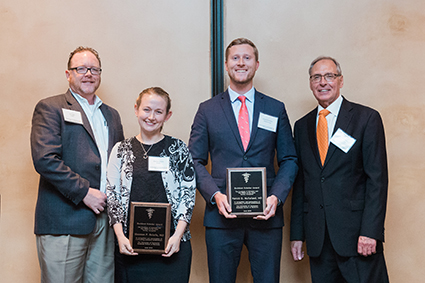 The 2018 Outstanding Resident Scholar Award was presented to Shannon Beierle, MD, Surgery Resident, and Patrick McFarland, MD, Anesthesiology Resident.
The Outstanding Resident Scholar Award was first presented in 2014. To determine awardees, AOS faculty members, chaired by James Lewis, MD, created a point system used to score research efforts including grants, publications, presentations, and IRB-approved ongoing projects; teaching achievements including teaching awards, presentations at educational conferences, invited lectures and teaching or administrative chief residents; patient care feedback including annual resident exams and The University of Tennessee Medical Center Guardian Angel program; and service through professionalism, service to charities and appointments on committees. The candidates nominated for the award well represent the UT Graduate School of Medicine mission for excellence.
Dr. Beierle is the 2018-2019 Chief Resident. As a resident, she completed a research year and has presented at national conferences and published several research papers. In addition to research, Dr. Beierle has actively participated in curriculum development, helping to re-organize the national-based education program to fit the scheduling needs of the department. Dr. Beierle is also the Morbidity and Mortality Conference Resident Coordinator and worked to build no-table resident comradery.
Dr. McFarland has been selected as a Perioperative Medicine fellow following graduation from the Anesthesiology Residency program. He has served in several leadership roles at a local, regional and national level which include serving as the Governing Council Chair and Resident Representative to Independent Medicine's Political Action Committee of Tennessee, Resident Representative for the American Society of Anesthesiologists Political Action Committee, Resident Representative for the Dean's Board of Visitors for the UT Graduate School of Medicine, and Resident Delegate for the state of Tennessee. He has also served as Chief Resident for two years and scored in the top 10th percentile on the Resident In-Training Exams and the top 10th percentile on the American Board of Anesthesiology Basic Science Examination and Anesthesia Knowledge Tests.
Resident and Fellow Research Awards
In 2018, the Research Awards winners were selected through a new process. Department chairs and program directors were asked to identify their department's overall best original research and case presentation through the individual departmental research day programs. Departments then submitted abstracts and a team of reviewers identified a winner for Best Original Research and Best Case Presentation representing the residents and fellows at the UT Graduate School of Medicine.
The 2018 Resident and Fellow Research Awards were presented to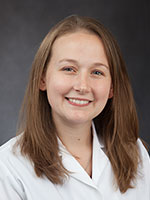 Best Original Research
Shannon Beierle, MD
General Surgery
"A Correlation Between Emotional Intelligence and Burnout in Surgical Residents"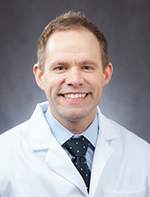 Best Case Research
Jeremy Edwards, DDS
Oral and Maxillofacial Surgery
"The use of Stereolithographic Models for Optimal Surgical Stent Fabrication in Complex Pre-prosthetic Vestibuloplasty and Dental Implant Placement: A Case Report "
Top