---
Employees Awarded for Excellence

The UT Graduate School of Medicine recently honored employees with the 11th annual Employee Excellence Awards program. Excellence Awards are given to staff members who go beyond the scope of their jobs by providing outstanding job performance, courtesy and customer service, community service and leadership. They are awarded by Amy Paganelli, CPA, MBA, Assistant Dean for Finance and Administration. View photos from the Awards presentations and luncheon on Flickr.
Excellence in Courtesy and Customer Service
Sallie Macy
Research Medical Technologist
Medicine
Sallie Macy conducts research in the Amyloidosis and Cancer Theranostics Program. She stains and examines specimen slides and, according to Program Director Jonathan Wall, PhD, Macy is known worldwide for her thoroughness and quality of work. Macy helped initiate the amyloidosis patient support group, actively recruiting patients to attend and sharing a positive attitude at the support group meetings. Macy also works with research students, guiding them in her techniques.
In nominating Macy, Emily Martin, PhD, Assistant Professor of Medicine, said, "She has a heart of gold, and she would do anything within her power for anyone with whom she works. She is more deserving of recognition of her hard work but also of her kindness, loyalty and uplifting spirit, which she shares with her work family daily."
Excellence in Job Performance
Shelby Moses
Medical Administrative Assistant
OBGYN Resident Clinic
Shelby Moses works in the OBGYN Resident Clinic to schedule patient prenatal and postnatal visits. Moses is often proactive in contacting patients to ensure they make and keep their prenatal appointments. She reviews patient schedules and follows up with nursing staff if she has concerns or questions and often stays late to help clean and organize the patient waiting area, going above and beyond the scope of her job duties.
Conchita Bowling, LPN, said, "She does what is in the best interest of the patient and notifies the appropriate parties to ensure nothing important is overlooked."
Excellence in Community Service
Kay Rangnekar
Clinic Director
OBIM Clinic
Kay Rangnekar runs the OBIM Clinic with enthusiasm and is also known for her involvement in community service projects. She is on the board of the Susannah's House for women and children, and at Thanksgiving she and her entire family serve Thanksgiving meals at Knox Area Rescue Ministries. Several colleagues decided to join Rangnekar and serve as well. Also, she collects Christmas gifts to give to the medical residents, and her family adopts a soldier's unit to send care packages.
Of Rangnekar's efforts, Deanna Wood said, "Kay has a wonderful sense of community service and is an inspiration to her department."
Excellence in Leadership
Pam Trentham
Fellowship Coordinator
Department of Medicine
Pam Trentham has been instrumental in the growth of Internal Medicine fellowships, including the expansion of the Pulmonary and Critical Care Medicne Fellowship and the addition of the Interventional Cardiology Fellowship. She is responsible for preparing for ACGME site visits as well as fellowship recruitment and coordination of interviews. Pam is often praised by fellowship applicants for her organization and affability.
In nominating her, Tina Dudney, MD, Pulmonary and Critical Care Medicine Director, said, "Pam's work ethic, initiative and organizational skills are even more obvious during busy times, and she always rises to the occasion no matter the obstacles that may be confronted."
---
Dr. Eric Carlson Enhances Teaching and Leadership Skills with Master's from Harvard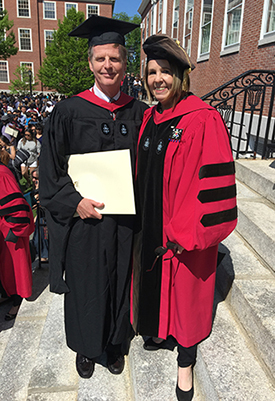 Eric Carlson, DMD, MD, EdM, Professor and Chair of Oral and Maxillofacial Surgery, received a master's degree in education from Harvard University.
In April 2015, Dr. Carlson had an epiphany, recognizing that faculty physicians should learn to teach contemporary residents the way residents learn as opposed to forcing residents to learn the way faculty teach, which ultimately leads to practicing physicians with more advanced knowledge and skills. Dr. Carlson said this realization came to light in recognition of his lack of formal training in the theory and practice of pedagogy, despite 28 years of experience in a teaching environment in his specialty. Dr. Carlson then decided to pursue a master's degree in education so that he could learn from renowned educators and perform research in pedagogy while earning a master's degree.
In March 2017, Dr. Carlson received acceptance to the Harvard University Graduate School of Education to enter the class of 2018 in the Specialized Studies Program. This would be an intense one-year program that would be fast-paced and stimulating while addressing the gap that he had recognized in his credentials as an educator in Oral and Maxillofacial Surgery. The program focused on educational innovation and technology, leadership, and faculty development.
His research took place at a Harvard teaching hospital wherein he had the unique opportunity to provide adaptive leadership training for five members of the faculty in that hospital. This research was performed under the guidance of Harvard University Graduate School of Education faculty member and faculty director of the Specialized Studies Program, Eileen McGowan, EdD, seen with him in the accompanying picture at the May 24, 2018 Harvard commencement exercises.
According to Dr. McGowan, "Eric humbly joined our ranks and became an integral member of the Specialized Studies Program. Personally, I was honored to support Eric's research. He grew not only in his own knowledge, but he also generously shared those insights and contributed enormously to the pedagogy of his surgical colleagues. The learning from that intensive study and intervention was valued by each participating surgeon and was recognized by the whole team at the study's conclusion. I have no doubt Eric will bring those insights back to the University of Tennessee and share them through future writing with the medical and surgical world."
---
Anesthesiology Resident Completes Politics Rotation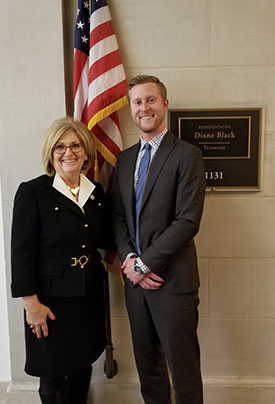 Anesthesiology Resident Patrick McFarland, MD, completed a one-month Policy Research Rotation in Political Affairs through the American Society of Anesthesiologists. The selection process was very competitive and the awardee was selected by the ASA Committee on Governmental Affairs. During the rotation, Dr. McFarland learned about the political, legislative, and regulatory factors that affect the delivery of patient care with supervision from the ASA's Director of Congressional Affairs.
Regarding the experience and what he learned, Dr. McFarland said, "Given our specialized education and training, it is our duty as physicians to advocate on behalf of our patients to ensure legislators are well-informed of current healthcare issues and how to best deliver safe and high-quality patient care. Physician advocacy begins at the bedside, yet can have influence at the community, state, and federal level."
In light of the national opioid epidemic and the work being done at The University of Tennessee Medical Center to study it, understand it and address it, Dr. McFarland found himself heavily involved in researching opioid legislation and discussing it with several members of Congress from Tennessee and beyond. Members of Congress he met include:
Congressman Jimmy Duncan from Tenessee's second congressional district, where Dr. McFarland is a constituent of his. They discussed the opioid epidemic and how Knoxville and the medical center have been impacted
Congressman Phil Roe, MD, from Tennessee's first congressional district. He Chairs the House Committee on Veterans Affairs. He was excited to hear about Knoxville and the medical center's initiatives with regards to the opioid epidemic.
Diane Black from Tennessee's sixth congressional district. They discussed the ongoing opioid epidemic, touching on how physician anesthesiologists around the country, and in Knoxville, are combating the crisis.
Congressman Michael Burgess, MD, from Texas's 26th congressional district. They discussed the opioid crisis over dinner. He is chairing multiple hearings with regards this public health emergency.
Congressman Greg Walden from Oregon's second congressional district. He chairs the House Energy and Commerce Committee, which is also having multiple hearings to combat the opioid crisis.
Congresswoman Marsha Blackburn of Tennessee's seventh congressional district
Congresswoman Ann Kuster from New Hampshire's second congressional district
U.S. Senator John Thune from South Dakota
Congressman Frank Pallone from New Jersey's sixth congressional district
Congresswoman Cheri Bustos from Illinois's 17th congressional district
---
Dr. Wesley White Implements Coaching Style Teaching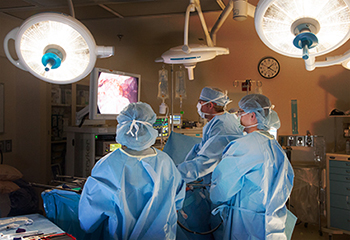 Wesley White, MD, Urology Residency Program Director, often uses video of surgeries as a teaching tool at national conferences. Now, he is also using video of surgeries to enhance teaching residents, similar to football programs watching video of game footage.
As early as 2008, Dr. White and his colleagues at other medical institutions began recording full-length surgeries and editing them into educational videos for presentation at national and international meetings. While at one of those conferences, they realized that videos of surgery, like game film in sports, could be used as a coaching tool for residents. Reviewing videos of faculty surgeries as well as their own performance allows residents to reflect what went well and can help them improve their skills and critical thinking for future cases.
"Watching film is almost like doing mental repetitions," said Dr. White. "You obviously can't do physical reps in surgery real time. But if a resident can watch a film repeatedly, they can prepare themselves for almost anything."
To use the film with surgeons the way coaches do with athletes, Dr. White decided he wanted to learn more about the process. He turned to former University of Tennessee Volunteers coach, Phillip Fulmer, for help.
"I learned in my interview with Coach Fulmer that you're never staying the same. You're either getting better or worse," said Dr. White. "I've found that by doing this, I'm getting better, too," he said. "It sounds strange to say you're still learning and growing after you've done over a thousand surgeries, but you are."
---
Shelley Acuff Interns for PET Board of Directors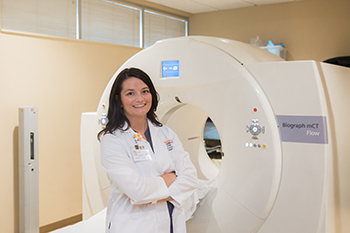 Shelley Acuff, Clinical Research Leader for the Molecular Imaging and Translational Research Program, was selected as an intern for the PET Center of Excellence Board of Directors and through the experience has had a manuscript accepted by the Journal of Nuclear Medicine and Technology.
The two-year internship program was created to provide young professionals the opportunity to get involved with the Society of Nuclear Medicine and Molecular Imaging (SNMMI) at the council and center level. It comes with a travel budget of $1,500 annually so the intern can attend trainings and conferences. Acuff has completed her first term, which included a one-day retreat training with the PET CoE in February and the annual SNMMI meeting in June.
For one of her internship projects, Acuff wrote a manuscript on Practical Consideration for integrating PET/CT in Radiation Therapy Planning for Patient Care. The purpose of this manuscript is to cover how to develop a successful collaboration between a PET center and a Radiation Oncology center. In the paper, Acuff discusses the needs of the PET center to accommodate a collaboration with Radiation Oncology, the types of scans that can be offered, the PET center's growth, the impact PET/CT can have on Radiation treatment planning, and how a collaboration of this kind can lead to a better course of treatment for patients.
Acuff's inspiration for the manuscript came from a collaboration within the Cancer Institute at The University of Tennessee Medical Center developed between the PET/CT department and the Radiation Oncology department. The group has developed unique workflows, and both departments have seen positive impacts to patient care through the way PET/CT scans are now performed and used for treating cancer at the medical center.
The full manuscript was accepted by the Journal of Nuclear Medicine Technology and will be available soon.
In addition to her internship on the PET CoE, Acuff was awarded the CMIIT Lab Professional Recognition Award for Contributions to Molecular Imaging at the June 2018 meeting. This award is designed to recognize laboratory professionals that have made a significant contribution to molecular imaging and therapy while working in the laboratory of a principal investigator. Presented annually, its purpose is to promote the exemplary accomplishments by individuals in the lab who may not have the opportunity to receive recognition in other arenas. This is her second time receiving this award.
---
Dr. Emily Martin and Dr. Jonathan Wall Receive UTRF Maturation Fund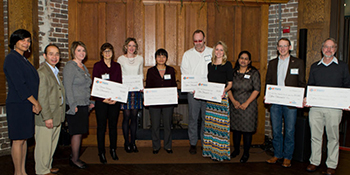 Technologies invented at the University of Tennessee, like the majority of university discoveries, typically require additional development to attract commercial interest. The UT Research Foundation awards grants each year through its annual Maturation Funding Program to help researchers advance new technologies on the path to market. Emily Martin, PhD, Assistant Professor, and Jonathan Wall, PhD, Professor, in the Department of Medicine, were among UT inventors awarded with a Maturation Funding award in 2018. They received grant funding for their project, "Amyloid Risk Assessment to Determine Patient Management." Their project proposal has been submitted to the National Institutes of Health for further grant consideration.
Their proposal states 4,500 new cases of amyloidosis are diagnosed annually; however, this may be a gross underestimation of the true incidence due to misdiagnoses. Additionally, there are specific patient groups affected by multiple myeloma and light chain-associated monoclonal gammopathy who have a possibility of developing light-chain associated amyloid deposits. Dr. Martin and Dr. Wall want to develop a technology that will predict the risk, or relative likelihood, of developing amyloid disease in these patient groups.
The UTRF Maturation Funding Program is open to all University of Tennessee campuses and institutes. The selection process included evaluation of three key areas: (1) demonstration of a path for commercial development, (2) market potential, and (3) stage of development. As part of the award process, UTRF will receive interim and final reports from the researchers that will describe increased knowledge and improvements in the subject technology. This information is expected to assist UTRF in better positioning the technologies for licensing.
Other winners for 2018 include
Ky Pohler, Assistant Professor, UTIA, Animal Science; Jayne Wu, Associate Professor, Electrical Engineering and Computer Science; and Shigetoshi Eda, UTIA, Professor, Forestry, Wildlife, and Fisheries, for "Development of On-Site Diagnostic Devices for Early Pregnancy Detection in Cattle Using Micro RNA"
Theresa Abrams, Assistant Professor, College of Social Work for "Burn Victim Application"
Stephen Kania, Professor, Genome Science and Technology; David A. Bemis, Professor/Director, Biomedical, and Diagnostic Sciences; and Linda A. Frank, Professor, UTIA, Small Animal Clinical Sciences, for "Clinical Trial of Virulence Factor Vaccine for Staphylococcus pseudintermedius Canine Pyoderma"
---
Dr. John Eaddy Remembered for Diabetes Initiatives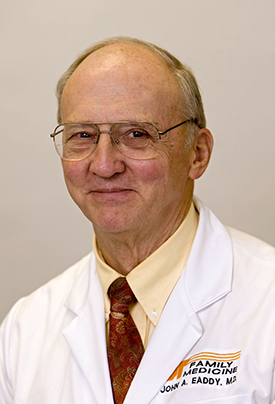 John Eaddy, MD, Professor Emeritus and Family Medicine Alumnus, passed away, leaving a legacy in diabetes initiatives that he will long be remembered for.
Dr. Eaddy was a Family Medicine Resident from 1971-1972 and soon after joined faculty as a Clinical Assistant Professor. In 1975, he joined faculty full time as Assistant Professor and was promoted to Associate Professor in 1978 and then Professor in 1993. He retired in 2000, however he continued his work educating residents, physicians and patients on diabetes. In 2004, he received Professor Emeritus, and in 2006, he initiated an annual continuing education diabetes conference that is continued today.
Dr. Eaddy was diagnosed with juvenile diabetes in 1952 at 12 years old. He outlived medical expectations and dedicated his life to learning more about the disease and then teaching what he knew to others. Read more about his career via Knoxnews.com.
Many of Dr. Eaddy's former residents and colleagues remember him fondly, including Randal Dabbs, MD, Family Medicine Alumnus and Board of Visitor, who said, "John served as a role model for every medical student and resident aspiring to be a family physician. He was the ultimate combination of skill and grace. He could teach you and guide you without your knowing that you were ignorant and lost. He instilled confidence in those around him. His consistent, positive attitude was a shining light of support when hours were long and times were tough. All of us wanted to be like John, and his legacy lives on as the best part of who we are."
View Dr. Eaddy's obituary.

---
Cancer Symposium Promotes Latest Research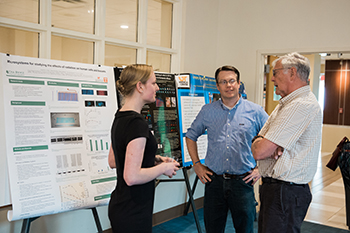 The 4th Annual Cancer Research Symposium featured the latest in cancer research by UT investigators, including a poster presentation program to share research and collaborate on new ideas, and a presentation by featured speaker Lawrence Pfeffer, PhD, Director of the Center for Cancer Research at the University of Tennessee Health Science Center. More than 20 research poster projects were featured including collaborations among UT institutions as well as national and international collaborations. The symposium is sponsored by UT Cancer Community of Scholars, UT Medical Center, UTK Office of Research and Engagement, Cancer Institute, Departments of Biochemistry and Cellular & Molecular Biology, Genome Science & Technology, Nutrition, Microbiology, and Center for Environmental Biotechnology.
Dr. Lawrence's presentation discussed, "Therapeutic targeting microRNA (miRNA)-203 in glioblastoma" noting that patients with the most common primary adult brain tumor, glioblastoma, have a median survival of only ~15 months, and a 5-year survival rate of less than 5%. Despite aggressive surgery and treatment, these malignant glial tumors remain a serious clinical and scientific problem. MicroRNAs (miRNAs) are small non-coding RNAs that suppress the expression of genes implicated in many fundamental biological processes that are dysregulated in cancer. Because tumor suppressive miRNAs are often downregulated in cancer, the overarching goal of our research is to determine whether restoration of such tumor suppressive miRNAs can be employed to treat glioblastoma.
Several faculty members from the Graduate School of Medicine did poster presentations. The symposium was well attended by faculty, staff, and students from UT, the UT Graduate School of Medicine, and the UT Institute of Agriculture.
---
New Educational Enhancement for Academic Physicians Series Launches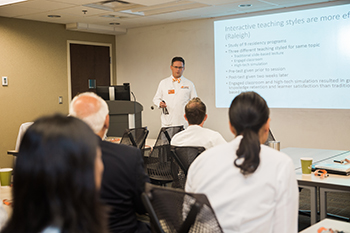 A monthly series for academic physicians launched July 25 to offer faculty the opportunity to enhance their teaching skills and receive continuing education credits. Educational Enhancement for Academic Physicians meets in the Preston Medical Library Conference Room from 7:30-9:30 a.m. The next meeting is August 22 to discuss Career Trajectory Planning/Navigating the Promotion Process. The series will consist of a monthly, two hour CME course.
The University of Tennessee Graduate School of Medicine with The University of Tennessee Medical Center has the goal of increasing national and international recognition as a first-class academic medical institution. This coordinated and comprehensive faculty development curriculum can help faculty members gain the needed tools to help them participate as major players in reaching this goal.
At the conclusion of this annual series, the participants should be able to:
Demonstrate effective techniques for optimally precepting residents in the hospital and clinic settings
Plan didactic experiences using a variety of teaching approaches, and determine the most effective method for delivering information on a topic
Devise a research study, and perform the study from literature search, through implementation, to local, national or international presentation, and prepare a research or review manuscript for publication
Efficiently plan the steps in his or her career path in academia to reach identified goals for leadership and promotion in a timely manner
Faculty who complete all 12 modules within an academic year will receive up to 24 AMA PRA Category 1 Credit hours or 24 hours of CDE-certified credit. Additionally, they will receive a Certificate of Completion in June 2019. The series is offered through the office of Continuing Education and Professional Development and Anthony Wilson, MD, Associate Professor, Family Medicine, provides oversight to the program.
See full series schedule and course titles: http://gsm.utmck.edu/cme/educational_enhancement.cfm.

---
Dr. Scott Strome Named UTHSC COM Executive Dean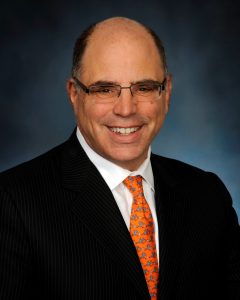 Chancellor Steve J. Schwab, MD, UT Health Science Center, announced that internationally recognized head and neck surgeon Scott Strome, MD, FACS, has been named Robert Kaplan Executive Dean of the College of Medicine and vice chancellor for Health Affairs at the University of Tennessee Health Science Center, effective on or before October 1.
Dr. Strome comes to UTHSC from the University of Maryland School of Medicine (UMSOM) where he has served as Professor and Chair of the Department of Otorhinolaryngology - Head and Neck Surgery (OTO-HNS) for 13 years. A respected cancer surgeon and investigator, he brings both research and clinical expertise to UTHSC.
At UTHSC, Dr. Strome said he plans to focus on all of the university's missions. In education, he plans to develop new ways to help students learn the vast amount of knowledge they need to obtain during medical school and to teach them in ways that will be useful in their career. He said he is also passionate about finding ways to reduce the cost of medical education. At UMSOM, Dr. Strome has been a mentor for students and supported efforts to reduce medical student debt.
"I want to make certain that everybody within the state and outside the state as well, if they want to be a doctor and they have the requirements, they have the opportunity," he said.
As a clinician, Dr. Strome has particular expertise in the treatment of head and neck tumors, thyroid cancer, and diseases of the anterior skull base. He spends one day a week in the clinical setting and one day a week in the surgical setting. His plan is to expand the UTHSC clinical operation, while focusing on quality patient outcomes and cutting-edge advancements and technologies
As a researcher, he is the founder and former co-leader of the program in tumor immunology and immunotherapy in the University of Maryland's comprehensive cancer center. He has been a National Institutes of Health-funded researcher and is the co-founder of Gliknik Inc., a biotechnology company developing novel therapeutics to treat cancer and autoimmunity.
Dr. Strome received his bachelor's degree in liberal arts from Dartmouth College in Hanover, New Hampshire, and his medical degree from Harvard Medical School in Boston. He completed his internship and residency at University of Michigan Medical Center in Ann Arbor, and a fellowship in OTO-HNS reconstruction at Alleghany Health Education and Research Foundation in Philadelphia.
Dr. Strome holds many professional memberships in organizations including, but not limited to the American Academy of Otorhinolaryngology, Head and Neck Surgery. He is also a Fellow of the American College of Surgeons, the Head & Neck Society, the American Laryngological Association, and the Triological Society. He has published more than 120 papers, books, and chapters, and has received numerous awards, including the American Laryngological Association Presidential Citation; U.S. News & World Report "Top Doctors," and University of Maryland Baltimore's Entrepreneur of the Year.