News and Events
'Women in Science' Initiative Funds UTGSM Research
With support from The University of Tennessee Medical Center Hospital Auxiliary, a "Women in Science" initiative was established in 2020 to support the research projects of junior and mid-career female faculty at the UT Graduate School of Medicine (GSM). Three women have been awarded funding for 2021: C. Lindsay McKnight, MD, Assistant Professor in the Department of Surgery; Jill Maples, PhD, Associate Professor in the Department of Obstetrics and Gynecology; and Kelsey Grabeel, MSIS, AHIP, Associate Professor, Preston Medical Library.
Paul J. Hauptman, MD, Dean of the UTGSM, expressed confidence that the program will help to create a favorable environment for faculty development and enable more women to succeed as academic leaders in medicine.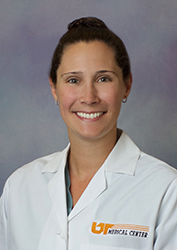 Dr. McKnight is leading a study entitled, "Changing the paradigm for infection prevention and control in patients suffering traumatic open bone fractures", which will evaluate the use of antibiotics early during surgical management. While early administration of antibiotics to prevent significant morbidity arising from infection has already been proven to be beneficial in trauma care, the choice of antibiotic remains unresolved. Currently, the standard is to give cefazolin with or without gentamycin within three hours of injury (preferably within an hour of arrival to the hospital). Prior studies have shown that cefazolin is often underdosed, requires frequent administration, and does not have good tissue penetrance when compared to ceftriaxone. Given the importance of antibiotic stewardship, Dr. McKnight and her team plan to perform a prospective, non-inferiority study comparing ceftriaxone to cefazolin in order evaluate infection rates and the development of antibiotic resistance. The study has the potential to impact treatment algorithms in orthopedic trauma care.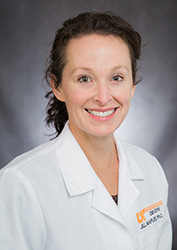 Dr. Maples is conducting a study entitled, "Use of biomarkers to predict maternal metabolic dysfunction in pregnancy." There is a relative lack of physiologic research in pregnant and postpartum women and, consequently, less evidence-based guidance related to metabolic health and physical activity during and after pregnancy. Since pregnancy is often a unique entry point for the care of women, providers have an opportunity to deliver appropriately tailored, evidenced-based preventative care. Dr. Maples' primary mission is to develop guidance that will help clinicians make recommendations for higher-risk women during and after pregnancy regarding metabolic needs, physical activity, and testing. Dr. Maples and her team will investigate the role of novel biomarkers, assessed during early and mid-pregnancy, that may be predictive of metabolic dysfunction, such as gestational diabetes. Dr. Maples notes that this is an important consideration because the intrauterine environment can have profound consequences for the fetus that impact future metabolic health such as childhood obesity. To date, reliable approaches for diagnosing or predicting maternal metabolic dysfunction, including gestational diabetes, early in pregnancy have not been developed.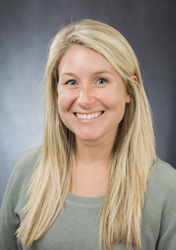 Ms. Grabeel is leading a project entitled, "Utilizing the Newest Vital Sign (NVS) to Assess Patients' Health Literacy Levels." Health literacy remains a major challenge for physicians and patients, and the Newest Vital Sign (NVS) is a tool used in research to help identify at-risk patients. The NVS uses a specially designed ice cream nutrition label to measure both literacy and numeracy skills by asking patients six questions. Ms. Grabeel plans to obtain NVS data for patients who are receiving outpatient care in a variety of practice settings and disciplines. The data will be shared with treating physicians in real-time, after the physician has independently rated the patient's health literacy. As part of the study, Ms. Grabeel will encourage physicians to use interventions such as plain language and the teach-back method to improve communication and then measure the degree to which these interventions were used as a function of the NVS. Additionally, clinical variables will be evaluated to assess their correlation with and predictive value for the NVS score.
Posted October 14, 2021