News and Events
UTGSM Advances the Research Program
Dean Paul Hauptman announced that the University of Tennessee Graduate School of Medicine launched a new five-year Strategic Plan for Research that promotes meaningful clinical and translational biomedical research in therapeutics, diagnostics, effective healthcare delivery, and quality improvement, thereby helping to enhance the GSM's regional and national reputation.
In 2020, the GSM began an in-depth assessment of our research program. This comprehensive process included engagement of GSM and UTMC campus leadership, a Steering Committee, staff and faculty through Town Hall meetings, consultation with two external Deans of Research through virtual site visits, and the UTHSC Chancellor's Office.
The resulting Strategic Plan for Research presents a broad vision outlining crucial areas in which the GSM can have a wide-ranging impact and enhance the academic performance of faculty across all departments. An abbreviated Executive Summary provides an overview of the actions required for the successful advancement and expansion of research priorities in five key domains: Infrastructure, Productivity, Collaboration, Presence & Impact, and Entrepreneurship & Innovation.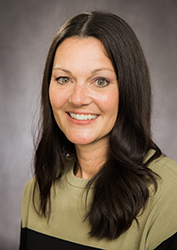 Dean Hauptman also announced that Jennifer Ferris MSHS, CCRC has been named Assistant Director of Research. In that role, Ms. Ferris will help to operationalize the Strategic Plan for Research 2021-2026, oversee all aspects of both pre-award and post-award management, and provide support and mentorship for established and new research faculty.
She earned an undergraduate degree in Communication and Rhetoric from King University. She later received a Master of Science in Health Sciences with an emphasis on Clinical Research Administration from George Washington University, focusing on drug and device development, clinical trials, and FDA procedures and compliance regulations. Over the last 18 years she completed almost 100 investigator-initiated and sponsored clinical research projects including phase 1-4 clinical trials and observational, quality-of-life, and outcomes studies.
Ms. Ferris joined the GSM in 2016 as a Clinical Trial Coordinator for the Department of Medicine. In February 2020, she transitioned into the position of Research Leader during which time she played a crucial role in the development of the Strategic Plan, devised standard operating procedures to ensure compliance with all relevant regulations and helped to keep research programs functional during the pandemic. In addition to her new responsibilities, Jennifer will focus on continued expansion of the clinical and translational research enterprise at the GSM. Please join us in congratulating Jennifer on her new role.