News and Events
2021 GSM Faculty Honored for Excellence
Each year, faculty are recognized for their extraordinary efforts in education and discovery. The 18th annual University of Tennessee Graduate School of Medicine Faculty Awards were presented by Dr. Paul J. Hauptman, Dean.
GSM Spirit Award
Joseph Rainey, DDS
Instructor
Dentistry
This annual award recognizes a faculty member who exemplifies the spirit of the GSM by upholding and promoting the GSM's mission to colleagues, residents, students, staff and the community. Dr. Rainey has had a remarkable career, and his continued dedication to the education of our residents is truly admirable.
A graduate of the University of Tennessee Health Science Center College of Dentistry (1959), Dr. Rainey has been on GSM faculty since 1991. By his calculation, he has trained over 120 General Dentistry residents. His breadth of experience and equanimity of spirit are always on display. It is also noteworthy that he served in the United States Air Force followed by many years of service with the Tennessee Air National Guard. Awarded Dental Officer of the Year in 1989, he has also received the USAF Commendation and Achievement medals.
Dr. Rainey has been an active member of the Tennessee Dental Society since 1961 and continues to serve in many capacities. Previously a member of The University of Tennessee Medical Center's Medical Executive Committee, he is currently a member of the Credentials Committee. His service extends to the community as well. He is chairman of the Anderson County Election Commission and is an active member of the American Legion.
Dean Hauptman said, "We sincerely appreciate his many contributions to the GSM and look forward to his continued participation in education and service."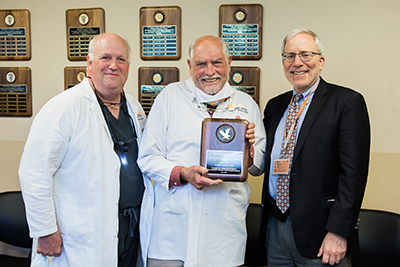 Pictured L-R: Dr. O. Lee Wilson, Dr. Joseph Rainey and Dean Hauptman
Excellence in Teaching Award
Carrie Polin, MD
Assistant Professor
Anesthesiology
Dr. Polin joined the GSM faculty in 2016 and immediately distinguished herself in the area of resident education. Anesthesiology residents selected her to receive the Department's Faculty Teaching Award in 2017, 2018, 2019 and 2020. In addition to her clinical teaching, Dr. Polin has served as a mentor for resident poster presentations at the Society for Obstetric Anesthesia and Perinatology annual meetings; given an invited lecture at the Tennessee Society for Anesthesiologists annual meeting; published a textbook chapter; and delivered numerous student and resident lectures annually. In evaluations, residents have noted Dr. Polin to be professional, courteous, and approachable; always available for questions; wonderful at both intraoperative teaching and providing residents with articles pertinent to ongoing cases; great at challenging thought processes; and a privilege to work with.
In a nomination letter, Dr. Robert Craft, Anesthesiology Chair, wrote, "Dr. Polin has exceeded my expectations for service to our Department, the Graduate School of Medicine, the State of Tennessee and national subspecialty organizations."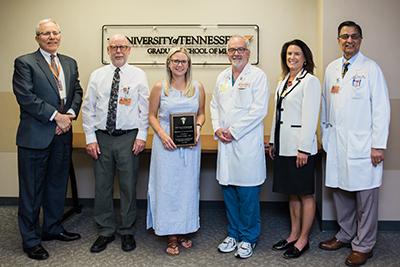 Pictured L-R: Dean Hauptman, Dr. William Metheny, Dr. Carrie Polin, Dr. Robert Craft, Amy Paganelli and Dr. Rajiv Dhand
Excellence in Teaching (Volunteer)
Matthew Bridges, MD
Clinical Assistant Professor
Surgery
Dr. Bridges leads the Department of Surgery Elective Surgery Rotation in Harriman, Tennessee, giving second-year residents the opportunity to be exposed to surgery in a rural area. In evaluations, residents say he is enthusiastic about teaching, and he gives residents the appropriate responsibility in the care and treatment of surgical patients. He is an alumnus of the GSM General Surgery Residency program (2000), and he joined the Department's faculty in 2020 in a volunteer capacity.
In his nomination letter for Dr. Bridges, Dr. Michael Freeman, Surgery Chair, wrote, "Dr. Bridges is a role model for the residents as someone who can maintain academic standards in a rural practice."
Dean Hauptman said, "Dr. Bridges serves as a Colonel in the United States Army Reserve and has had extensive experience in the field, adding to his strength as a teacher and mentor. We thank him for his service to the country and to the teaching mission of the GSM."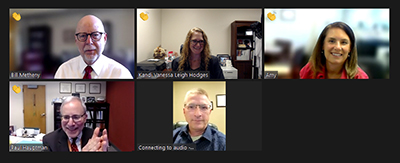 Pictured L-R via Zoom (Top row): Dr. William Metheny, Kandi Hodges and
Amy Paganelli (Bottom row) Dean Hauptman and Dr. Matthew Bridges
Basic Science Award
Jonathan Wall, PhD
Director of Research and University Distinguished Professor
The Amyloidosis and Cancer Theranostics Program (ACTP)
Dr. Wall has devoted the last 26 years of his professional life to exploring amyloidosis, a rare disease that occurs when abnormal protein aggregates, called amyloid fibrils, build up in tissues and organs causing loss of function. He currently has a first "in-human" clinical trial in progress at The University of Tennessee Medical Center to investigate whether a novel imaging agent called p5+14, developed by the ACTP team, can successfully image amyloid throughout the body. Also, since 2020, Dr. Wall has received more than $2 million in funding through grants and contracts to develop and study amyloid clearing therapies.
In presenting the award to Dr. Wall, Dean Hauptman said, "Dr. Wall's successes recently earned him the distinction of University Distinguished Professor at the UT Health Science Center. Although he already won the GSM's Basic Science Award in 2006, he continues to develop innovative research ideas that bear fruit, mentor students, staff and faculty, and give patients with amyloidosis hope. It is therefore with great humility that I am able present to Dr. Wall with his second UTGSM Faculty Award for Basic Science."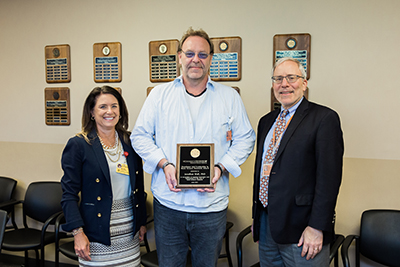 Pictured L-R: Amy Paganelli, Dr. Jonathan Wall and Dean Hauptman
Clinical Science Award
Catherine Lindsay McKnight, MD
Assistant Professor
Surgery
Dr. McKnight has been active in clinical research since she joined the Department of Surgery faculty in 2015. She has made contributions to the field of trauma and critical care through research that has resulted in several important publications. Most recently, these have included: "Did State COVID-19 Stay Home Orders Influence the Trauma Population? A Level 1 Trauma Center Retrospective Cohort Study" and "Impact of COVID-19 on Trauma Surgical Education at a Level 1 Trauma Center." She is also actively involved in research related to injuries from falls in the elderly population. While maintaining an active practice and call schedule, Dr. McKnight is simultaneously engaged in multiple clinical studies and clinical trials, and she is an inaugural member of the Academic Leadership Academy at the GSM.
In his nomination letter, Dr. Freeman added that, "Her morals and ethics are above reproach. She is dedicated to patient care and takes every precaution to protect the patient."
Dean Hauptman said that the GSM looks forward to even greater research productivity and academic excellence in the future.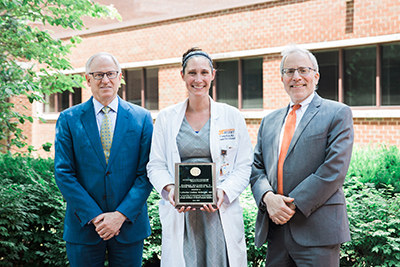 Pictured L-R: Dr. Michael Freeman, Dr. Catherine McKnight and Dean Hauptman
Posted: August 20, 2021