The Department of Anesthesiology
Carrie Polin, MD
Assistant Professor
Division of Obstetric Anesthesiology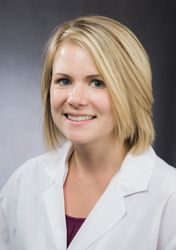 Clinical Focus
Obstetric Anesthesiology
Education
Medical School
Indiana University School of Medicine, 2009
Internship
Internal Medicine, University of Alabama at Birmingham, 2010
Residency
Anesthesiology, University of Alabama at Birmingham, 2013
Fellowship
Obstetric Anesthesiology, Duke University, 2014
Certification
American Board of Anesthesiology, 2014
Professional Affiliations
American Society of Anesthesiologists
Society for Obstetric Anesthesia and Perinatology
Book Chapter
Polin CM, Hambright AA, McConville PO: Anesthesia for cesarean delivery. In: Anesthesiology: A Practical Approach. New York: Springer International Publishing, 487-496, 2018.
Current Presentations
Swengel J, Polin C, Towers C. An opioid-free cesarean delivery in the opioid addicted parturient with the use of the quadratus lumborum block: A Case Report. Presented at Society of Obstetric Anesthesia and Perinatology; 2019 May 1-5; Phoenix, AZ.
Black TL, Polin CM, Perkerson JM. Use it or lose it: Successful management of intrathecal catheter in an achondroplastic dwarf. Presented at ANESTHESIOLOGY Annual Meeting; 2018 Oct 13-17; San Francisco, CA.
Polin CM. Crisis in the L&D suite, now what? Presented at Tennessee Society of Anesthesiologists Annual Conference (Invited Lecture); 2018 Feb 24-25; Nashville, TN.
Top