News and Events
UTGSM Launches a Pain Medicine Fellowship in 2021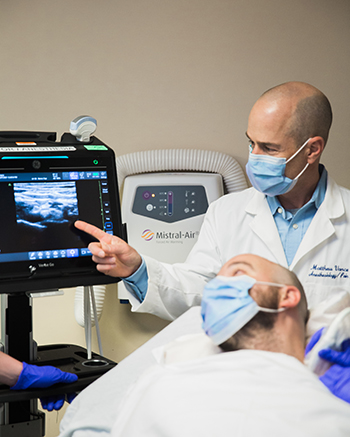 The Department of Anesthesiology at the University of Tennessee Graduate School of Medicine (UTGSM) now offers a Pain Medicine Fellowship. The new training program is ACGME-accredited and designed to qualify anesthesiologists for specialty certification in pain medicine by the American Board of Anesthesiology. Funded by a collaboration between UTGSM, The University of Tennessee Medical Center, and University Anesthesiologists, the program provides one year of focused pain management with an emphasis on out-patient care.
Matthew Vance MD, Assistant Professor of Anesthesiology and the Fellowship Program Director, said several factors led to the development of the program.
"Through the leadership of Dr. Stephanie Vanterpool, who directs the University Center for Pain Management, we utilize and teach a comprehensive approach to pain treatment and management. This means we don't rely solely on standard protocols to help patients with pain, such as epidurals, steroid injections, nerve blocks or medications. With our comprehensive approach, treatment may also include physical therapy and behavioral counseling. We want to identify and treat the sources of pain, not just treat the symptoms."
Dr. Vance said another reason for the fellowship is that more Anesthesiology residents want to specialize in pain medicine. "Practicing in East Tennessee where there is an opioid addiction crisis, our residents are able to see first-hand how our approach to pain treatment is making a difference."
However, the specialty is also very competitive. "Approximately 400 residents apply for a pain fellowship nationwide, and only about 80 percent of them get placement," said Dr. Vance. "The UTGSM Department of Anesthesiology already has eight faculty members who are board-certified in pain medicine. We had everything in place to launch the fellowship. This allows us to help fill a need among our residents and a need in our community to have more physicians who are well-trained in pain management and treatment."
Dr. Vance said that when he decided to become an anesthesiologist, he was not familiar with pain medicine as a specialty. "When I was in the Anesthesiology Residency program here at UTGSM, Dr. Joseph Simpson introduced me to the specialty of pain medicine. I saw a big need for qualified doctors in this specialty, so I completed a fellowship in Seattle, Washington."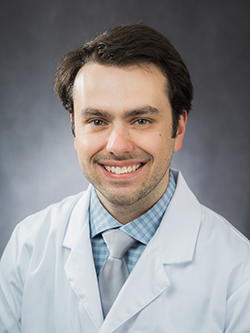 Paul Lesko MD graduated from UTGSM's Anesthesiology Residency Program in June 2021 and is now the first fellow in the Pain Medicine program.
Dr. Lesko said, "Before I went into medical school, I was in the military, and I hoped to attend flight school and become an officer. Instead, I was injured, and I had an unfortunate experience with pain treatment. I then discovered how common this was for other patients. Thankfully, after I was discharged, I found an interventional pain physician who was able to significantly improve my function and quality of life. He inspired me to pursue medical school and focus on pain medicine so that I could care for others as he cared for me."
Although UTGSM did not yet have a Pain Medicine fellowship, Dr. Lesko chose to come to UTGSM for his residency because of the program's blend between academics and private practice. He said that he expected to have to pursue fellowship elsewhere, and he is fortunate UTGSM launched its program. "I am particularly excited to participate in the foundation of this fellowship. It is a unique position to be able to influence the direction program takes while learning from an exceptional group of faculty," he said.
To learn more about the UTGSM Pain Medicine Fellowship at The University of Tennessee Medical Center, visit https://gsm.utmck.edu/anesthesiology/painmanagementfellowship/main.cfm.
Pictured top: Dr. Matthew Vance is Director of the new Pain Medicine Fellowship.
Pictured bottom: Dr. Paul Lesko is the first fellow in the new program.
Posted August 10, 2021