News and Events
Dr. Gregory Blake's Retires with Lasting Legacy in Family Medicine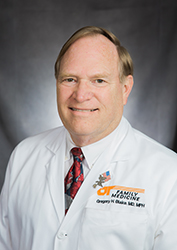 On December 31, 2019, one of the premier academicians, clinicians and campus leaders at the University of Tennessee Graduate School of Medicine retired as Chairman of the Department of Family Medicine. Gregory H. Blake MD MPH had a storied career, and Dr. Paul Hauptman, Dean, thanks him for his countless contributions to the Graduate School of Medicine; The University of Tennessee Medical Center; and to the nation as a result of his many years of military service. Most recently, Dr. Blake oversaw the expansion of the residency and clinical areas of the department, including rennovations to Univeristy Family Physicians that contributed to a more patient-centered delivery of health services. See photos of the ribbon cutting ceremony held to commemorate this expansion.
Dr. Blake is a graduate of Texas Tech University (BA), the University of Texas Health Science Center-Southwestern Medical School (MD) and the University of Oklahoma College of Health (MPH). He has been board certified and multiply recertified by the American Board of Family Medicine and board certified by the American Board of Disaster Medicine. After serving in faculty positions at the Uniformed Services University of Health Sciences in Bethesda, the University of Oklahoma and the University of Mississippi, Dr. Blake moved to Knoxville in 1995 and became Chairman and Professor with Tenure in 1996. He has elevated the Department of Family Medicine and has overseen remarkable growth in its clinical operations as well as academic output. He has authored 12 book chapters and multiple original papers, lectured regionally, nationally and internationally and mentored several generations of residents over the last 24 years. Dr. Blake was recipient of the 2015 Family Physician of the Year Award given by the Tennessee Academy of Family Physicians and serves as a Residency Program Solutions consultant for the American Academy of Family Physicians. He has also served on medical missions to Thailand, Indonesia, Chile and Brazil. A veteran of Operation Iraqi Freedom and Operation Desert Shield/Storm, Dr. Blake is a retired Colonel with the Tennessee Air National Guard and served on multiple tours of duty with the US Air Force, Army and National Guard, earning Commendation medals, the Bronze Star and Meritorious Service Medal.
Dr. Hauptman said he is proud to have been able to recognize Dr. Blake's achievements with the GSM Spirit Award this past summer. "We are truly grateful to Dr. Blake for his many years of leadership and contributions to the GSM and UT Medical Center."

Top
---
The University of Tennessee Graduate School of Medicine
1924 Alcoa Highway
Knoxville, Tennessee 37920 | 865-305-9290
Copyright © 2023