News and Events
UTGSM Scientists Recognized for Research Innovation at UTRF Awards Ceremony
The University of Tennessee Research Foundation held its 2019 Innovation Awards at UT Knoxville on December 4 to recognize researchers whose innovations better society. The 2019 honorees include several UT Graduate School of Medicine scientists who received patents and grants.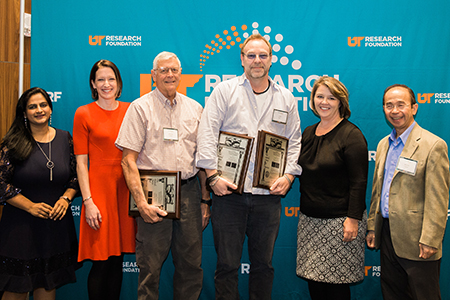 Amyloidosis and Cancer Theranostics Program researchers Jonathan Wall, PhD, Program Director; Stephen Kennel, PhD, Research Director; and James Foster, MS, Research Associate, received an Innovation Award for their patent, "Targeting Immunotherapy for Amyloidosis." Amyloid protein can build up within any organ in the body causing problems with proper function. Dr. Wall and his team have developed a peptide which, when radiolabeled, can image the amyloid deposits during a PET scan. In current research, the peptide is modified so that it can be used to stimulate the patient's own immune system and may cause clearance of the amyloid from the diseased organs.
Dr. Wall and Dr. Kennel, with Dr. Timothy Sparer, from UT Knoxville's Department of Microbiology, received a patent for their work on "Inhibitory Peptides of Viral Infection." This invention is geared toward the development of a treatment of cytomegalovirus infections in a way that is less toxic and has fewer side effects than current approaches.
Pictured above L-R: Dr. Kusum Rathore, Dr. Andreana Leskovjan, Dr. Stephen Kennel, Dr. Jonathan Wall, Dr. Stacey Patterson, Dr. Nghia Chiem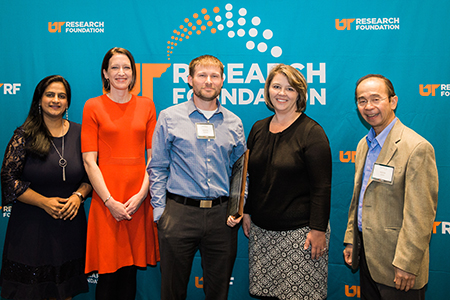 Dustin Osborne, PhD, Associate Professor, and Director of the Molecular Imaging and Translational Research Program, received an Innovation Award for his patent, "Motion Correction for PET Medical Imaging Based on Tracking of Annihilation Photons." Dr. Osborne created an accurate and efficient methodology for imaging patients that compensates for motion related to their breathing and head motion during scanning thereby eliminating the need for other more cumbersome hardware.
Pictured L-R above: Dr. Kusum Rathore, Dr. Andreana Leskovjan, Dr. Dustin Osborne, Dr. Stacey Patterson, Dr. Nghia Chiem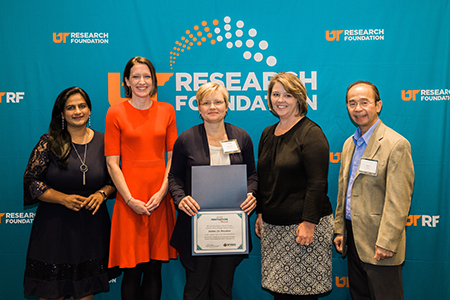 Deidra Mountain, PhD, Director of the Vascular Research Laboratory, received a 2020 Maturation Grant to enhance the potential commercial success of her research, "Preclinical Validation of Liposome Delivery System Developed for Gene Therapeutics." This drug technology is being developed to allow doctors to treat disease using genetic materials targeted to specific regions of major blood vessels, an approach that could be more effective and less toxic than many synthetic drugs currently used.
Pictured L-R above: Dr. Kusum Rathore, Dr. Andreana Leskovjan, Dr. Deidra Mountain, Dr. Stacey Patterson, Dr. Nghia Chiem
Read more about the 2019 UTRF Innovation Award winners via UTRF.
Posted: Decebmer 9, 2019