News and Events
Dr. Richard Obenour's Memory Honored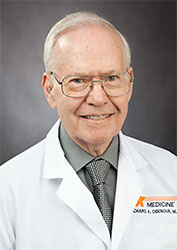 The Department of Medicine and University of Tennessee Graduate School of Medicine mourn the loss of Professor Emeritus Richard Obenour, MD, who passed away in August 2019. He devoted his medical career, spanning more than 50 years, to The University of Tennessee Medical Center, where he was one of the first residents in 1956 when the hospital opened as University of Tennessee Memorial Research Center and Hospital. He left a lasting legacy in the Department for excellence in medical education, healthcare delivery and research.
In 1962, he began practicing as the only nonsurgical lung specialist in the region. After six years of solo practice, he brought in his first associate, and over time, the practice grew into the Knoxville Pulmonary Group, precursor to University Pulmonary and Critical Care. In 1973, he became the first pulmonary division chief at the medical center, a post he held until 2004.
In 1992, Dr. Al Beasley, then Chair of Medicine, asked Dr. Obenour to be Vice Chief. One of Dr. Obenour's several accomplishments in that role included the establishment of the Quality Assurance Program.
Dr. Obenour recognized early the need for interdepartmental communication and incorporated other departments into the process to study outcomes that are now benchmarks of treatment for pneumonia and other illnesses. He also developed a physician credentialing system that, with some modifications, is in general usage today. In the course of his career, he served on more than 66 committees and chaired 9 of them. He served as interim chair of Medicine twice.
Rajiv Dhand, MD, Chair of Medicine said, "Upon meeting Dr. Obenour, one was immediately struck by his humility and kindness. His colleagues fondly remember his compassion for his patients, students and especially for his staff. He trained many generations of physicians and mentored several faculty members in the Department." Dr. Dhand said Dr. Obenour even continued reading the New England Journal of Medicine well into the later stages of his career so that he could remain abreast of new developments in medicine as he gave lectures to residents and pulmonary fellows. "We will greatly miss him," said Dr. Dhand.
Pictured: Dr. Richard Obenour

Posted: January 21, 2020
Top
---