News and Events
UT Medical Center Honors Its Veterans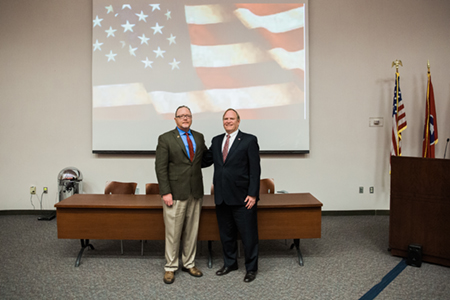 On November 11, 2019, members of The University of Tennessee Medical Center and UT Graduate School of Medicine community honored those who have served or are serving in the military in observance of Veteran's Day. The national holiday originated 100 years ago in honor of the one-year anniversary of the end of World War I. Originally known as Armistice Day, Veteran's Day became a national holiday in 1938 to honor all people who have served the United States in war and peace.
Among events throughout the day, Gregory Blake, MD, Professor and Chair of Family Medicine, led a special Grand Rounds activity to highlight medical innovations that have resulted from times of war. For example, during the Civil War, improved sanitation measures were designed for soldiers, and the Ambulance Corp was initiated, which led to modern-day emergency medical services. During the Spanish American War, more soldiers died from yellow fever, malaria and other diseases than from combat; during the course of this war, U.S. Army Surgeon Major Walter Reed discovered the cause of yellow fever. Subsequent innovations included aggressive use of tourniquets, improved fluid administration, increased emphasis on airway positioning, more effective analgesia, antibiotic administration and balanced blood product transfusions.
Also at the Grand Rounds, James Lewis, MD, Professor and Associate Program Director of General Surgery, told his personal story of how the Iranian Hostage Crisis impacted his life and future career as a physician. His father was part of a joint special operations command to rescue American hostages taken captive by radicalized Iranian students. Following the tragic failure of the mission, a Special Operations Warrior Foundation was established to provide funding to allow the children of fallen special operations soldiers to go to college. So far, 361 people have graduated college with this funding, and Dr. Lewis said he was the first to receive a medical degree through the foundation. During Dr. Lewis's recounting of his powerful personal story he said, "We can't change the past, we can honor it. But we can change the future."
Veteran's Day celebrations also included a flag raising ceremony, a breakfast for veterans, patriotic music and a special Chaplain's service. "America the Beautiful" played throughout the hospital at 11:11 a.m. to mark the moment in history when World War I ended. The day was hosted by Joe Landsman, CEO of the medical center; Paul Hauptman, MD, Dean of the Graduate School of Medicine; and Dr. Blake.
The day also included special guest and Knox County Mayor Glenn Jacobs who spoke during the breakfast. He told stories about the men in his family who fought in combat and closed with this compelling remark: "The best way to thank a veteran is to be an American worth fighting for."
View Veteran's Day photos.
Pictured top from left: Dr. James Lewis and Dr. Gregory Blake

Posted: January 21, 2020