News and Events
Grateful Patient Family Assists Family Medicine Expansion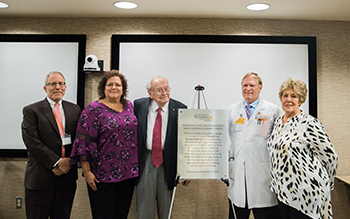 A donation from grateful patients of University Family Physicians is supporting an initial expansion of the facilities, ultimately supporting patient care and resident education.
The generosity of Randall and Carolyn Patterson is supporting updated and renovated facilities for the Family Medicine Residency Program. The expansion will be named the Randall and Carolyn Patterson Family Medicine Academic Complex. In 1970, the residency program began as the first in the state and the seventh in the country. The program started with George Shacklett, MD, as Chair, succeeded in 1995 by Gregory Blake, MD. The Pattersons have been long-time patients of Dr. Blake and initially contributed to a Domestic Violence Conference.
The Patterson family became interested in contributing on a larger scale. Their donation supports the initial phase of a three-part expansion to UFP. A ceremony was held to recognize the Patterson's contribution as well as unveil plaques that will be displayed in the resident academic area and at the entrance of UFP. The expansion is expected to be completed in June 2019.
Pictured L-R: Dean Paul J. Hauptman, Renee Loyed, Dr. George Shacklett, Dr. Gregory Blake, and Carolyn Patterson
Posted December 14, 2018
Top
---
The University of Tennessee Graduate School of Medicine
1924 Alcoa Highway
Knoxville, Tennessee 37920 | 865-305-9290
Copyright © 2023