News and Events
Pain Conference Teaches Providers How to Assess and Effectively Treat Pain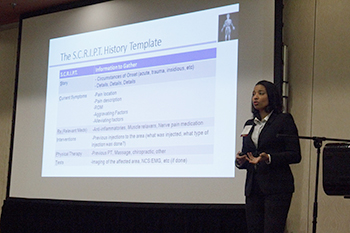 The University of Tennessee Medical Center (UTMC) and the UT Graduate School of Medicine (UTGSM) held the first annual Targeted Pain Treatment (TPT) Conference on February 1, 2019. The TPT Conference provided up-to-date education on the accurate diagnosis and targeted treatment of chronic pain.
According to Stephanie Vanterpool, MD, TPT Conference Course Director, the primary focus of this conference was dissemination of evidence-based clinical approaches to assessing and treating chronic pain while minimizing or eliminating the role of opioids. Topics covered included physiologic, anatomic and psychosocial causes of pain, targeted pain history-taking, pain-focused physical exams, and the role for a multimodal treatment approach.
Dr. Vanterpool says the amount of education prescribers typically receive during medical training on actual pain assessment and treatment is very limited.
"As a result, when prescribers enter into healthcare practice, it may be challenging to accurately assess and effectively treat pain," said Dr. Vanterpool. "Now that opioids are no longer as accessible due to recent legislative changes, patients and prescribers may feel as though there is little they can do to take care of pain, but that's not the case. Targeted Pain Treatment offers effective solutions to this dilemma."
Dr. Vanterpool said that historically, providers have been taught to treat the level of pain. The TPT Conference focused on teaching the sources of the pain, effectively reducing the need for opioids since they do not treat causes of pain.
"Part of the reason why our nation has ended up in an opioid epidemic is because pain has been treated as a 'number' or a 'score,'" said Dr. Vanterpool. "I'm advocating that we treat the source, not the score.
"Educating prescribers on targeted pain treatment and giving them the tools to diagnose and treat the cause of pain without relying exclusively on opioids is incredibly important. As a result, patients will achieve better outcomes which equate to appropriate and effective relief of pain, improved function and quality of life, and decreased opioid use."
Attendees received a downloadable TPT Toolkit with resources and templates to help them implement TPT in their practices. The 166 participants who attended the conference provided positive feedback, including comments that the conference was "life changing," offered everyday practical tips for evaluating patients who have pain, and provided helpful information related to the patient's point of view.
The conference was endorsed by the Tennessee Pain Society and presenters included representatives from the Departments of Anesthesiology, Radiology, Internal Medicine, and Integrative Health, along with guest presenters from Vanderbilt University Medical Center and Wake Forest University.
In addition to directing the conference, Dr. Vanterpool is the Director of Comprehensive Pain Services for UTMC, an Assistant Professor of Anesthesiology at UTGSM, and the Medical Director for The University Center for Pain Management. She is also involved in state advocacy initiatives, including as a member of the Governor's Commission on Pain and Addiction Medicine Education. The Commission was charged with developing competencies to be adopted by all healthcare higher learning institutions in Tennessee in order to facilitate appropriate understanding, assessment, diagnosis, and treatment of pain and addiction. She is the current President-Elect and scientific program co-chair for the Tennessee Pain Society, and is widely recognized as an advocate for Targeted Pain Treatment.

Pictured: Dr. Stephanie Vanterpool, Course Director, speaks at the Targeted Pain Conference. See more confernece photos.
Posted March 7, 2019