News and Events
Amy Paganelli Named GSM's First COO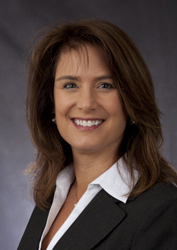 Amy Paganelli, CPA, MBA, has been named the first Chief Operating Officer of the University of Tennessee Graduate School of Medicine. She will assume responsibilities for day-to-day management of operations, in addition to her current portfolio as Assistant Dean, Finance and Administration.
Dean Paganelli has worked at the GSM in business and finance for 20 years and has worked for the state and UT system for 26 years. In addition to UT, She has practiced accounting for firms in Chattanooga and Brentwood, the Tennessee Governor's budget office, the UT Board of Regents, the Knoxville/Knox County Planning Commission and the Knoxville/Knox County Public Building Authority.
"We are pleased to recognize Amy's dedication and hard work on behalf of the GSM, and know that she will continue to bring fresh ideas and excellent management skills to the institution," said Paul J. Hauptman, MD.
Dean Paganelli received her undergraduate degree in accounting from Tennessee Tech University in Cookeville. She received her CPA certification in 1989 and graduated with an MBA from Middle Tennessee State University in 1995.
Pictured: Amy Paganelli, CPA, MBA, Chief Operating Officer and Assistant Dean for Finance and Administration
Posted March 13, 2019
Top
---
The University of Tennessee Graduate School of Medicine
1924 Alcoa Highway
Knoxville, Tennessee 37920 | 865-305-9290
Copyright © 2019